With the advancements of public transportation, automobiles, and the rapidly developing highway infrastructure of the 19th and 20th centuries, suburban sprawl was ignited as city dwellers escaped the bustle of city life and spread out with abundant stores and activities to enjoy just a short ride away.
However, human nature is to cluster vs. disperse and as such, people naturally gravitate to coming back together to live, work, play, eat, and shop all in the same district, with as little traveling required as possible.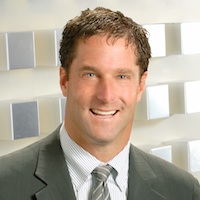 Commercial property owners and retailers are happy to accommodate, ushering their in-bounding customers back to the urban core and combining properties with multifamily and office spaces in the creation of urban live, work, play communities. The less one has to drive, the better—and retail success has always been about foot traffic.
Advancement is an endless goal and the ultimate transformative catalyst of such is technological innovation. In the real estate world, top real estate firms are making significant investments in adopting new-age tech tools such as geofencing, and beacon technology connecting communities like never before with property tech tools like AI Concierge services, eParking, and public WiFi—enabling shopping center owners and retailers to see who their customers are, where else they shop, how much they spend, and more. Property owners are able to use this information to augment and optimize the tenancy of their projects. For instance, if geofencing data is showing you that a meaningful percentage of consumers at your property leave to eat at a particular type of restaurant, open a similar restaurant in your property to keep those consumers on site.
As a retailer or property owner, you can easily get lost in the data points as you work to apply these insights. The key is recognizing that this information is not the answer, but rather a resource to streamline your data collection, back up your experience, and reinforce your focus.  The unique nuances of commercial real estate transactions are certainly too complex to be completely replicated by artificial intelligence, however, data mining will materially augment these decisions and bring efficiencies to the analytics.
Successful retail projects are adapting traditional mixes to include hybrids of previously siloed and singularly defined business verticals, including hospitality, distribution, shared work companies, experiential, and shop retail.  Younger generations, in particular, are eager to come back together. Property owners and retailers responding to the answers right in front of them will continue to optimize their businesses accordingly.
Steven A. Lieberman is the Co-Founder, CEO, and Co-Chairman of the Board of Directors of The Retail Connection.
Get the D CEO Real Estate Newsletter
Get weekly updates on breaking commercial real estate news and relevant industry reports.