XTO Energy to Sell WT Waggoner Building in Fort Worth
The 20-story building in downtown Fort Worth becomes the fifth XTO property to hit the market with JLL leading the sale.
XTO Energy Inc. is selling its WT Waggoner Building at 810 Houston St. in in downtown Fort Worth. The 20-story, 120,000-square-foot building and adjacent surface lot is the fifth of XTO's seven properties to be listed for sale since the oil and gas producer announced last June that it would be relocating its operations to Houston over the next three years.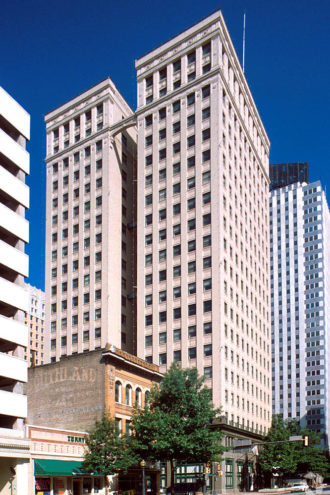 By this point, helping XTO sell its Fort Worth properties is old hat for JLL. The real estate brokerage firm has been responsible for selling XTO's other properties, including the Bennie G. Kniffen Building (formerly the Binyon-O'Keefe Building), the Petroleum Building, and the Montgomery Ward/Tindall Storage building in downtown Fort Worth, in addition to the former Swift & Co. headquarters in the Stockyards. In August 2017, the Fort Worth Transportation Authority purchased the Tindall Storage facility to serve as its new headquarters, and Sundance Square Management purchased the Petroleum Building in late January 2018.
JLL Executive Vice President Ryan Matthews will serve as point-man for the WT Waggoner sale, after having led the listing on the Petroleum Building and the adjacent parking garage which went on the market in August 2017 and sold in January.
"It's a competitive bid process and we expect multiple offers to be submitted. It's rare, in downtown Fort Worth, to have several iconic historic office buildings available to purchase," Matthews says. "There's a significant value creation opportunity through the future development of the 32,000-square-foot surface lot."
Matthews expects to have a number of offers by April. "We have strong regional interest from a range of companies with a variety of multiple end-uses," he says, in response to whether he expects attention from local, national, or global buyers.
Following the eventual sale of the WT Waggoner Building, XTO still has the Bob R. Simpson Building and the Transport Life Building under ownership. However, only one of these properties will be sold, while XTO will retain ownership of one location in order to house the expected 350 employees that will remain in Fort Worth as part of XTO's expanded Central Division/Fort Worth District.