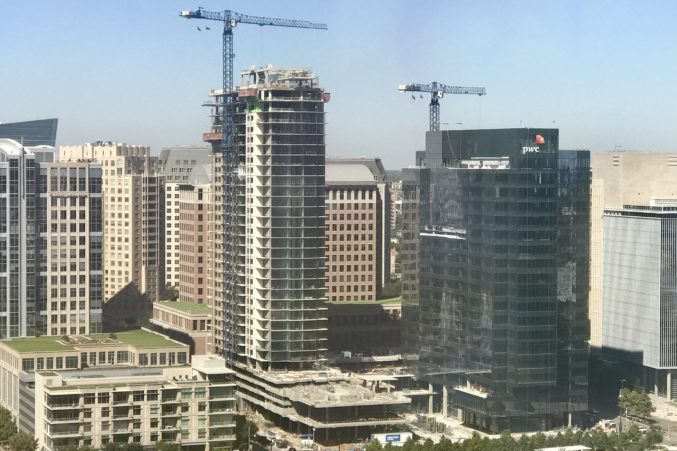 PwC Gets Signage on Park District
Trammell Crow Co. installed signage for its anchor tenant just as the residence tower topped out.
I took a couple days off for a long weekend in Austin, and a new addition to the Uptown skyline greeted me when I returned to my desk this morning.
Joint venture ownership Trammell Crow Co. and MetLife installed the sign for its namesake tenant at PwC Tower at Park District. PwC will have about 200,000 square feet on floors 12 through 19 in the 500,000-square-foot, 20-story tower. PwC Tower, which will have 7,000 square feet of ground-floor retail, topped out in April.
Its sister tower, called the Residences at Park District, recently topped out. The 34-story tower by Trammell Crow's multifamily arm, High Street Residential, will have 228 apartment units, with about 14,000 square feet of ground-floor retail. The Residences will start pre-leasing in the first quarter of 2018.
General contractor Balfour Beatty is set to complete the office tower designed by HKS in January. The Residences will allow some residents to move in the following month before a final completion in May.