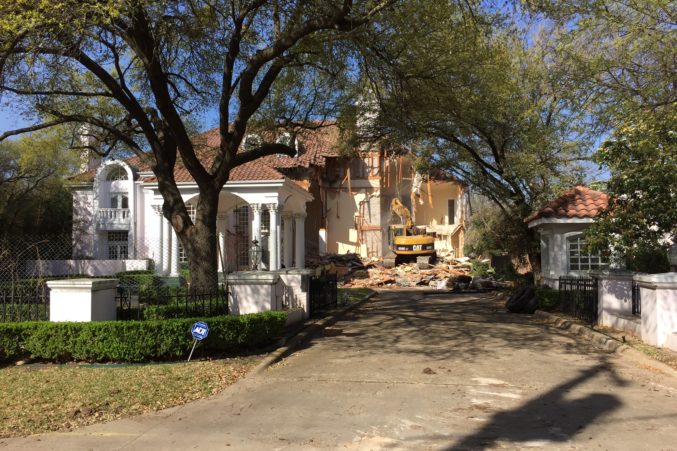 Former Preston Hollow Home of Mary Kay Ash Meets the Wrecking Ball
Observer says the pink-hued, 11,874-square-foot mansion, last sold in 2015, was "un-saveable."
The former home of the late Mary Kay Ash, the founder of Dallas-based Mary Kay Inc., looked to be under the wrecking ball Tuesday morning. The 11,874-square-foot mansion, located at 8915 Douglas Ave. in Old Preston Hollow, was built in 1984. According to Dallas Central Appraisal District records, the home is valued at $1.91 million. Its desirability is listed as "very poor."
According to city of Dallas records, a demolition permit was issued for the property on March 6. The pink-hued home, which has six bedrooms, five full bathrooms, and four half-bathrooms, sits on 1.05 acres. Dallas-based Pelicans Corp. Services LLC is listed as the property's owner. Allie Beth Allman, president and CEO of Allie Beth Allman & Associates, said that her Dallas real estate firm had represented the property's previous owner, Dr. Karen Gillum, when Gillum sold the property in December 2015 to Pelicans. According to reports, the sale price was $1.9 million, down from a previously listed price of $5.7 million.
Someone very familiar with the Mary Kay home says that, like many Dallas mansions of that era, the residence was so "specialized and personalized" that tearing it down—and presumably putting up something new in its place—would be the sensible thing to do. "It may have started out as a great custom house, but, over the course of time, it was just not kept up," this observer says. "In my view, it was un-saveable."