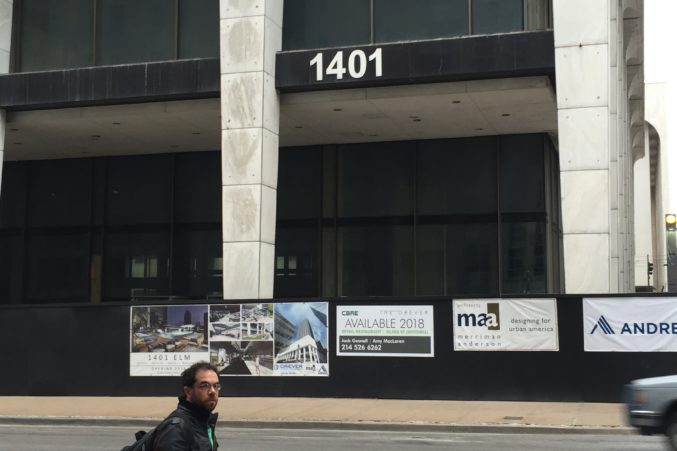 Spat Between Drever, Local Co-developer Winds Up In Court
California developer suing BDRC Partners for allegedly removing equipment and files from iconic 1401 Elm Street project.
Two days after the local co-developer of The Drever mixed-use project in downtown Dallas abruptly exited the redevelopment, the building's owner filed a lawsuit against the former associate in Dallas County district court. The civil suit accuses Dallas-based BDRC Partners LLC—which had been helping Drever Capital Management redevelop the iconic, long-vacant First National Bank Building at 1401 Elm Street—of improperly taking Drever's property from the project, including office equipment and various papers and electronic files.
According to the lawsuit, Drever 1401 Elm LLC had engaged BDRC to provide consulting services for the project on an "oral at-will basis," paying the company a fixed monthly fee and reimbursable project expenses. After negotiations to replace the oral agreement with a legal contract fell apart, the suit goes on, BDRC resigned and vacated the leased project office on Sunday, March 5, taking with it the likes of office equipment as well as construction drawings, Drever financial and legal documents, and correspondence with lenders and contractors. The suit asks for the return of the papers, files, and office equipment, plus damages "in an amount over $100,000 but not more than $200,000."
Asked to comment on the suit, Bryan Dorsey, CEO of BDRC Partners, told D CEO Real Estate: "The lawsuit seems entirely nonsensical, and I am confident we will prevail."
As D CEO Real Estate reported Monday, BDRC had been involved in the 1401 Elm Street redevelopment for several years. When Maxwell Drever, founder of California-based Drever Capital, bought the vacant building out of bankruptcy last year, he turned to Dorsey for local assistance. BDRC and New York-based Olympic Property had been co-sellers of the building to Drever.
Some subcontractor work on the $240 million-plus mixed-use project has been slowed recently, pending efforts to procure a lower-interest construction loan. But Maxwell Drever's son Noah, Drever Capital's managing partner, told D CEO Real Estate Monday that "we're not behind on payment"—and that the deal could be fully funded within 45 days. Redevelopment of the long-vacant, 52-story tower has also attracted $50 million in tax increment financing from the city of Dallas, as well as federal and state tax credits worth about $75 million.