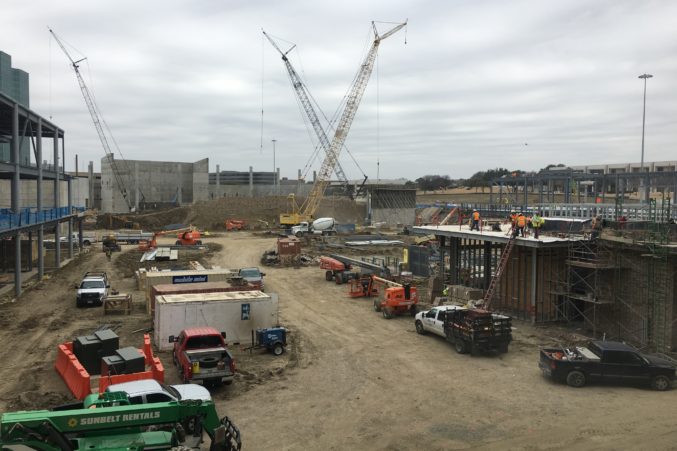 The Music Factory Begins Taking Shape at Las Colinas
Building progresses as the lifestyle center gears up for a Labor Day weekend opening.
The Music Factory at Las Colinas in Irving is well on its way to being ready for its opening on Labor Day weekend. The project will encompass 250,000 square feet of entertainment, shopping, and dining options. A main attraction will be the 8,000-seat amphitheater run by Live Nation, as well as an Alamo Drafthouse movie theater. The project is being developed by ARK Group and construction of the entertainment site is being completed by Skanska.
Noah Lazes, president and COO of ARK Group, said a main reason for bringing this development to Irving was the ability to get people there during the week. While there are other entertainment options, the area is lacking a lifestyle center and upscale mall option, he said. ARK Group envisioned this space as a one-stop entertainment destination for all who visit. The restaurant and retail space is almost fully leased, and will bring options ranging from sushi to Mexican food and Italian food. Restaurants that have been announced include Kabuki Japanese Restaurant, Gloria's Latin Cuisine, and Thirsty Lion Gastropub.
Live Nation and ARK Group have had a longstanding relationship and Lazes said that, without Live Nation, a project like this would have been challenging. While a tenant and landlord relationship does exist, the developer said he views it as more of a "partnership" and that ARK is fortunate to have that with the music and live events company.
Ethos Group, which offers services to retail automotive dealers, will be the sole tenant of the 100,000-square-foot office space that is surrounded by various dining options. The company was looking to relocate and needed food options for employees, Lazes said, adding that Ethos considered leaving Irving altogether before signing a lease at The Music Factory.
Eric Bunner, vice president of operations at Skanska, said that on the construction side, the City of Irving has been great to work with and has been involved in the entire process. The construction company will be responsible for the base build, allowing tenants to come in and outfit the interiors as they see fit. Bunner said Jam House will be the first space handed over to a tenant to begin their part, with spaces being delivered to the various tenants every one to two months after that.