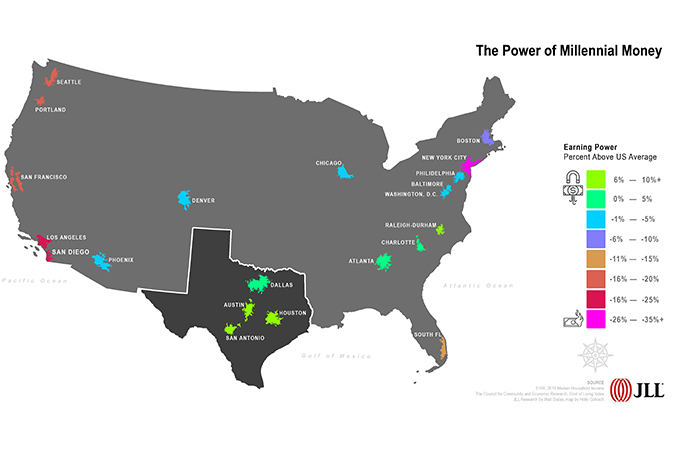 JLL Research: Dallas Is a 'Money Magnet' for Millennials
DFW, a 'petri dish of growth,' may look like a promising place to relocate, according to the company's study of millennials' incomes.
After a map surfaced online showing the median average income for millennials in each state, JLL's Vice President and Director of Research Walter Bialas found the information presented to be intriguing, but not meaningful. That's when it was decided that JLL, one of largest real estate brokerage firms in North Texas, would produce its own version.
The research team took each of the major U.S. markets and adjusted for the local cost of living, giving a clearer picture on just how far a working millennial's dollar will go in each metropolitan area. This figure was then compared to the national average for income to determine a millennial's earning power.
In Dallas-Fort Worth the results are among the best, showing income as much as five percent higher than the U.S. national average income, which is $67,877. In 2016, the average HHI for DFW was $70,266 and, when combined with a cost of living index of 102.3, the salary adjusts to $68,686. So in effect, millennials can feel like they're making about $800 more than the national average household income.
With an average annual income of $98,831, by contrast, San Francisco sounds attractive to new graduates looking to relocate. But "normalizing" for the high cost of living there brings the figure down to a comparable income of $54,333. And that places it well below the national average HHI, according to the JLL research.
Viewed through this lens, Dallas and other Texas metropolitan areas could start to intrigue millennials looking to begin their careers. Bialas said the diversity of companies and jobs in DFW is a big reason for this. The local economy is not largely dependent on just one industry, allowing for expanding job opportunities.
Combining higher wages and a reasonable cost of living, JLL refers to DFW as a "money magnet." Said Bialas: "I think it really comes down to housing costs. It is a big component of this." Dallas ranks higher than other cities in the cost of goods and services, but lower in housing prices.
Bialas says there are two different "audiences" when it comes to the Dallas housing market: Those who have been here for some time and experienced the increase in prices, and those who are just moving in and may not think the prices are that bad, comparatively speaking. While a home that may have increased from $200,00 to $300,000 in value may seem expensive in DFW, a similar house in Washington, D.C., may go on the market for more than $1 million.
While medium-market areas, such as Pittsburgh, also have low costs of living, the difference is that DFW's level of growth opportunity is unmatched.
Holly Golvach, JLL market research GIS analyst, contributed to the research and is a millennial herself. For her, this map highlights some of the strengths of Dallas and what makes it stand out from other major U.S. cities. She said Texas is a "petri dish of growth," adding that it has a great forecast and is a place to consider for those interested in growing their careers.
Here is JLL's chart outlining the data used for major U.S. cities: