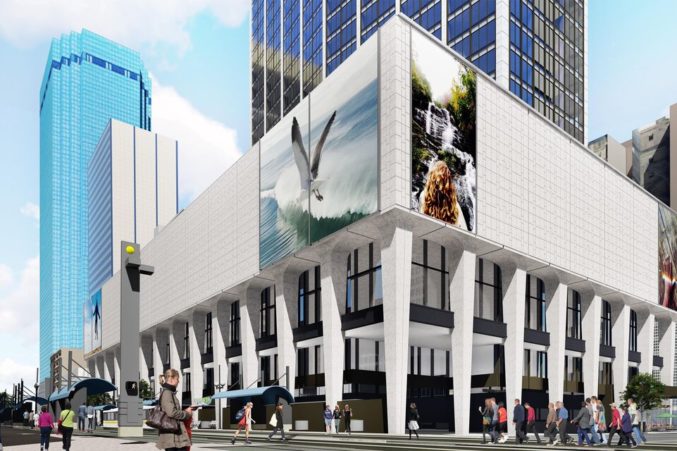 Drever Capital Reveals Plans for 1401 Elm
Redevelopment will bring new life to the largest vacant tower in downtown Dallas.
Two months after acquiring 1401 Elm St. out of bankruptcy, California-based Drever Capital has updated plans for the project's massive redevelopment. The company also announced the tower's new name: The Drever.
The renovation—the largest project of its kind in Dallas—will bring new life to the 50-story, 1.5 million-square-foot building, which has sat vacant since 2010. Led by Maxwell Drever, who's known for transformational redevelopment projects, Drever Capital plans to create a vertical mixed-use complex.
An eight-story base will house 27,000 square feet of retail space (restaurants, fashion shops, and other specialty retail) and 44,000 square feet of Class A office space, as well as hotel and residential lobbies and a grand ballroom. A spa and wellness center will occupy the ninth floor. Additional venue space will take up floor 10, with a 236-room hotel on floors 11-22.
Nearly 350 multifamily units will be developed on floors 23-48, with a high-end restaurant on floor 49—space once occupied by the Dallas Petroleum Club. A wrap-around observation deck will top the project on the 50th floor.
The Drever, which sits on 2 acres between Field and Akard streets and Elm Street and Pacific Avenue in the heart of downtown Dallas, also will include more than 900 parking spaces.
Formerly known as Elm Place, the building's construction began in 1961 and wrapped up in 1965. More than eight acres of white marble, imported from Marathon, Greece, and dark gray glass were used.
Here are artist's renderings of The Drever's redevelopment, courtesy of Merriman Anderson/Architects. The project is expected to open in 2018.