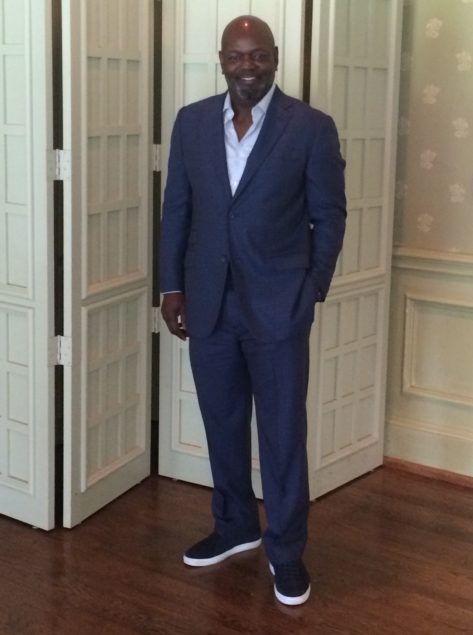 Like his role model Roger Staubach, football great Emmitt Smith has parlayed success in football to success in commercial real estate. He leads a six companies, including E Smith Realty Partners (brokerage and other services), EJ Smith Construction (highway, civic and commercial projects), and E Smith Capital Partners.
The biggest challenge in getting started, he says, was being accepted by the real estate community."Some people think I'm just a figurehead, he says."But there's no way I could put my name on something on not be a part of understanding what's going on. I only have one name. That's why I've put myself into it full-fledged, and that's one of the reasons I got my CCIM license, so I'd have more credibility."
Smith tours sites with clients, spends a lot of time with his brokerage team, does capital markets outreach, and works hard "to ensure that every aspect of our platform is utilized to the best and full capabilities."
He shared his perspectives at a luncheon event co-hosted on June 15 by the North Texas chapters of CCIM and SIOR at Brook Hollow Country Club. After introductions by CCIM chapter president Saadia Sheikh, a vice president at E Smith Realty Partners, Smith answered questions posed by SIOR chapter president Bruce Hecht, managing principal at Swearingen Realty Group. Here's a recap of the conversation:
Q: How did you make the transition from the NFL's leading rusher to the founder of multiple real estate companies?
EMMITT SMITH: First and foremost, the transition itself is something that was starting to take place well before I played for the Cowboys. I started thinking about retirement and what I wanted to do after the game of football long before I started playing professionally. Football kind of got in the way. I always thought I had talent … I didn't know how far it would take me. But anyone who knows what the NFL actually stands for—it really stands for "Not For Long," not the National Football League. Because anything can happen at any point in time, on any given Sunday, and you have to prepare yourself for that to happen.
I had the honor and pleasure of really spending a lot of time with Jerry Jones, who taught me what business was all about. I've always been a curious individual, ever since I was a kid. I'll never forget the words of one of my Pop Warner coaches telling me I that I had a talent to play sports and it would take me a long way, but to always make sure I got an education. So I've always had a vision of something bigger. Football provided me with a platform to do that. What I did after that platform, I just needed to figure that part out.
I also had the opportunity to spend a lot of time with the legend, Roger Staubach, himself. And during that time, too, Magic Johnson was taking the country by storm by showing folks that you can go into blighted or urban areas and transform those areas by providing the right services. I was paying attention to all of that while playing football, along with the stock market and technology—I was very much in tune with what was happening. So, upon retirement, I reached out to Roger Staubach and told him I wanted to get into the real estate business. He wanted me to go into brokerage, right away. But I wanted to be a developer. I wanted to work with the retail folks. I wanted to go into the neighborhoods. I wanted to understand the psychographics of the neighborhoods. I wanted to understand the traffic flows. I wanted to know what made one corner so valuable and another corner less valuable. I wanted to understand the dynamics of trade areas. I was trying to get down to every aspect of the development game itself. I wanted be able to be hands on and say, "Yes. I made a difference in this community." So [Staubach] connected me with one of his development partners, and that's how I got started.
Years later, I should have listened to the legend. Because the development business itself can be persnickety. I'm glad that I was able to join forces in 2014 with Sharon Morrison, to create E Smith Realty Partners. We now have 45 brokers and service industrial space, office space, and site selection and property management, as well as lease administration. So we are working our way to a full-service real estate company, to impact communities around the country. We have made significant strides in a short period of time.
Q. You never wanted to be No. 2 in anything, according to what I've heard and read. Talk a little bit about your drive in commercial real estate.
SMITH: It's the same. The great thing about that drive for me—it's not about being No. 1, but about being the best you can possibly be. I would rather have someone else remain No. 1, rather than having me be No. 1. Otherwise, you have a tendency to look behind yourself, to see who's catching up to you. I don't want to play that kind of game. I would rather have Walter Patyon or Jim Brown or Barry Sanders ahead of me—people who can inspire me on a daily basis to work hard and have the focus and do what I need to do to pursue the ultimate dream, and that's being the best I can possibly be.
Q. What attributes are you looking for as you build your team?
SMITH: We are out to earn the right to do business with as many clients as we possibly can. It's not about transactions—those will come and go. But relationships will last a lifetime, if you do things the right way.  … My father told me one day when I danced in the end zone, "Son, the great ones don't do that kind of thing. They act like they've been there before." Success requires a level of humility as well. You don't have to go around being braggadocious about what you're doing and how you're going about it. People will see it. Once you achieve a certain level of success, always be humble.
Q. You've had a lot of coaches in your career. Do you have any business or life coaches you look to right now?
SMITH: Without a doubt. Jesus Christ is the ultimate life coach. But, Roger Staubach, come on. Magic Johnson, come on. We all come from different walks of life. They've shown all of us athletes how to transition from one sport to the next. It's all about finding your passion and what life has in store for you. It's about finding your purpose and bringing the best of you to it. I learned a lot from Jimmy Johnson. I learned a lot from my high school coach Dwight Thomas. He told me, "It's just a dream until you write it down, and then it becomes a goal." Every morning when I get up, I have my vision board right there on my mirror. It all begins with Christ, family, and then everything else is after that. … I haven't worked a day in my life. Everything I've done has been fun. It's exciting. I don't look at anything as a job, because jobs become burdens. It's not complicated.
Q. What excites you about the future of commercial real estate?
SMITH: I think technology is having a big impact on commercial real estate, from demographics to valuing trade corners, how we buy and sell properties. … I also think we need to get back to the service quality of The Staubach Co. There's a lack of service as provided in the industry. That's how we won NTT Data. (Note: The company, which is acquiring Dell Services, recently hired E Smith Realty Partners to help with real estate consolidation.) Some others thought they were too small, or not fast enough, or not strong enough to be a running back in the NFL. Then they acquired Perot Systems (Dell), and they've gone from $2 billion to $5 billion overnight. Now the big brokerage guys are coming to (NTT Data) saying, "Do you need help?" And they say, "No, we're fine." So, you want to bring the highest quality of service to every client, whether they're big or small. That's where the opportunities lie."
Get the D CEO Real Estate Newsletter
Get weekly updates on breaking commercial real estate news and relevant industry reports.