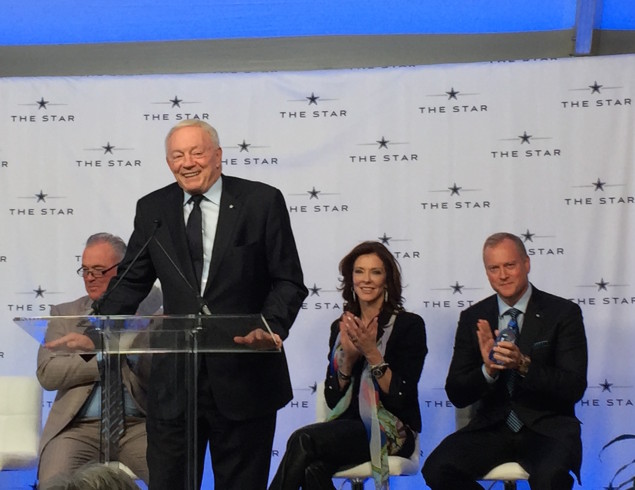 The Star in Frisco is well underway as it approaches its grand opening in late August—two years after construction began. Dallas Cowboys owner and president Jerry Jones and his family recently hosted other officials and luminaries at a press event to give a project update. "You almost have to come daily or it changes right before your eyes," he said.
Along with the team's corporate headquarters and 12,000-seat training facility and arena, the 91-acre, $1 billion project will include a 16-story Omni hotel, a 45,000-square-foot plaza, a 200,000-square-foot sports medicine facility operated by Baylor, about 400,000 square feet of office space, and 200,000 square feet of retail space.
The retail block will be located south of training facility, called The Ford Center at The Star. New tenants announced by the Jones family include Liberty Burger, Dee Lincoln Prime, Mi Cocina, Nestle Toll House Café by Chip, Tupelo Honey Café, City Works, Next Step Dance, and Neighborhood Services.
The Star will also be home to a Dallas Cowboys Ring of Honor Walk and Dallas Cowboys Community Ring of Honor, both presented by Dr Pepper. The Dallas Cowboys Ring of Honor Walk will include statues of the 21 members of the team's Ring of Honor, while the Dallas Cowboys Community Ring of Honor will feature North Texas leaders on a rotating basis beginning in 2017. (Click here to watch a fly-through video.)
Former players Roger Staubach and Drew Pearson were on hand at the press event. The pair said it was a privilege to be part of the new project. "No one in the NFL is doing it like the Dallas Cowboys," said Pearson. "We set the standard back in the day… and we are continuing to set the standard."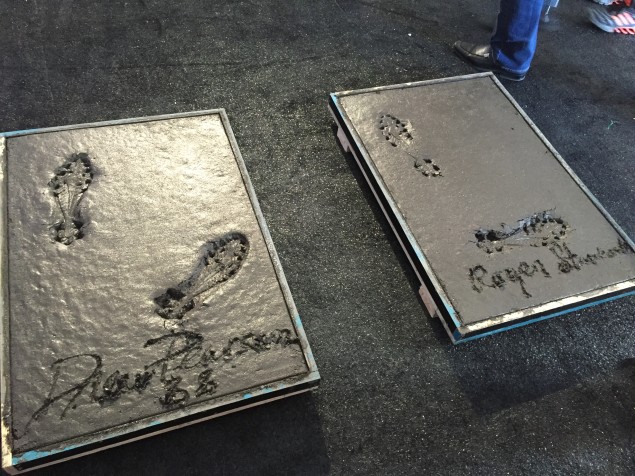 Wearing blue-and-white cleats, Staubach and Pearson stamped their footprints in concrete to memorialize their time as players. They then proceeded to reenact their famous "Hail Mary" pass from the 1975 playoff game against the Minnesota Vikings. At the Ring of Honor, their numbers will be placed exactly 50 yards apart, commemorating that legendary touchdown.
Charlotte Jones, executive vice president and chief brand officer of the Dallas Cowboys, said The Star will give visitors a one-of-a-kind experience. "People will have a chance to take a sneak under the helmet and see what it takes," she said.
The Ford Center will be the NFL's first and only training facility shared with a public high school athletic department. The Dallas Cowboys, Frisco ISD high schools, and the city of Frisco will share the 510,000-square-foot athletic facility. It will be used to host events such as soccer matches, high school football games, graduations, and band competitions. Its indoor and outdoor practice fields will comply with both NFL and University Interscholastic League regulations. Pearson, whose grandson plays football for Frisco Lone Star High School, said he was honored at the thought of his grandson playing at the home of the Cowboys.
The partnership will not be limited to the facility. The Cowboys will be teaming up with the schools involved to educate on health and wellness, nutrition, and exercise. There will also be a mentorship program available where students will have the opportunity to interact with some of the professionals working at The Star and learn from them."It's a complete holistic approach in the schools to get everybody engaged—not just that athlete that might be up here," Charlotte Jones said. "It's everybody."
The Cowboys hope that The Star will bring fans closer and allow them to experience "America's team" in a way no other team in the NFL has before. Said Stephen Jones, the Cowboys' chief operating officer: "You work here. You play here. You sleep here."
Below are project renderings, provided by O'Brien Architects. For a detailed rundown on the project, click here.