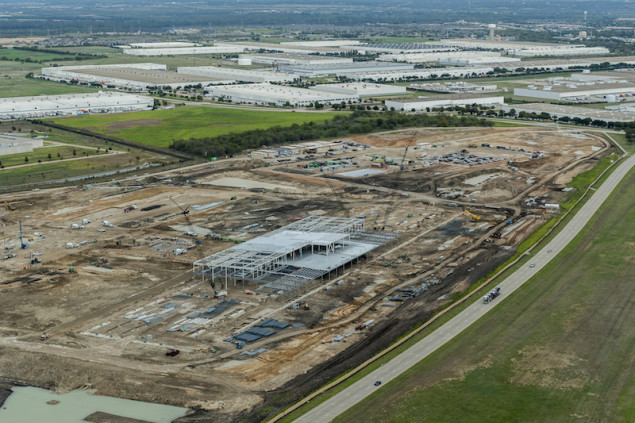 With 1.5 billion users, Facebook can't afford any downtime. So, it doesn't take its data center location decisions lightly. The company considered more than 200 sites before deciding to buy 110 acres from Hillwood in North Fort Worth for its fifth—and largest—global center. Robust infrastructure and access to renewable energy and a deep pool of talent were among the reasons the site won out.
Facebook's three-building campus, which will total about 750,000 square feet, will be completely powered by renewable sources, including 200 megawatts of wind energy. The massive data center is the first project in Fort Worth whose capital investment exceeds $1 billion. It's being built by DPR Fortis Mission Critical.
Reid Goetz and Bill Burton were the in-house representatives for Hillwood on the deal.
FINALISTS
Lakeview Ranch, 444 acres along the western banks of Lake Lewisville in Denton. Brokered by Grand Brodeur and John St. Clair of Novus Realty Advisors, the transaction stands out for its size, location, and price.
The Laurel. This 3.5-acre parcel sits at the gateway to Preston Center, at the northeast corner of Northwest Highway and Preston Road. The land will be used for development of The Laurel, a 164-unit luxury multifamily project. The deal was put together by Jeff Price, Michael Swaldi, and Larry McCorkle of JLL.
Pate Ranch, 468 acres off State Highway 121 and the Chisholm Trail Parkway in North Fort Worth. It was acquired by Provident Realty Advisors, which is already underway with retail and residential development of the site. The land deal was put together by Tom Salanty, Chris Harden, Kyle Vinson, and Kris Von Hohn of Cushman & Wakefield.
WW Caruth-Richardson TOD, 55 acres at State Highways 190 and 75. The sale of this land, which had been held for decades by the WW Caruth Foundation, helped spark transit-oriented development around the Bush Turnpike DART station—namely, CityLine. It was brokered by Todd Jones of Younger Partners and Pam Spadaro of Bank of America.
Get the D CEO Real Estate Newsletter
Get weekly updates on breaking commercial real estate news and relevant industry reports.