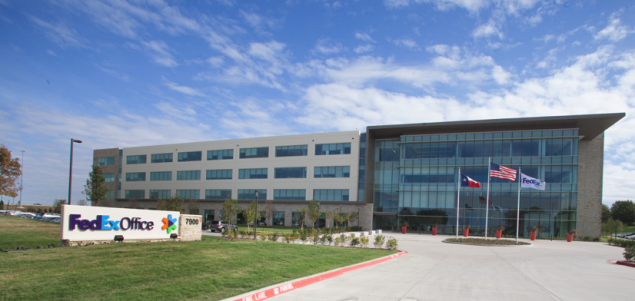 FedEx Office's 265,000-square-foot corporate headquarters is open for business in Plano. It's a key component of Legacy West, the 320-acre development that also will be home to Toyota North America, Liberty Mutual, and additional office, retail, and residential space.
For FedEx Office, consolidating at Legacy West provided an opportunity to bring regional employees together under one roof. The company previously housed its headquarters in Dallas and support operations in Plano. About 1,200 workers are now based in the new space, which provides consolidation and an ease of workflow across business units, said Brian Philips, the company's president and CEO. "And those 1,200 individuals work everyday to support our 14,000 employees who face our customers inside our stores, in our customer facilities, at our close productions print facilities, and on our pick up and delivery operations," he said.
The new Plano campus features a mock store, fitness center, cafeteria, walking trails, sport court, wellness rooms, and a "Network Operations Control Center." The NOCC manages the nationwide network of more than 1,800 retail and commercial printing facilities and its delivery trucks and couriers. The mock store allows FedEx Office to test various layouts of furniture, shelves, and signs, etc., without disrupting customers at actual stores. The campus also includes a full-scale gym and a juice bar and brick-oven pizza station in the company cafeteria.
JLL represented the FedEx Office in the move. KDC developed the campus, with Balfour Beatty handling construction. Designed by HKS Inc., with interiors by HOK, the campus uses LED lighting and the core and shell are LEED-certified. Everything was built specifically to the unique needs of the business—even the artwork showcases the equipment and materials the company uses, Philips said. "It also serves as a reminder as to how far we've come from the corner copy shop days that were Kinko's," he said.
FedEx acquired Kinko's in early 2004 and named the merged organization FedEx Kinko's Office and Print Services. Rebranded as FedEx Office in 2008, it's the largest company of its kind.
Mayor Harry LaRosiliere of Plano, sporting a purple tie, said at the grand opening that he's grateful that FedEx Office chose Plano for its new home. "It's an honor to have an organization that chooses to change the world, the way the world works and lives, by placing customers in the center of all they do," he said. "As we continue our momentum to attract quality companies to our area to provide prosperity, having a marque corporate partner like FedEx makes it just a little bit easier."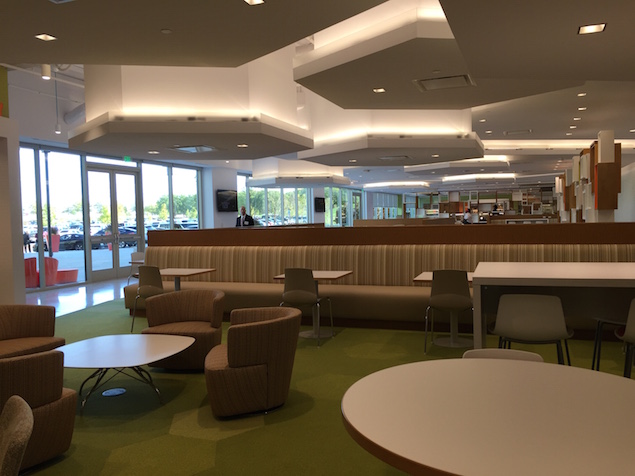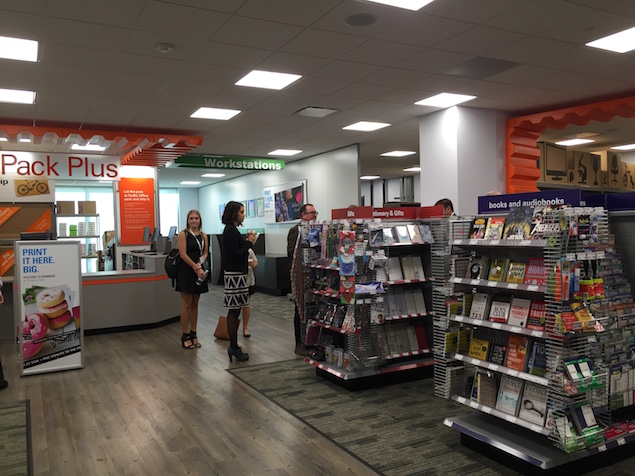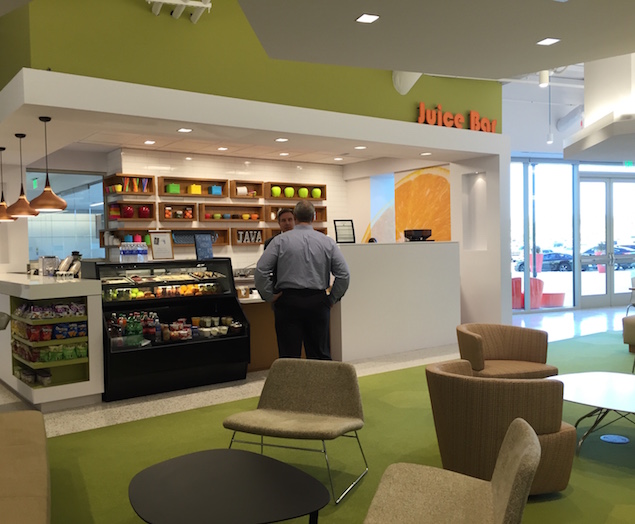 D CEO Real Estate Newsletter
Get weekly updates on breaking commercial real estate news and relevant industry reports.