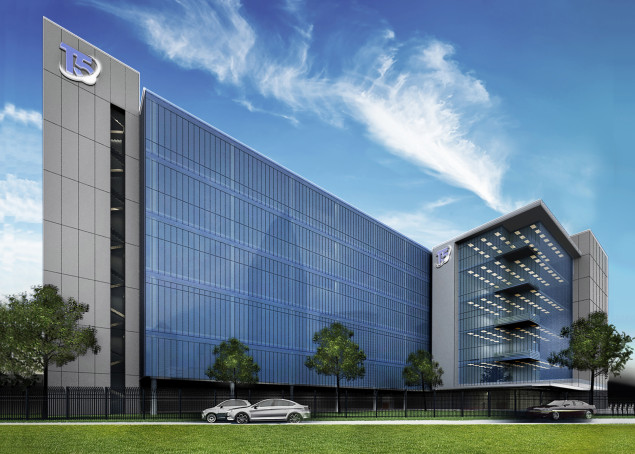 The first thing Martin Peck noticed about an acquisition opportunity along Stemmons Freeway was an electric power substation that adjoined the property to the north. For the managing director of Lincoln Rackhouse (the data center division of Lincoln Property Co.), access to power is always a big deal. Then a consultant Peck hired came back with findings that showed the property was sitting at "ground zero" for fiber optics. "It's a double Bingo," the consultant said.
Peck connected with Pete Marin, president and CEO of T5 Data Centers, with whom he had collaborated on a big data center project in Plano. Lincoln and Atlanta-based T5 worked out a deal to acquire the building, and they're now preparing to develop the first "purpose-built" urban data center in Texas on the site.
The nearly 400,000-square-foot property was among a number of assets Dallas County put on the market last fall. It's well known in the market as the former Cabana Motor Hotel, which reports say was once owned by Doris Day, that employed Raquel Welch, and played host to both Jimi Hendrix and The Beatles. Today, it houses a halfway house for former prisoners. 
When Lincoln's interest was revealed, speculation was that the site would be redeveloped into multifamily space. Instead, the former hotel will be demolished to make way for a state-of-the-art data center. Designed by Corgan, which helped pioneer critical facilities architecture, 899 Stemmons will range between eight and 12 stories and be built in two phases. Peck and his team at Lincoln Rackhouse are overseeing marketing and leasing.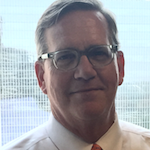 Peck has been a leader in the field since data centers began emerging as a commercial real estate specialty. He worked for Hines, Bank of America, and Trammell Crow Co. before leaving to co-found Rackhouse Group, a firm that eventually was brought under the Lincoln Property Co. umbrella.
Pete Marin, president and CEO of T5, also is a longtime industry leader. In 1994, while with The Staubach Co., he created one of the first call-center groups in the country and quickly added data centers into the mix. It grew to become a national practice that helped clients build and locate operations all over North America. Marin founded T5 in 2008, after The Staubach Co. was acquired by JLL. Today T5 is a $500 million+ company with 80 employees.
I recently had an opportunity to talk with Peck and Marin to find out more about 899 Stemmons—and why Dallas is such a robust data center market.
D Real Estate Daily: So how did the two of you begin working together?
Pete Marin: A lot of times it's fortuitous.
Martin Peck: It's called bidding on the same property same time.
Marin: Yeah. We figured out in Plano four years ago that we were both chasing the same property, and we came together on that and became partners. Martin carries the T5 card in Dallas, but he works for Lincoln Property Co. He has been a key member of our team not only in Dallas, but nationally. It has been a fantastic partnership.
DRED: How are things going with the Plano data center?
Marin: We have had tremendous success with property in Legacy. It's 93 percent leased with some great corporate names, and we have additional land for expansion. It's arguably one of the best data centers in Texas and the country.
DRED: What sets it apart?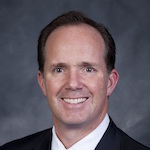 Marin: It is a purpose-built, enterprise-grade facility with a high wind rating. The data center industry is built on fear. "What happens if …" is how the discussions always start. There's a long list of "what if's" and issues that users want to make sure they check the box on. We, as a company, focus on building the best data centers in the best locations for business, and we operate them the way our clients would operate them.
We have positioned T5 in front of large corporate enterprise users companies considering a new data center, facing the prospect of having to build it themselves. We tell them, 'You don't have to build it. You can lease from T5.' We deliver a very high-quality product in a great location, built to the same specifications a corporate enterprise would select. So, we've taken the risk out of the equation for them. They'll  lease a turnkey data center from us and we will operate it for them at a lower cost. They will still operate inside the data hall and handle all of the IT. We handle the facility management and all the big equipment; we keep the lights on.
DRED: Let's talk about your newest collaboration at 899 Stemmons. Martin, can you give us some background on the property?
Peck: The Stemmons building was built in the early 1960s as the Cabana Motor Hotel. By the mid-1980s, it was in disrepair and not operating as a hotel. Dallas County purchased it as an extension of its detention center program; it's now operating as a halfway house. The county decided to sell it, along with a handful of assets last year. The county is developing a new detention facility in Hutchins, and will begin work on the site after they vacate the facility, which is anticipated to be the end of this year.
DRED: What sparked your interest in the property?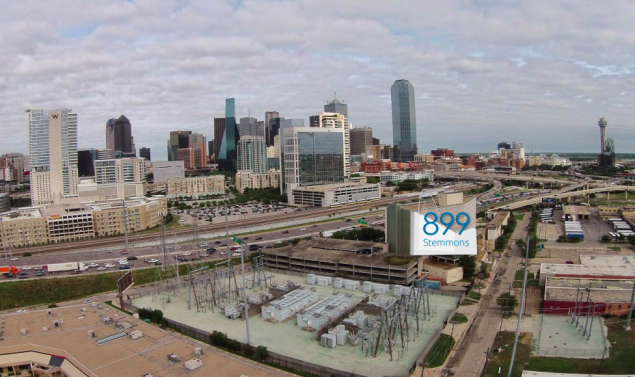 Peck: We looked at the site and noticed an electric power substation adjoining it to the north. The most robust electrical service in Dallas is what's called the "CBD grid." There are several substations that service that grid, and this was one of them. The power just never goes down in this area because of the robust delivery system. Then, it was the fiber. This is near the Infomart and Softlayer's facility along Stemmons. There is a load of connectivity, of fiber optics, along there—an incredible amount. It's ground zero for access. So that's when we got really excited.
DRED: Will this project be similar to the T5 data center in Legacy?
Peck: The data center in Plano is what we call "wholesale." It's mainly leased to three very large, well-known companies who use it for their own application. The one we're developing on Stemmons is what used to be called a "carrier hotel." These were initially built in the 1980s and 1990s to bring together telecom companies so they could interconnect with one another. We don't call them carrier hotels any more because companies like Google, Amazon, Microsoft, etc., need this type of space as well. In other words, any company whose business relies on a high content of bandwidth wants to be in this type of facility.
Marin: Another key point is carrier hotels historically were converted obsolete buildings in urban markets, because they were sitting on top of fiber. That took place in the late 1990s. there was a boom of this kind of activity across the country and certain buildings were converted from a prior use. they  may have been an office building may have vacant, may have been a condo but now they're loaded with servers and communications and conduit and fiber. The problem is, those buildings didn't have proper clear heights or the proper floor loading so the structure was not strong enough to hold the equipment, and they were  not designed enough space for conduits and not designed as a data center. So when you go into these buildings they feel very crowded and covered. These will be purpose built from the ground-up, a mid-rise data center. So all the physical issues that exist in historic carrier hotels will not exist with this project.
DRED: So you're going to demolish the old hotel and build from scratch?
Marin: Yes. There will be two buildings, between eight and 12 stories. The smaller building will probably go up first. Then, based on demand, we'll kick off the second building.
Peck: We're very flexible in terms of how big we can go.
Marin: The floors will be approximately 45,000 square feet. When we talk about data centers, we talk in terms of megawatts, not square footage. Each floor will be capable of delivering 2 critical megawatts. And the data halls on each floor will be approximately 20,000 square feet, with the balance used for equipment and support space.
DRED: What's the marketing and leasing strategy?
Marin: We're just kicking off marketing now and are pursuing a couple of pre-leases. Our intention is to deliver the project the first quarter of 2017.
Peck: We're taking kind of an "inside out" marketing approach. In other words we're talking to people in the real estate and tech communities within Dallas-Fort Worth, then we'll expand that throughout Texas, and then we'll talk with industry segments nationwide. The initial feedback has been very positive. Everyone is pretty encouraged about what we're doing. You know the Dallas landscape. The new big data centers going out to the prairies, so to speak. This will be the only purpose-built urban data center in the state, no doubt.
DRED: What are some other key selling points?
Peck: Where fiber comes together—and that takes place in the CBD—is where you want this type of data center to be developed, to attract customers that require a high content of bandwidth, or fiber. Frankly, that's why the Infomart is so successful and why 2323 Bryan Street is so successful. If you go around the country's 10 largest cities, let's call them the NFL markets, each one of those markets have one or two or three of these types of buildings, all centrally located in their urban core.
DRED: How does Dallas compare? What makes it such a strong data center market?
Marin: Starting at the highest level out, Texas is centrally located, so the access is fantastic. A lot of reasons why Corporate America is relocating to Texas right now apply to data centers, too. Along with the central location and access, there's the weather; you don't have to deal with cold weather like you do in markets like Chicago. Additionally, the southern loop of the transcontinental fiber that goes across the country goes right through Dallas—right where we are talking about. That connectivity is very important. Another key reason why Texas is on the map is the fact that Texas has its own separate power grid. Back to my point that this business is built on fear, even if the rest of the nation's power grid goes down, Texas is still lit. Another great advantage is the cost of power, which continues to drop in Texas. We're currently locking in rates of 4.1 cents per kilowatt hour, which equates to an all-in rate in the low 5 cents per killowatt hour.
Peck: That compares to 11 cents in northern New Jersey and 8 cents in northern Virginia. Just like Pete said, the reasons that Dallas has one of the most robust economies in the country right now are the same reasons data centers are flourishing. Add on top of that the fact that Dallas is one of the most "lit" cities from a fiber perspective in the southern United States, and of course our cost of power. That's the main driver of expense to data center users, so they are very keen on even the most minor changes in the cost of electricity.
Marin: As we have success with this product type in Dallas and Texas, it's something we will likely roll out in other cities across the U.S. and potentially internationally.
DRED: Martin, what impact do you think this new project will have on this area of the Stemmons corridor?
Peck: When I first got turned on and excited about this facility, I didn't really didn't focus on what was taking place in the Design District. What's happening in downtown Dallas  and Victory and Uptown is in front of our eyes every day. It's exploding. When we were in deep negotiations with the county for this site was when Dunhill Partners announced its big acquisition within the Design District, and now Virgin Hotels is coming in—not to mention the Trinity Groves area and the bridges and the new energy there. Even though we are in that data center business—let's be honest; data centers house a lot of equipment and not many people—but we're excited about building a cool, funky data center building that takes advantage of activity in the marketplace and what's going on architecturally in the marketplace.
DRED: Pete, can you briefly summarize the evolution of the industry, and what you expect to see going forward?
Marin: If you start with what we call the megatrends, think about the connected devices we have. In 2008, the number of devices connected to the Internet equaled the population of the globe. By 2020, the number of devices connected to the Internet is going to be 50 billion. Just that alone will drive increased data traffic across the network and data centers. Then if you start thinking about all the transactions we process electronically—banks have tremendous data center needs, all the apps people use and even just email. People talk of the cloud. It's funny people say to us, 'The cloud is really taking off. Is that going to wipe out your business?' I have to laugh and say, 'Where do you think the cloud is?' We are the infrastructure business that supports the Internet. Our data centers are interconnected across the country, and the cloud is housed in data centers just like what we have at T5. It's a web of data centers that are covering the globe right now. And as we develop technologically, the boom is going to continue.
Anther buzzword is big data. As we capture all this data, what do we do with it? For example, when you drive you'll see cameras at just about every intersection. They're recording traffic patterns, and companies like Google and Apple are picking up on this telling us better routes to go, based on traffic. All that video takes up file storage space and compute space in data centers, which are connected with fiber that eventually gets back to your device. And look at the rise of companies like Uber. To be able create a company that has quickly achieved a valuation north of $40 billion, basically by reorganizing the cab business, would not be possible without data centers and the network.
The data center business and data in general are expanding exponentially. A slowdown is nowhere in sight. Continued expansion is easily going to take place for the next five years.