Last year, the Dallas office of Duke Realty Corp. leased 3 million square feet and built three buildings. Midway through 2015, the company has inked 2.5 million square feet in leases and is seeing strong build-to-suit activity.
Its latest win is a large distribution center for Shippers Warehouse. The nearly 600,000-square-foot facility will be built on a 32-acre, rail-served site in Prime Pointe, a 3,000-acre industrial park in Hutchins. The development is located at Interstate 45 and East Wintergreen Road, immediately west of the Union Pacific Intermodal Terminal in South Dallas.
The company is holding a private ground-breaking ceremony this morning.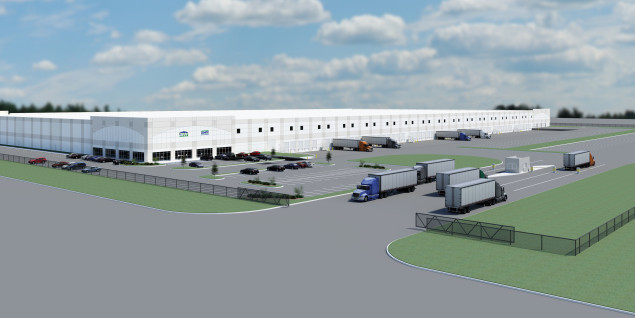 Jeff Thornton, senior vice president of Duke's Texas region, said he's working with familiar faces on the project. "We've had the pleasure of knowing Ken Johnson, president of Shippers, and Graham Swank, their COO, through the warehouse management services they provide to two of our large tenants in other Duke Realty buildings," he said. "We also have enjoyed a mutually beneficial relationship with Mike Rader, president of Prime Rail Interests, over the past several years having completed several land purchases for the development of other Duke Realty buildings in South Dallas. This transaction gave our companies the opportunity to work together again."
Johnson said Duke won out because of its expertise in developing bulk warehouses. It helped that Duke had already done due diligence on the land. "They were able to quickly move to put this site in production to meet our occupancy date," Johnson said.
In addition to allowing Shippers to put two operations under one roof, the Hutchins site also provides plenty of room for future expansion. The company will be the first tenant to occupy the 3,000-acre Prime Pointe, which offers "both rail and highway access right outside the front door," Rader said.
The new distribution center will be located on the north side of West Wintergreen Road, with two points of access. It will have nearly 100 dock doors and spaces for about 130 cars and 180 trailers, as well as truck courts. UP will serve the facility via a spur from the its main line that runs through the Dallas Intermodal Terminal.
The Shippers Warehouse project is one of a number of projects underway in Hutchins. All told, the city currently has about 4 million square feet of new industrial space being built, said Guy Brown, city manager—and it expects to see even more in the future.
"All of Southern Dallas County is seeing the arrival of new development because we have the best logistics, a robust workforce, and responsive local governments that embrace commercial development," Brown said.
Al Leon and Larry Leon with Logistics Realty represented Shippers Warehouse in its search for new space. Duke Realty was represented in-house by Matt Hyman, leasing representative.