The wins continue to roll in for Billingsley Co. and its Cypress Waters development. The developer today announced plans to build a 327,183-square-foot operations center for CoreLogic, an Irvine, California-based provider of consumer, financial and property information, analytics, and services to business and government.
Designed by BOKA Powell, the new four-story facility will be expandable to more than 400,000 square feet, to accommodate CoreLogic's projected growth. It will be built on a tract that sits at the northwest corner of Hackberry Road and Ranch Trail, just north of LBJ Freeway.
CBRE's Jeff Ellerman, Scott Hobbs, and Mike Scimo represented CoreLogic in its search. It involved a lengthy, deliberate process of evaluating market options to determine the right location and the right type of building for the business to function at its best, Ellerman said: "Recruiting, retention, and the right type of building were huge drivers in their decision."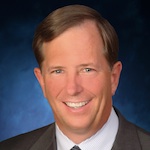 Cypress Waters is a 1,000-acre mixed-use project that surrounds North Lake, just north of Dallas/Fort Worth International Airport. Other tenants that have signed on for space in the fast-growing office park include 7-Eleven Inc. and Nationstar Mortgage.
With robust demand for space, Billingsley Co. will break ground on another speculative 215,000-square-foot office building at Cypress Waters this month, said Marijke Lantz, senior vice president of investments and build-to-suits. "We are experiencing tremendous leasing activity," she said.