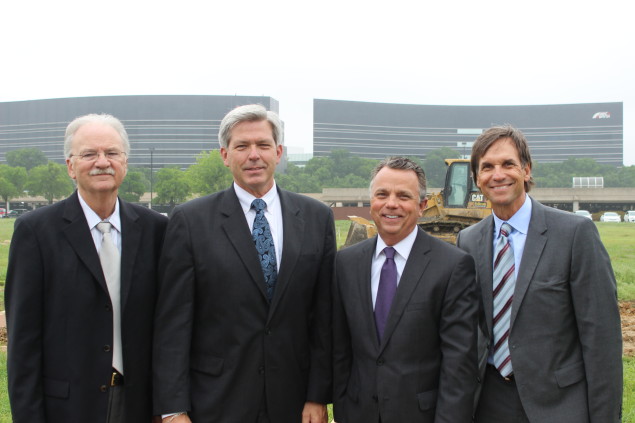 Addison officials and executives from Cawley Partners held a ceremonial ground-breaking event yesterday to mark construction of Tollway Center. The six-story, 200,000-square-foot office building will sit on the west side of the Dallas North Tollway between Belt Line and Spring Valley roads, immediately north of Lawry's The Prime Rib restaurant. Cawley Partners acquired the project's 6-acre tract from an affiliate of Crescent Real Estate last year.
Chairman and CEO Bill Cawley says he believes the Addison location is a sweet spot for ne office space. "Most of the development is at either end of the tollway," he says. "There is a lot of competition in Uptown and the Legacy area. This is a solid market and has been for years, and it's underserved."
The project has been able to draft activity from Cawley's recently completed Knoll Trail Plaza, a four-story building he recently completed just north along the tollway. Like that development, Tollway Center will feature a unique rooftop amenity deck with a conference center and health club and upscale food service.
"From the time it was announced, this building has seen as much or more activity than any project I've ever done," Cawley said. "The office market is the best I've ever seen. I don't know how long it's going to last, but it has been a great ride. The velocity and depth of deals is just hard to fathom."
Financing for Tollway Center is being provided by USAA Real Estate Co. The building was designed by BOKA Powell, and Hill & Wilkinson is the general contractor.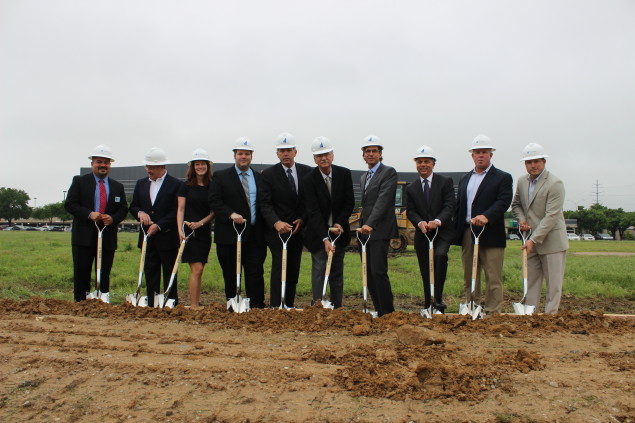 Orlando Campos, Addison's director of economic development and tourism, said Tollway Center will provide welcome relief for office users. "We're starting to see quite a bit of movement in the market in terms of absorption," he said. "This building will help us tremendously, as we are starting to run out of large contiguous office spaces. As a result, we have lost out on a number of projects that wanted to be in Addison—just because we didn't have the space for them. It's hard seeing some of these projects go, but they want finished product. They can't wait for a new building to be built."
Addison has been seeing solid growth in its tech sector. That's because its a desired location for millennial talent, said Todd Meier, the town's mayor.
"The demand for highly skilled, qualified, well-educated workers is such that companies need to view the community as an amenity that they can provide for their employees," he said. "With all of its restaurants, the fun things that go on, plus the quality of life in a safe community—that's where Addison stands tall."
Get the D CEO Real Estate Newsletter
Get weekly updates on breaking commercial real estate news and relevant industry reports.