The Renaissance Dallas Hotel unveiled its new, four-story, LEED Silver-certified events space last week. The 30,000-square-foot expansion adds to 19,000 square feet of existing space, which was given a renovation. The hotel spent about $35 million on improvements. (Scroll down for more photos.)
"What you see today is seven years of planning and design that has come together for what I think is an awesome space," said Mark Woelffer, general manager.
The hotel's new City View Terrace features 6,000 square feet of indoor space and 4,000 square feet of outdoor space. As its name implies, it offers an unobstructed, expansive view of the Dallas skyline.
Directly below that is a 16,000-square-foot ballroom. The space features state-of-the-art lighting and sound systems and two valet areas for guests.
"I've seen a lot of ballrooms in 60 years in this business. I've never seen one prettier than this," said Bill Marriott Jr., chairman of Marriott International, in Dallas for the big debut.
An art collection of paintings, sculptures, glass, and photography fills the spaces. This coming spring, The Renaissance will launch a rotating gallery of local art at the hotel.
Woelffer said the renovation allows the hotel to host larger groups. "Prior to this expansion … our biggest ballroom was 4,700 square feet. So we could do a couple hundred people. Now, we can do over a thousand people," he said.
The hotel hopes to recoup its renovation and expansion investment within five to six years, said Sherry Thomas, director of sales. "We're well on our way," she said. "We have huge bookings in 2015 and 2016, so we're definitely headed in the right direction."
The Renaissance Dallas Hotel originally opened in 1983 as a Wyndham Hotel. Marriott International took over with the Renaissance brand in 1997. The hotel has about 500 rooms.
Here are additional photos of the new space, provided by the hotel: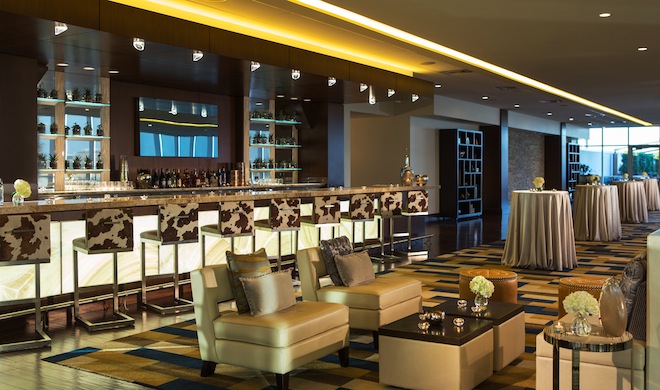 Get the D CEO Real Estate Newsletter
Get weekly updates on breaking commercial real estate news and relevant industry reports.