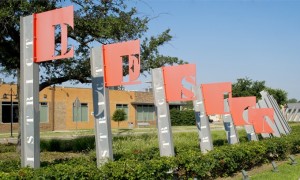 It's the end of an era in the Design District, with Lionstone Investments and PegasusAblon wrapping up the sale of their properties in the district to Dunhill Partners.
The sellers first acquired 30 acres of land and 700,000 square feet of showroom space from Crow Holdings back in 2007. They then went about redeveloping it into one of the most successful districts in Dallas, focusing on signature local restaurants and retailers and adding more than 1,000 multifamily units.
Glenn Lowenstein, chief investment officer, said the Dallas Design District has been a "solid investment" for Lionstone. "We are thrilled with the development and we wish Dunhill the best as they take the helm."
The acquisition includes the 7.5-acre Decorative Center complex at Oak Lawn and Hi Line and the 18-acre Dallas Design Center on Stemmons Freeway, along with more than a dozen retail and showroom buildings along Oak Lawn Avenue and Hi Line.
We caught up with Mike Ablon, principal of PegasusAblon, to get his thoughts on the sale—and what lies ahead:
D Real Estate Daily: How has what you achieved in the Design District lined up with the goals you had when you first got involved back in 2007?
Mike Ablon: As opposed to answering this question in terms of sticks and bricks, I will answer this in terms of vision. We had the dream of trying to take what was a nascent and disparate DNA and develop both a physical backbone and non-physical vibe, an ethos, almost a pre-existing mythology of what the district was, is, and is going to be, and put this in place. We wanted a broader cross-section of Dallas to have notion of this DNA. It was our hope that if we pursued this vision, and remained consistent to this vision and strategy, that it would succeed because it was a project that Dallas wanted. By example, our heavy focus on the experience economy was centered around one-off iconic restaurants, each of which would have their singular and non-commoditized experience. To accomplish this, we focused on Dallas restaurateurs—no nationals. Just look at the restaurants, they are cool! They are by Dallas, of Dallas, for Dallas … that's awesome!
DRED: What are you most proud of?
Ablon: I think we contributed a chapter to the story book of a piece of Dallas fabric. We tried to do this thoughtfully, leaving the city a bit bigger and better than we found it. History will be the judge of this, and if history judges us positively, I would be very proud.
DRED: What impact do you think the Design DIstrict's redevelopment has had on Dallas?
Ablon: That is for someone else to judge, but I will add these two thoughts: First, I think that cities are the composition of a sequence of moments, a sequence of spaces that are non-reproducible. The depth of these spaces and their significance adds to the depth of the local culture. I hope we added one. Second, I truly believe that we are moving from a consumer-based economy to an experience-based economy. This means that the spaces we need most for our very young city, is spaces that resonate to this shift into an experience based society. It is what Dallasites are looking for, and it is what the next generation will desire. I hope we have assisted a consumer-based district to morph into a new and blended district that can be a headline for both. If we have accomplished this, then there is a strong probability that the district will continue to flourish for the next generation.
DRED: Why was now the time to sell and move on to the next adventure?
Ablon: Unfortunately, it was the nature of our development funds, that they needed to move on. If not, we would have stayed, for sure! As far as the next adventure, we are hard at work on trying to start two new projects. They are both as equally ambitious as the Design District.
Stay tuned!
Get the D CEO Real Estate Newsletter
Get weekly updates on breaking commercial real estate news and relevant industry reports.