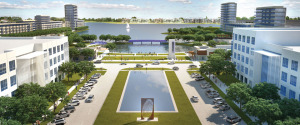 Developer Lucy Billingsley and her husband, Henry, first began eyeing land around North Lake in the 1990s. The large suburban tract had a terrific location—just minutes from Dallas-Fort Worth International Airport, nestled between Irving and Coppell.
"We always said this is a great property if there ever was a moment we might be able to get involved with it," says Lucy Billingsley. "Finally, that moment came."
The Billingsley Co. partners began assembling land in the area in 2003, eventually amassing 1,000 acres along a 362-acre lake. It's here that they're developing Cypress Waters. The vision is to create a "really great place to live, starting today and going into the future, and a great place to work," says Billingsley, who describes the community as sophisticated but casual, high-energy yet relaxed, and immersed in nature.
At full buildout, she expects 26,000 people on-site during the day and nearly as many in the evening. It's a place where people can work, live, and play, and have their children attend excellent schools.
When all is said and done, Cypress Waters, which fronts LBJ Freeway and Belt Line Road, will include 4.5 million square feet of office and retail space, 10,000 multifamily residences, three schools, parks, trails, and a lakeside town center.
With development well underway, most people are unaware of the major roadblocks the Billingsleys had to overcome. For one, the undeveloped property lacked basic infrastructure, such as roads and utilities. And although most of Cypress Waters is officially in the city of Dallas, it's smack dab in the middle of Coppell Independent School District, with a southern strip situated in Irving.
When word began leaking out about plans for Cypress Waters, the city of Coppell and the Coppell ISD filed lawsuits, concerned about the potential negative impact the project could have on city operations and schools.
There was also the matter of hashing out who was going to pay for what—not an easy thing, with so many parties involved.
Read the full feature by Karen Nielsen in the fall edition of the Dallas-Fort Worth Real Estate Review, produced by D Magazine Partners in collaboration with the Dallas Regional Chamber and The Real Estate Council.