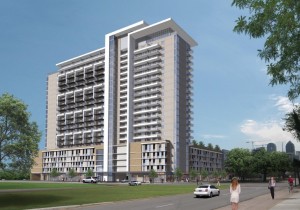 Several RealPoints readers have asked about a project under construction across from American Airlines Center in the Design District. Driving along Interstate 35-E, you can't miss it. Called 1400 Hi Line, it's a snazzy-looking, 23-story multifamily development, with retail on the lower level.
We recently talked with executives from developer PM Realty Group: President and CEO Rick Kirk and CFO Roger Gregory, both of whom are based in Houston; and Bryant Nail, Dallas-based senior vice president who's overseeing development. They shared details about 1400 Hi Line—and other projects in the works.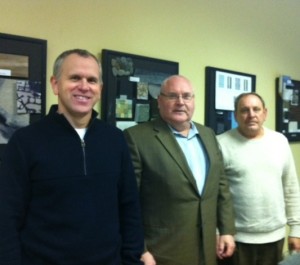 RealPoints: How did this project come together?
Bryant Nail: We started looking at this site in late spring early summer of 2008. We secured our equity in early fall of 2008 and closed on the land in January of 2009. It's a 2.5-acre tract. We liked the location in the Design District. We liked the fact that this area of the district is all owned by one entity, Lionstone Group, which (along with Michael Ablon) purchased all of the holdings by Trammell Crow. They had a master plan for it. They did all of the heavy lifting with the first three projects, doing the pioneering work.
RP: What made the location so compelling?
Nail: We were looking for a place close to downtown to develop. We looked at other sites on the edges of Uptown near Victory; that didn't feel too good to us. We looked at some things on the east side; that didn't feel too good either. We looked at some sites downtown, but for this type of product, downtown just isn't quite there yet. This is a very walkable area. The city has invested nearly $7 million in public infrastructure money over here. The views were a big part of it, too. We knew that the views of downtown would be spectacular.
Rick Kirk: It also has very good access to downtown, Uptown, the Medical District, and public transportation.
Nail: And we got a sustainable community grant from the North Texas Council of Governments to create a pedestrian connection between the Design District, the DART station, and the Katy Trail.
RP: When did development get under way?
Nail: We designed the building and bid it out in 2010 and closed the construction loan on Dec. 27, 2010.
RP: What are some of 1400 Hi Line's features?
Nail: It's 23 stories, with 314 apartments and 26,000 square feet of retail on the bottom. We will complete it by the end of 2012. We'll actually open it up and move the first people in at the end of June. It will be Silver LEED-certified, maybe Gold. Another neat thing about the project is the amenities deck. It's nearly 1-acre on the 6th floor that will effectively be a living roof area, with a swimming pool, workout facility, fire pits and outdoor grills, and a common area that we call a great room off the pool deck. It's going to truly be an urban area in a very green setting. (See additional renderings below.)
RP: How large are the apartments?
Nail: About 60 percent of the units are one-bedroom and one-bedroom dens, and 40 percent are two-bedrooms. They'll average about 1,000 square feet, but range in size from 600 square feet to nearly 1,700 square feet.
Kirk: One tenant called when we were barely under way. She wanted to be the first tenant.
Nail: She owns a few restaurants in the area.
RP: So what kind of market are you targeting? Where is demand coming from?
Nail: Our demographic is somewhat across the board. The target is the 30- to 50-year-old professional who either works in the area or just wants to live in the area and cross-commute. With regard to demand for the retail space, we're in negotiations with a pretty large restaurant, a corner store, and some ancillary uses. (Earl Harris and Austin Schenkel with The Weitzman Group are handling retail leasing.)
RP: And the residences?
Nail: We're forming a joint venture with a third-party property management company, Ominum Management. They'll help lease and manage the property.
RP: Who else is working on the project?
Nail: Rogers O'Brien is the general contractor, Gromatzky Dupree & Associates is the architect, Faulkner Design Group is handling interiors, and Mesa Design Group is the landscape architect.
RP: What's the mix between development and brokerage activities at PMRG?
Kirk: The management and brokerage component, the service end of the business, is traditionally and currently 80 percent of our core business. That's changing, as we focus more on the development and investment side of the business. It's part of our long-term strategic planning. We think our historical core business (management and leasing) is a tremendous platform and also provides market information and market penetration. The investment side of the business has its own rewards from a stability and, quite frankly, income standpoint.
RP: How would you say the Dallas market compares to PM's other markets?
Kirk: We, as a company, are very bullish on Dallas and Houston—Texas, really, in terms of market growth, job growth, and fundamentals. We think 1400 Hi Line, for example, came out of the ground at just the right time. We are pioneering a little bit in terms of location, but we are very confident in Lionstone's overall master development. I might point out that Lionstone's support has been instrumental in what we feel is going to be a very successful project. From a development standpoint, we'll continue to look at multifamily/residential in urban infill areas. We're also focused on office and medical office, which has become a big component of our business.
RP: Do you have any other projects currently under way in North Texas?
Kirk: Not at the moment. We're looking at some sites. But we do have a rather significant project that has been announced in Houston. It will be another very high-profile, high-rise residential. We are in the design phase right now. It will have somewhere around 250 units; they'll probably be larger units than what we're doing here, simply because the market demands that right now. (The 35-story, yet-to-be-named project, in the West Inner Loop Submarket, is adjacent to Highland Village and River Oaks. It will be owned by PMRG and Washington, D.C.-based Indure Fund.)
RP: Do you have offices in Austin and San Antonio?
Kirk: We do business in Austin and San Antonio on the corporate side, and we hope to be active from a development standpoint within the next year or year-and-a-half.
RP: What else do you want RealPoints readers to know about 1400 Hi Line?
Roger Gregory: This is the first project of this development cycle in Dallas. We think that gives us a first-mover advantage, to be able to have the first project coming to the market. There has been a lot of pent-up demand in the last couple of years with so little supply, especially in this submarket. We believe we're going to be leasing up at a time when other product is being built, but not yet available.
Nail: Dallas has had very good job growth, that's helping to create demand as well.
Kirk: Corporately, PM is tremendously excited about 1400 Hi Line. The team—Brian, Roger, our partners—have done a terrific job. Again, it's a bit of pioneering, but we've had good success in the past, and this wasn't done without a lot of study and market information and hard work. We're very confident in the success of the project and we really think it will be a home run.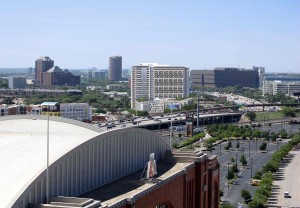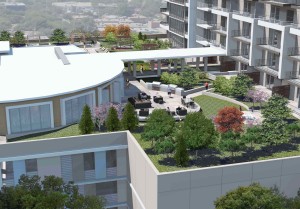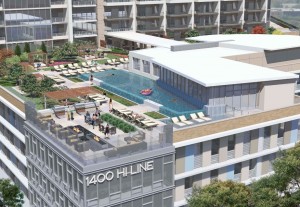 Get the D CEO Real Estate Newsletter
Get weekly updates on breaking commercial real estate news and relevant industry reports.