The popular phrase "Everything is bigger in Texas" may be more truth than myth, especially in Dallas-Fort Worth. But just how big is big?
Dr. Jim Gaines with the Real Estate Center at Texas A&M University gave a presentation last week at a meeting hosted by the Southwest chapter of CoreNet Global. It included a slide of the 25 U.S. states with the largest populations. If Dallas-Fort Worth were a state, it would be the 17th largest state, according to the 2010 Census (click on chart for larger view):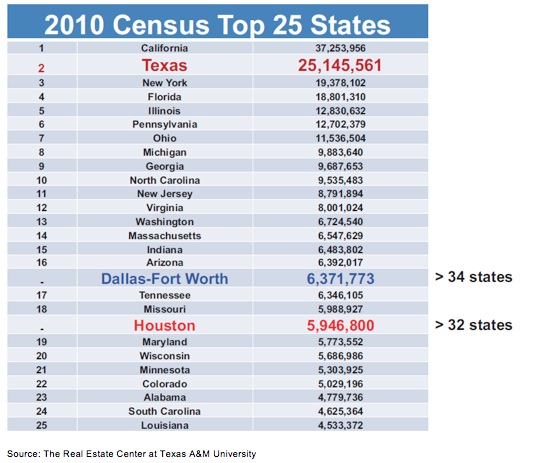 So, what else stands out, besides the 6.3 million residents we've packed into a 12-county area?
The Dallas and Fort Worth independent school districts are the second and third largest in Texas, with a combined enrollment of about 241,000 students—that's a lot of students. Dallas/Fort Worth International Airport is the third largest in the world, in terms of operations—that's a huge amount of passengers and trade. And wearing size 70 boots and a 75-gallon hat, Big Tex towers 52 feet above the visitors he greets at the annual State Fair of Texas—those are some really big shoes to fill.
And what does our region produce? According to the U.S. Bureau of Economic Analysis, the Dallas-Fort Worth-Arlington MSA produced a Gross Domestic Product of $374 billion in 2010—the sixth largest metropolitan GDP in the U.S. If Dallas-Fort Worth-Arlington were a nation, it would be the 26th largest GDP, according to rankings from the World Bank (click on image for larger view):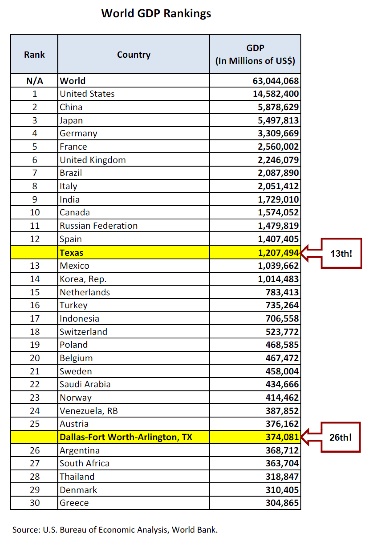 The sizable population and churning economic engine in Dallas-Fort Worth have shaped our commercial real estate market, which now competes on a global scale. North Texas is home to nearly 191 million square feet of office space and 664 million square feet of industrial space.
Now that's big!
Moody Younger is an executive managing director for Grubb & Ellis, overseeing the firm's activities in Texas, Oklahoma, Arkansas, and northern Mexico. Contact him at [email protected]
Get the D CEO Real Estate Newsletter
Get weekly updates on breaking commercial real estate news and relevant industry reports.