One of the biggest questions on an office leasing broker's mind these days is, "When will office leasing activity pick up?" Although I don't have a crystal ball to reveal the answer, and my Magic 8 Ball hasn't been too helpful, there are a few trends in the marketplace that can help answer the question.
Temporary employment hiring is a leading indicator for permanent employment, as businesses hire temporary workers before they begin hiring more costly permanent employees. Temporary employment in the United States has been on the rise ever since reaching its low point in August 2009.
In Dallas-Fort Worth, temporary employment has been tracking closely to the U.S. trend, although the local market hit bottom earlier, in April 2009, and has been on an upward trend since that time. Temporary hiring is now at levels not seen since late 2008 and is currently only about 16 percent below the peak reached prior to the economic recession. The rise in temporary employment should lead to increased permanent employment, which will result in increased office space leasing.
Additionally, in its first quarter 2011 CEO Economic Outlook Survey, the Business Roundtable reports that 52 percent of CEOs expect to increase employment in the next six months. This is a big jump from the first quarter of 2010, when only 29 percent of CEOs expected hiring to increase. Corporations have been sitting on large amounts of cash and appear to be closer to making hiring decisions, which will eventually lead to an increase in office leasing demand.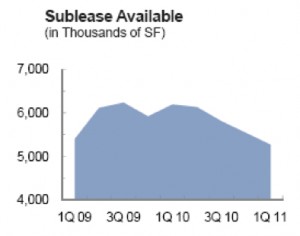 Another trend in the DFW office market is a reduction in the amount of available sublease space. Since reaching a peak of nearly 6.2 million square feet in the first quarter of 2010, the amount of available sublease space has steadily declined, standing at about 5.3 million square feet at the end of the first quarter of 2011.
In addition, the office construction pipeline remains depressed; just one build-to-suit project was under way at the end of the first quarter—a 281,600-square-foot office facility for EnCana Oil & Gas. As the amount of available sublease space declines, and with no new space deliveries on the horizon, tenants will begin to take down more direct space.
These are just a few of the indicators suggesting that office leasing should pick up by the end of the year and strengthen in 2012. There may still be a few bumps along the way—U.S. employment growth dropped in May to only about 54,000 jobs, and some government-sector job cuts are looming over the next several months—however, private sector hiring continues to trend up, and that always leads the way to improved office space absorption.
Moody Younger is an executive managing director for Grubb & Ellis, overseeing the firm's activities in Texas, Oklahoma, Arkansas, and northern Mexico. Contact him at [email protected]
Get the D CEO Real Estate Newsletter
Get weekly updates on breaking commercial real estate news and relevant industry reports.