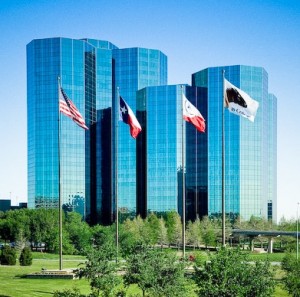 MetroPCS isn't the only company expanding its North Texas operations. Celanese, a global technology and chemicals concern based in Farmers Branch, is leasing about 110,000 square feet at The Urban Towers on Las Colinas Boulevard. Like MetroPCS, Celanese had simply run out of space at its existing location. The Fortune 500 company occupies about 210,000 square feet in Park West along Interstate 635, where it employs approximately 650 people.
The company will relocate its headquarters and related personnel—about 300 people—to the new space in Las Colinas later this year. Celanese's shared services group will continue to occupy the Park West office building at 1601 LBJ Fwy., where a lease is in place until 2017.
Chairman and CEO Dave Weidman (profiled in a Oct. 2007 D CEO cover story) says Celanese is committed to maintaining its headquarters in the Dallas area. In 2005, he said, the corporation was going through a transformation and had the opportunity to relocate anywhere in the world. "We chose Dallas, for a variety of reasons," he said. "We are a global company, so we needed to be somewhere that has a phenomenal airport; and … there are not a lot of airports that have the type of service, globally and domestically, that Dallas/Fort Worth offers.
"We also wanted to find a place that had a great base of talent, and the Dallas area, for the types of things we do, has phenomenal talent," Weidman said. "Lastly, we wanted to be in a place where our people could have a great lifestyle. So we made a conscious choice. And if we had to do it again, we absolutely would."
Weidman added, "We continue to grow and expand here in Dallas and Texas and hire people who have a variety of skills to help our corporation grow globally." He made the comments Friday at a private real estate panel discussion hosted by Hudson Peters Commercial.
Celanese was represented in the transaction by Jon McNeil, Scott Collier, Rachel Brown, and Torrey Littlejohn with Jones Lang LaSalle. Jeff Funderburk with Benson Hlavaty will head up interior design, and Vince Burt and Bill Benton with Jones Lang LaSalle's project development services team will oversee construction.
Bill Lokey Jr., John Fancher, and Miranda Henson with CB Richard Ellis represented the landlord, SP Millennium Center LP, owner of The Urban Towers on Las Colinas Blvd.
Get the D CEO Real Estate Newsletter
Get weekly updates on breaking commercial real estate news and relevant industry reports.