Philanthropy & Nonprofits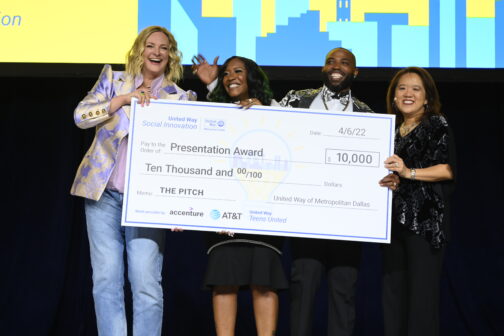 Nonprofits
In one night, AES Literacy Institute outearned its yearly operating budget of $86,000 by taking home $105,000 in winnings at the United Way of Metropolitan Dallas' yearly 'Shark Tank'-style competition.
Philanthropy & Nonprofits
Baylor Scott and White Health's Faith in Action Initiative is sending medical supplies into the war zone.
Doing Good
Make the day off a day on. Here are six places in Dallas where you can do some good.
Media
Isabelle Martin is an Episcopal student who is undergoing treatment for osteosarcoma. But that hasn't kept her from starting a research fund and volunteering at Austin Street Shelter.
Arts & Entertainment
It was all part of the DSO's C-Suite Christmas program, which will air Dec. 24 on Bloomberg TV.
Philanthropy & Nonprofits
Plus: FGI Dallas hosts Night of Stars, Paige Flink named Texas Trailblazer, Night at the Museum gets boost from Lyda Hill, and Folds of Honor raises nearly $2 million.
Philanthropy & Nonprofits
One of the best golfers to ever play the game recently visited Dallas to help raise funds for veterans at Bent Tree event hosted by Generational Group.
Nonprofits
She and her quarterback husband Tony Romo are honorary chairs at this year's fundraiser. And yes, they made a Cowboys-themed train.
Nonprofits
Plus: Craig and Kathryn Hall honored for visionary leadership; six trailblazers inducted into the 2021 Texas Women's Hall of Fame; and more.