Person of Interest
Lanny Wadkins has 10 years of commentary for the Golf Channel's PGA Tour Championships coverage, a spot in the World Golf Hall of Fame, and designed the best golf course in Texas. Here's what he has to say about the course that will soon host a major championship.
Publications
On a road trip to East Texas, R.L. Griffin learns that you can never go home. Which is just as well, because the Dallas legend runs the best, most booty-shaking club in town.
Baseball
Clayton Kershaw built a Hall of Fame career in Los Angeles. But his heart has always remained in the Park Cities, where he and his wife, Ellen, grew up. As he rounds third on his playing days, he's getting ready to come home for good.
Person of Interest
Carolina Alvarez-Mathies is a New York transplant on a mission to spark curiosity amongst art lovers in our city. Here's a look at Alvarez-Mathies' day to day as an executive director and why she has been dubbed the Paris Hilton of El Salvador.
Personalities
We all know Tobin as the owner of Goodfriend, a beer garden and burger house hybrid. But here's a fun fact about him: he has been fascinated with watches ever since his parents got matching Omegas. And now, Tobin has acquired a full collection.
Person of Interest
After a lifetime of crappie achievement, Wally Marshall will be inducted into the Texas Freshwater Fishing Hall of Fame. We found out how Marshall jumped from plumber to fishing master–it took over 90,000 miles of road time.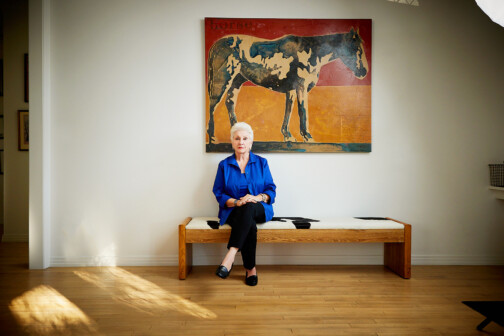 Local Government
Norma Minnis has spent decades killing projects that would have forever altered her neighborhood and single-family neighborhoods across Dallas. Her current target: Airbnb.
Books
In 1970, after her parents sold their brake-repair business in Dallas,15-year-old Jane Saginaw went with her family on a monthslong trip to see the world. The journey was made more complicated by her wheelchair-bound mother, a polio survivor.
Personalities
After prosecuting cases for the Dallas County District Attorney, Yodit Tewolde scored her own show on Court TV and starred as a legal analyst on America's Most Wanted. Here's how Judge Judy convinced her to start filming.
Person of Interest
Philip Hiatt Haigh, the executive director of the Circuit Trail Conservancy, tells all about the newest bike trail that will be winding its way through Dallas in 2026. Plus, a little bit of relationship advice.