Cowboy Boots In Dallas-Fort Worth
Shopping & Fashion
After 50 years running his iconic western wear outpost, Wild Bill Dewbre retired last summer. We caught up with Cody and Julie Newport, who took up the reins, to see how things are going.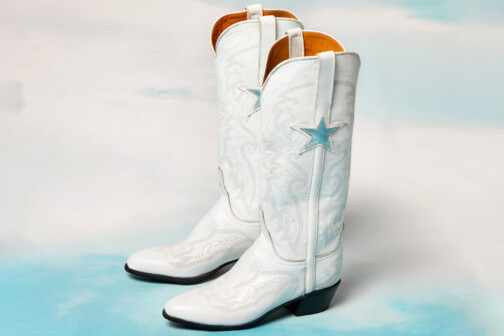 Fashion
This year marks the 50th anniversary of the team's legendary uniform. But when did the crisp, white Lucchese boots join the ranks?
Fashion
More than 40 years ago, an old cowboy asked a teenaged Steven Parker if he wanted to learn to make cowboy boots. Years later, Parker now owns and operates Morris Boot Co., a handmade custom boot shop, in Fort Worth.
Cowboy Boots in Dallas-Fort Worth
Lookin' for boots in all the wrong places? Don't fret—we checked out all the best boot dealers in town so you don't have to. Here's where to buy your next pair.