Dallas-based Robin Autopilot has partnered with California's Graze to test automated lawnmowers at DFW Airport to keep its 14,000 acres of North Texas prairie looking sharp.
Robin Autopilot is combining its robotic lawn mowing and landscaping platform with Graze's fleet of fully autonomous commercial lawn mowers to be tested at the world's second-busiest airport. Robin has positioned itself in the robotics-as-a-service space, working with clients in the maintenance and landscaping industry to offer more environmentally friendly solutions to lawn care. In addition to Graze, it works with Husqvarna, ECHO, NexMow, and Spider.
Dallas has become a hub of autonomous vehicles, with the recent announcement that San Francisco-based Cruise will launch driverless taxis in Dallas before the end of the year. Alliance Texas' mobility innovation zone provides opportunities for companies to test its automated technology. Alliance's intermodal port allows for smooth and automated interaction between truck, train, and air freight, providing the infrastructure and space necessary to make automated vehicles a reality in North Texas.
Companies like Kodiak robotics and Aurora Innovation are already running pilots of automated trucks throughout the state, with driverless semi-trucks in the works.
The mowing partnership has the fingerprints of Logan Fahey all over it. Fahey transitioned from his role as CEO of Robin to take the helm at Graze in June after Robin moved its headquarters to McKinney in 2021. Fahey's diverse career has seen him dabble in politics, form a holding company, and even launch a bakery. But his career as an entrepreneur began with a successful lawn services company, an industry he has found his way back to.
Robin's platform is allowing Graze's autonomous electric mowers to do what they do best: mow large-scale commercial properties, like golf courses, parks, medians, and government property. It frames itself as a labor-saving and environmentally friendly (the mowers are electric rather than gas) option for companies to achieve sustainability goals where users set the boundaries and the mowers take care of the rest.
Robin began testing the technology with the airport in June, focusing on landscaping and maintenance, especially around the airport's corporate headquarters, Founders Plaza, and dams. Graze, based in El Segundo, California, plans to open an office in DFW later this year and begin serving more Texas customers.
"We are excited about the success of this initiative and we look forward to the possibility of expanding it and other key programs to serve enterprise-level customers in the rapidly growing autonomous mowing industry throughout Texas," Fahey said.
Get the D CEO Newsletter
Stay up to speed on DFW's fast-moving business community with weekly news reports, interviews, and insights.
Author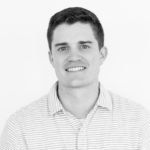 Will is the senior editor for D CEO magazine and the editor of D CEO Healthcare. He's written about healthcare…