In 2007, Kimberly-Clark appointed Aaron Powell as the company's strategy director. By 2020, he was promoted to the president of the company's Asia Pacific consumer business. Pizza Hut then recruited him in 2021 to become the company's global CEO.
In 2022, Powell's first full year with the pizza giant, Pizza Hut opened 1,584 stores across the globe, bringing its total to 19,034 stores. Its parent company, Yum! Brands, reported total 2022 revenue at $6.84 billion—a 3.92 percent increase year over year.
In his extended 2023 Dallas 500 Q&A, Powell talks about his go-to travel destinations, the best advice he has ever received, and what he'd be doing if he lived in an alternate reality.
Birthplace: Chicago Heights, Illinois
Education: The University of Pennsylvania (MBA, Strategic Management), Washington University in St. Louis (BSBA, Business Administration)
Best Advice: "'No matter what you do, be a professional.' This was advice from Stan Gohlinghorst who was my second manager. He had 40 years of experience, while I was a sales representative at Procter & Gamble. He taught me to—no matter what the task and what the role—put your heart into it, be the best that you can be, and then things will work out."
Destinations of Choice: "I love New Orleans because of the music, the food, and the history. My wife, Suzette, and I are trying to get into the habit of going to JazzFest every year. We also love the experience of visiting a country and engaging with a new culture for the first time; it's even better if it has a beach. When traveling, a favorite activity is wandering into a restaurant, bar, or shop and being with locals."
Hobby/Passion: "I love and live music and I enjoy learning about history. One of the interesting intersections for me is anything dealing with Blues Music. My father and his family are from the Mississippi Delta. So, a great hobby is learning about and listening to the old Blues Greats of the 1940s, 1950s, and 1960s and then seeing how their music inspired people like Stevie Ray Vaughn or the Robert Cray Band."
Pivotal Moment: "The first 15 years of my career were focused on sales, marketing, and consulting in various U.S. cities. Then, I began an international chapter of my career—one that was never the plan. For the better part of the last 15 years, my wife, two daughters, and I have lived abroad: in Hong Kong, Ukraine, Turkey, Russia, and Singapore. Beyond the business experience, we loved the life experiences and friendships made. Our daughters spent many of their formative years living in different countries and they see the world differently than we do. It is something we are thankful for. "
Alternate Reality: "At one point I wanted to be a high school football coach and social studies teacher and I wonder what that would have been like. I get real enjoyment in developing people and I am a big believer in what sports can do for creating leaders and teaching teamwork. I have the utmost respect for educators. And I am proud of my father, Dr. Philip Powell, who passed away in 2022 after having been a professor for 25 years and a high school teacher for another 25 years."
Future Forecast: "I am truly fortunate to be a part of such a loved brand in Pizza Hut. I am super excited about the joy that friends and family have while enjoying each other and eating Pizza Hut together. It is the cuisine which is about sharing and about being social. And I am particularly excited about helping this brand have a similar role to today's younger generation as it did during my formative years."
Get the D CEO Newsletter
Stay up to speed on DFW's fast-moving business community with weekly news reports, interviews, and insights.
Author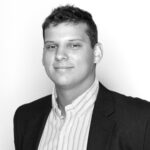 Ben Swanger is the managing editor for D CEO, the business title for D Magazine. Ben manages the Dallas 500, monthly…