By age 22, Brandon Cohanim was running two seafood concepts in West Village. He launched Pok the Raw Bar, a poké eatery, in 2017, partnering with his SMU classmates Jimmy Park and Francois Reihani, the now founder of La La Land Kind Café. A year later, Cohanim opened sushi concept Namo in the space next door.
Since then, much has changed: Pok the Raw Bar closed permanently during COVID, and Namo's menu has expanded beyond hand rolls and evolved to include a new method of sourcing. "When the pandemic happened, I knew that I had to shift what I was doing and adapt to the world situation that we were living in at the time," Cohanim says.
Namo's initial approach—16 seats around a sushi bar and a menu that highlighted simple hand rolls, a few sashimi selections, one beer, one wine, and nitro green tea— was too limiting. The young restaurateur began broadening the menu to feature more sashimi and new nigiri selections. "Our ethos as a restaurant changed, and it became something that was more product-driven," Cohanim says. The shifts proved successful, and Namo's performance improved.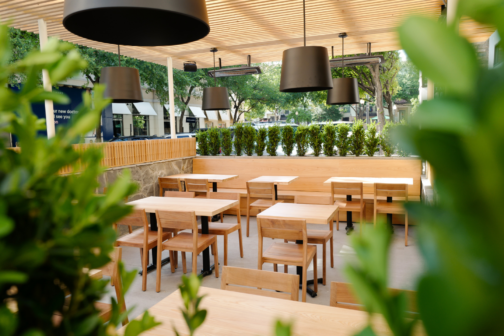 Meanwhile, the lease at Pok the Raw Bar was up for renewal. "It was doing well, but poke I felt was still a trend," Cohanim says. "I was 19 [when I launched Pok]. I started in a business that I knew nothing about…There was a huge learning curve. I made good decisions. I made poor decisions. I've learned a lot throughout the process, and it took me a little bit of time to figure out what I'm good at, what I really enjoy, what I think I can elevate and take to the next level, and where I think my future as a restaurateur and in hospitality is headed."
He decided to close Pok permanently in 2020, focusing on transforming Namo instead. First up: figuring out a way to source his fish directly from a Japanese fish market. "Typically, [distributors importing from Japan] are working with a big company in the fish market in Japan, and they will buy 50 of one fish, 80 of another fish—they're just buying it from the fishermen, and throwing it all in one box, and it's coming here," Cohanim says. "After some time, some of it will go to one restaurant, some will go to another restaurant. What we started doing was something different."
He connected with Masachi San, a business owner inside a Japanese fish market, whom he had met in 2017 during travels abroad. The two struck up a deal in which Masachi San would serve as Cohanim's buyer in Japan and ship him 160 to 200 lbs. of fresh fish once or twice a week.
"By doing this, we have a few advantages: One is we have access to more products. We have access to a lot of products that other restaurants don't have access to," Cohanim explains, adding that the import costs and the fees he pays to Masachi San shake out to roughly the equivalent of what he would pay a distributor after currency exchange rates and rising costs.
"The supply chain was getting far too clogged in every way," he continues. "There were products that [distributors] weren't shipping anymore, and some prices for certain products were going up so high that it didn't make sense. At the same time, I was thinking 'How we could take Namo to the next level?' And that's when I thought 'We have to change the way we're sourcing to make the product the star.'"
Namo Executive Chef Kazuhito Mabuchi—a former sous chef for Michelin Star restaurant Ginza Onodera Los Angeles who Cohanim hired in May 2022—communicates with Masachi San about what the restaurant needs for the week. Masachi San then peruses market offerings, choosing fish for quality and size. From there, the fish is packed and shipped directly from Haneda or Narita Airports to DFW International, where Namo General Manager Johnny Dewar, Cohanim, or Chef Mabuchi will receive it. "We're essentially buying everything in real time that morning," Cohanim says.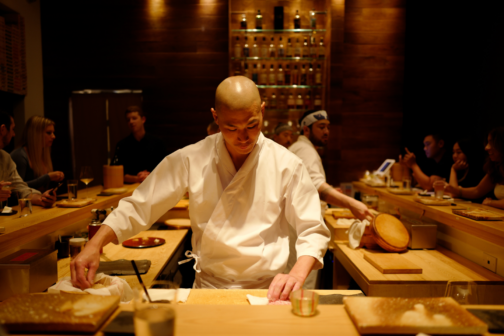 The strategy provides an opportunity for Namo to showcase lesser-known or migratory fish at times. Now, Namo's menu has a much wider range than its original, including seasonal chef's selections (okonomi), seven sashimi options, monkfish liver (what Cohanim calls the "foie gras of the sea"), eight rolls, a chef's nigiri selection, and more.
Chef Mabuchi also offers tuna tastings with the popular fish sourced from Japan rather than Mexico or Hawaii. "Tuna in Japan is very special, and every sushi restaurant Japan is very proud of their tuna," Cohanim says. Namo has kept weekly 20-course omakase dinners it had on Wednesdays—a point of pride for the restaurateur. "It makes me so happy when I see everybody interacting and everybody meeting each other, and then I see those people come back another time together," he says.
He has enhanced his decor with items sourced from Japan as well, including coasters made from Hinoki wood, ceramics by Japanese artists, sake cups made from hand-cut Japanese glass, cutting boards from the Nagoya forest, and more. "Different elements that we can bring from Japan to Namo that are unique help elevate the experience," Cohanim says.
He says any future concepts he develops will stick to the product-focused approach he has initiated at Namo, showcasing quality ingredients at affordable prices. "For everything that I want to do, I will start with the ingredients," Cohanim says. "It will be about hospitality. It will be about making the restaurant and experience feel comfortable and homey—like a neighborhood restaurant."
Get the D CEO Newsletter
Stay up to speed on DFW's fast-moving business community with weekly news reports, interviews, and insights.
Author
Kelsey J. Vanderschoot came to Dallas by way of Napa, Los Angeles, and Madrid, Spain. A former teacher, she joined…