Dallas-based Colossal Biosciences, the world's first de-extinction company, closed a $150 million Series B funding round. According to Bloomberg, the valuation of the company—which has raised a total of $225 million of capital—is now $1 billion.
As part of Colossal's Series B funding round, it will launch a new sector called Avian Genomics Group, which will work to de-extinct the dodo bird. This new effort will be the company's third de-extinction project alongside the woolly mammoth and thylacine tiger. Beth Shapiro, a professor in the Department of Ecology and Evolutionary Biology at the University of California, Santa Cruz will join the Colossal Scientific Advisory Board and lead dodo bird de-extinction project.
Colossal Biosciences claims that its innovations in synthetic biology will improve the state of the planet and further the U.S. high-tech advantage. The company also says that the use of various gene editing technologies will provide the agriculture sector with new biofuels and preserved biodiversity, as well as improve human health through gene therapy and vaccine development.
"By gathering the smartest minds across investing, genomics, conservation, and synthetic biology, we have the opportunity to reverse human-inflicted biodiversity loss, while developing technologies for both conservation and human healthcare," said Ben Lamm, Colossal's co-founder and CEO.
The woolly mammoth's de-extinction process now employs 40 scientists in three labs and has successfully sequenced high-quality reference genomes for African and Asian elephants in the hopes of fusing elephant DNA with mammoth DNA that has been frozen in ice for centuries.
For the thylacine tiger, commonly known as the Tasmanian tiger, 30 scientists are now a part of the resurrection, which have successfully established conservation and genomic preservation capabilities in all marsupials. "The work is massively accelerated and currently ahead of our internal schedules," said Andrew Pask, Colossal Scientific Advisory Board member and Thylacine lead.
Slate Hill Invests in a Leading Dallas Investment Advisory Firm
Single-family-office-backed holding company, Slate Hill Partners has taken a minority stake in Dallas-based XO Wealth Management—which has $630 million in assets under management. The deal represents Slate Hill's entrance into the Registered Investment Advisor sector; the company plans to continue to deploy capital in the marketplace in the future.
"XO Wealth Management is a terrific firm run by exceptionally talented and committed individuals," Joe Valdman, managing partner of Slate Hill, said. "As a fellow Dallas-based firm, we're thrilled to support the growth and future success of XO, which has impressive brand recognition in Texas, a growing client base, and a strong track record of delivering high-quality service. Moreover, our respective cultures of putting the client first totally align."
XO Wealth Management was founded in 2016 and focuses on serving high-net worth clients, corporate executives, and entrepreneurs with financial planning and investment management. "We view SHP as an exceptional partner and perfect match for our firm," founder and managing director, Matthew Fuller said.
Harwood Announces New Market Concept Fig & Favor
Harwood Hospitality, the restaurant and hotel-focused arm of Dallas-based Harwood International, will open its 12th concept this spring—a market called Fig & Favor. The 1,000-square-foot market is set to open on La Rue Purdue (Wall Street) near sister concepts Harwood Arms, Elephant East, and Poco Fiasco. It will showcase selections from Harwood restaurants' wine lists, an espresso bar, grab-and-go meals, gelato, and more.
"With 11 existing Harwood concepts, a market has been a missing component in the district. We took our customer's favorites from [Harwood's] sister concepts and put them all together at Fig & Favor. Look forward to Dolce Rivera's pasta dishes to take home for an easy dinner, Magnolia: Sous Le Pont's coffee beans, a sandwich inspired by Mercat Bistro's, and steak and jerky from our HWD Beef program—just to name a few," said Harwood Hospitality Group's vice president of culinary Taylor Kearney.
Wines at the market will be hand-selected by Harwood District's sommelier. Grab-and-go options will include sandwiches, fresh salads, and snack options.
Fig & Favor will be designed by Harwood International's design and architecture team HDF and will showcase a clean, light, bright, and airy facade. The team plans to use antique woods, brushed nickel, oil-rubbed bronze, and white and green woven accents to create a rustic charm. "It's more than just your typical marketplace," said HDF's design director Melinda Clark. "We designed the space to feel intimate, fresh, and cozy—as though you've left Dallas and found yourself in a corner shop on a charming street in Bordeaux, France."
The announcement follows Harwood's plans to open a 22-story boutique hotel in the district, called Hȏtel Swexan.
Retro Fitness Launches Gym Franchise Locations in DFW, Aiming to Bring Affordable Health Clubs to Black and Latino Communities
Florida-based fitness franchisor Retro Fitness has opened four gym locations in DFW and announced plans for 25–30 more. The new locations are part of the company's Project Lift Initiative, which aims to bring affordable and accessible fitness to working-and middle-class Black and Brown communities.
"We all hear about food deserts, but they are also health club deserts," said Retro franchisee and Eastwood Capital Partners managing partner James Collins. "Just like you have with grocery stores and hospitals, health clubs really should be a part of the infrastructure of, not just our country, but in particular, these communities." Nationwide, Retro Fitness plans to bring 500 new gyms to 50 diverse communities in the next five years through Project Lift.
Collins is leading the charge for Retro Fitness in North Texas, having opened four locations at the start of the New Year in Mesquite, Garland, North Dallas, and Richardson. Retro Fitness acquired these locations from YouFit Health Clubs, allowing Collins to fasttrack their openings and bring over many former YouFit members. He plans to build three or four more locations in North Texas from the ground up, aiming to open them before the end of the year.
"Our goal is to open those gyms in the fall and early winter, before the end of the year," Collins said, adding that he is in advanced-stage negotiations on five to seven more locations in the region. He anticipates the market cap for Retro Fitness in Texas to be at 25 to 30 gym locations.
"We really want to get away from the notion that Black and Brown people only live in the city or in the 'hood.' There are a lot of thriving middle-class and working-class communities. Some are in the city; some are on the outskirts of the city. So, we're going wherever the people are, and when we look at our real estate strategy, we can almost create a ring all around [Dallas]," Collins said.
Each Retro Fitness gym will offer memberships with group classes and additional amenities, including group workout classes, a "Zen Den" with massage chairs for recovery, smoothie bars, tanning options, and educational health and nutritional seminars. Membership options are under $30, a model Collins says is possible due to competitive pricing for real estate and equipment and a focus on combining high-quality offerings with large customer volume. "We hope to have several thousand members at each of our gyms," he said.
Collins' efforts are also part of BlackRock's Impact Opportunities Fund, which aims to increase economic opportunities and collective wealth in undercapitalized racial and ethnic groups.
The Agency Brings Real Estate Brokerage Franchise to Dallas
Luxury global brokerage firm The Agency recently opened offices in Dallas. With more than 70 franchises globally, The Agency represents residential, new development, resort real estate, luxury leasing, and vacation rental clientele and has closed more than $45 billion in real estate transactions since 2011.
The Dallas office will be led by realtor Damon Williamson and his wife—a marketing specialist—Megan.
"The collaborative culture at The Agency is the ideal complement to our business," Damon said. "We look forward to continuing to service buyers and sellers in the Dallas area while harnessing the unparalleled resources of The Agency's global brand. I am excited to introduce The Agency's cutting-edge approach to my hometown and continue to raise the bar for our industry here in Dallas."
The new office is located at 8117 Preston Rd, Suite 725 in Dallas.
Cash Management Giant Hyosung America Rebrands as Hyosung Innovue
The world's leading cash management and payments platform service provider, Dallas-based Hyosung America is rebranding as Hyosung Innovue. The company's announcement comes after a year-long effort of to reframe its branding.
"Our company has a long history of harnessing its unique combination of a manufacturer's soul with an innovator's mindset to build a platform of ATM and cash-management solutions," said Sanghwan Kweon, CEO of Hyosung Innovue. "We are opening the aperture to extend our value creation deeper into financial services and retail while we bring our platform of integrated solutions to new verticals including hospitality and travel."
Since entering the North American market in 1998, Hyosung America has grown from the largest provider of ATMs in the United States, into a company that offers a suite of tech solutions across the cash management and payments spectrum.
The company says the term 'innovue' reflects its goal of making great human experiences. Next month, it will launch new products and solutions in the marketplace.
Get the D CEO Newsletter
Stay up to speed on DFW's fast-moving business community with weekly news reports, interviews, and insights.
Authors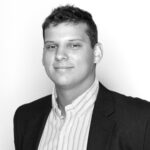 Ben Swanger is the managing editor for D CEO, the business title for D Magazine. Ben manages the Dallas 500, monthly…
Kelsey J. Vanderschoot came to Dallas by way of Napa, Los Angeles, and Madrid, Spain. A former teacher, she joined…