It's easy to miss Bar Ranch Steak Co. in downtown Plano. Despite its prominent location on East 15th Street in the heart of Plano's historic district, the seven-table fine dining restaurant has little signage and sits subtly among its louder, more vibrant neighbors. But inside, its leader Lane Rainwater, is making noise around dry aging and beef genetics, aiming to inform patrons more about their meal than the typical steakhouse.
"One of the biggest things I want to do is educate people on what they are eating because, at a lot of the restaurants I eat at, I would ask 'Is this dry-aged?' and they would say, 'Yeah, it's dry-aged 12 days.' That's not dry-aged," Rainwater says. "A lot of folks also use the term Wagyu to describe everything, and there are different kinds."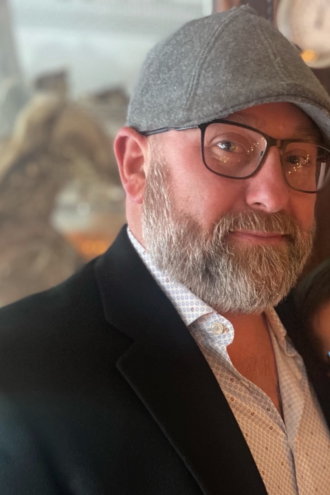 The restaurant opened quietly in 2020, but its leader has recently revamped its menu and ambiance to focus on ease and experience. Education, however, remains its central tenant. Rainwater became passionate about dry aging and ranching roughly eight years ago, though he grew up around agriculture. "My grandfather owned a company in Corsicana called National Incinerator," Rainwater says. "We moved to Alabama as a service plant and grew from there. My dad started a company that built agricultural incinerators."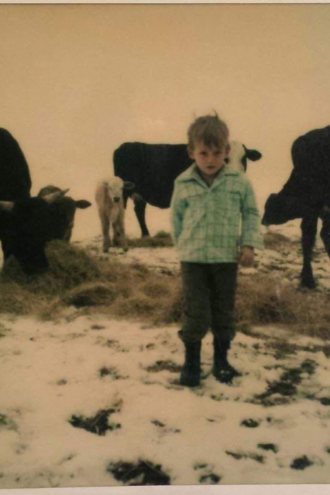 Staying in a similar vein to that of the family business, Rainwater launched an eponymous facility management company in the early 2000s—his bread and butter. On the side, he ran a restaurant in Birmingham called Lane's Fish and Chicken, which he describes as "similar to a Chicken Express." He eventually sold it and made his way to Dallas in 2010 to live near his parents after the economic crash in '08. He brought his facility management company with him and quickly made a splash, landing retail giant Tuesday Morning as a client until they filed bankruptcy in 2020, as well as Home Depot and Walmart. Now, the company does mostly high-end residential and multifamily work in Dallas. "We do a lot of apartments, and we do a lot of properties in Preston Hollow," Rainwater says.
Five years later, he accidentally ordered a $300 steak one night on the town, which sparked curiosity. "If I'd known that, I would have eaten it a bit slower," he chuckles. He started reading avidly about dry aging and began experimenting with the process at home. An Irish butcher, Peter Hannan, has been a big inspiration for him, as has local chef John Tesar. "[Hannan] has one of the largest dry age facilities in the world, and he literally walked me through everything. That's pretty much what I do: I reach out to people and ask questions," Rainwater says. A few years into his learning, he decided he wanted to breed his own beef. "When I decided I want to do this, I wanted to be the best," he says. That venture turned out to be "more than he could handle," Rainwater says, but it got him started in ranching and sparked an interest in beef genetics and feed patterns.
He soon wanted to share his passion with the public, though initially, he wasn't sure in what form. A space in historic downtown Plano became available, and Rainwater purchased it, unsure of his direction but wanting to capitalize on the prime real estate. "I signed a two-year lease at that point, and I didn't even know what to do," he says. "I wanted to get it because I didn't know if anything was going to happen." He began remodeling the space to meet historic and ADA requirements, then the pandemic hit, shutting down area shops and restaurants.
For Rainwater, the closure was well-timed—it gave him more time to plan his concept, complete his renovations, and do so with reduced rent. "I really didn't want to have a restaurant," he says, "I just wanted to have a butcher's shop with dry-aged steak, selling to the public and local restaurants." The City of Plano preferred he have a dining area, though. "Whatever I did, I wanted to be very precise and very limited on choices," he says. "So, we said, 'We'll do fine dining.'"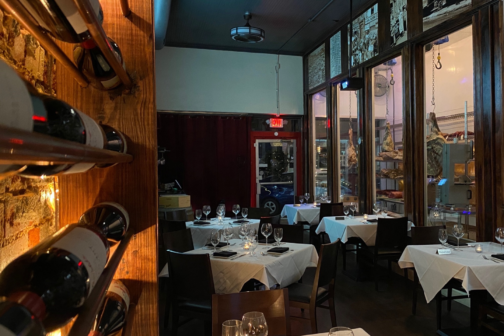 He opened Bar Ranch in 2020 with four tables and a simple menu: a single daily steak offering with a set side. He hired a staff of roughly 20, but as time went on, he realized he wanted to focus on raising the quality even higher and providing a relaxing ambiance. "There are tons of great steak houses here," Rainwater says. "Some of them are loud, some are nice, some of them are a bit different, some are pretty much routine, but all have very good steaks, so it's kind of hard to stand out. Really, the only way we can do that is by being personal."
He added three more tables to the space and revamped the menu to offer elevated four-course meals for two at fixed prices. For dinner, patrons can choose between three American Wagyu steak offerings for their entrees. Each steak is listed alongside its breed, grade, and aging process. The meal also includes a choice appetizer from three options (examples include Wagyu Tartare, Fredos Crostini, and Pecorino Truffle Gnocchi), a choice of two salads or French Onion Soup (offerings include a Chefs Caesar, Iceberg Wedge, and House Spring Mix), two sides, and a selection of cakes made by a local Plano bakery. Chef Will Calderon also added a housemade chimichurri sauce to the steak tray. Dry-aged hand-ground burgers were added to the lunch offerings, as well.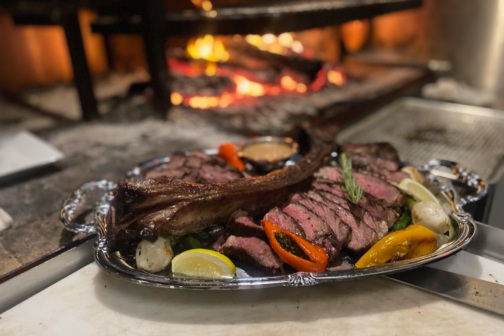 Fine wines are offered as accompaniment, with lockers available for rent for bourbon buffs like Rainwater; he stores his private collection inside and sometimes shares it with customers. Thus far, the lockers have largely appealed to area businessmen hosting afternoon meetings, he says.
Rainwater also scaled back his serving staff and added to the restaurant's ambiance. The tiny 900-square-foot space, which he built almost entirely on his own, showcases a glass wall in the dining room through which patrons can see the dry age room, a small space lined with pink Himalayan salt blocks, where large cuts of steak are hanging. The decor is reminiscent of old-time New York, with Sinatra singing over the stereo and a silent classic film projected on one wall. "It's more of an overall experience," Rainwater says. "I do all that just so people can come in, and they know what they're getting. There are not a lot of decisions to be made. You sit back and relax."
Each steak is sourced from a Texas ranch, including Rainwater's own Rowlett ranch, where he raises full-blood Wagyu and American Wagyu. When sourcing outside his own fences, he often travels to the ranch to inspect the animals himself. Cuts he purchases are dry aged between 35 and 55 days, what Rainwater calls "the restaurant's sweet spot." When cooking, Chef Will Calderon uses an Argentinian-style wood fire to control temperature. "We cook everything to 134 degrees. We don't give any leeway there," Rainwater says.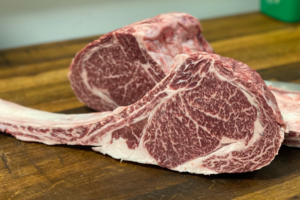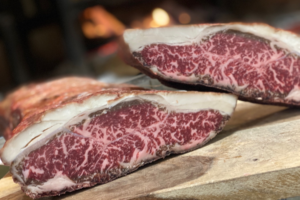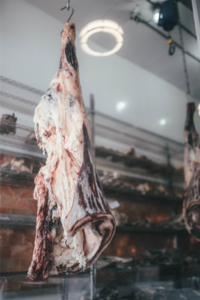 Steaks at Bar Ranch Steak Co. are dry aged for 35 to 55 days.
Now that he has found his formula, Rainwater says he is not sure he will ever expand. Instead, he wants to focus on perfecting his offerings. "I haven't thought of anything past this point, but I do want to make it the best experience," he says.
Get the D CEO Newsletter
Stay up to speed on DFW's fast-moving business community with weekly news reports, interviews, and insights.
Author
Kelsey J. Vanderschoot came to Dallas by way of Napa, Los Angeles, and Madrid, Spain. A former teacher, she joined…