Recently launched champagne bar Coupes in Highland Park is a passion project in its purest form: It's owners aim to educate rather than grow and expand. "We want a place where people who are curious about champagne can come," co-owner Eric Chiappinelli says of the concept, named for a type of stemmed champagne glass. "We had a great time doing [the first venue]. It's not that we've had a bad experience, but we don't want to do it again."
The new spot inside The Shops at Oak Lawn was born when Chiappinelli, who is a full-time law professor at Texas Tech, and his partner, Amanda Hale, an oil and gas attorney at Dallas-based Hamilton Squibb & Shores, learned their favorite champagne bar in Chicago had sold in 2019. They realized they wished they would have known as they may have tried to buy it themselves. "Then we started thinking 'If we can't buy a champagne bar, could we start one?'" Chiappinelli says.
The duo decided Dallas made the most sense, as Hale is based in Fort Worth and Chiappinelli commutes to his home in North Texas from Lubbock weekly.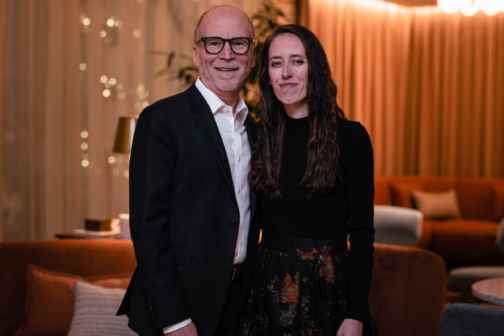 Chiappinelli has long been a champagne enthusiast, turning to the bubbly drink for its consistent quality across growing years: because champagne ages in the bottle, rather than in a barrel, he says there is less variety in taste from year to year. He passed his passion on to Hale, who is a confessed Francophile. "I love the French culture to begin with," she says, "and once you get to know a little bit of the history behind these [champagne] houses and how old and how historic they are in so many ways, I love that part of it too."
The pair had originally wanted to open Coupes in the Design District. They looked for two years for the perfect space, but found themselves bumping up against strict parking regulations and reluctant landlords trying to avoid taking on a bar concept. "One day we had a terrific agent who said, 'Come and look in Highland Park,'" Chiappinelli says. They decided on the 4,058-square foot space on Oak Lawn Avenue, which will seat 80.
Designed by Coeval Studios and North Texas designer Autumn Cooper, the space is laid out with large banquettes and booths surrounding a central U-shaped bar to encourage several midsize to large groupings. Hale and Chiappinelli say they were going for a very welcoming and social atmosphere, without being a "party place."
Coupes' decor wound up mirroring Chiappinelli's home in many ways, even incorporating some art pieces from his personal collection. "Once [our designer] saw what Eric had, it was just like, 'Go to Lubbock in your car and bring it all back!'" Hale laughs.
In addition to roughly 15 true French champagne varietals offered by the glass and 50 by the bottle or half bottle, Coupes will serve a wine program that showcases varietals from Texas and France. "We're trying to find comparable French and Texas offerings that would be good for anybody," Hale says. It will also feature French sparklings, often offered at a more approachable price point than a true champagne.
A menu highlight will be a drink named after T.V. Munson, who helped French grape expert Pierre Viala find vines that would be resistant to an aphid that was destroying French grapes at the time. Munson was based in Dennison, Texas, but he led Viala to a varietal from Bell County that would meet his needs. "They crossbred it," Chiappinelli says, "and today, 80 percent of the vineyards in Champagne are grown on this Texas hybrid."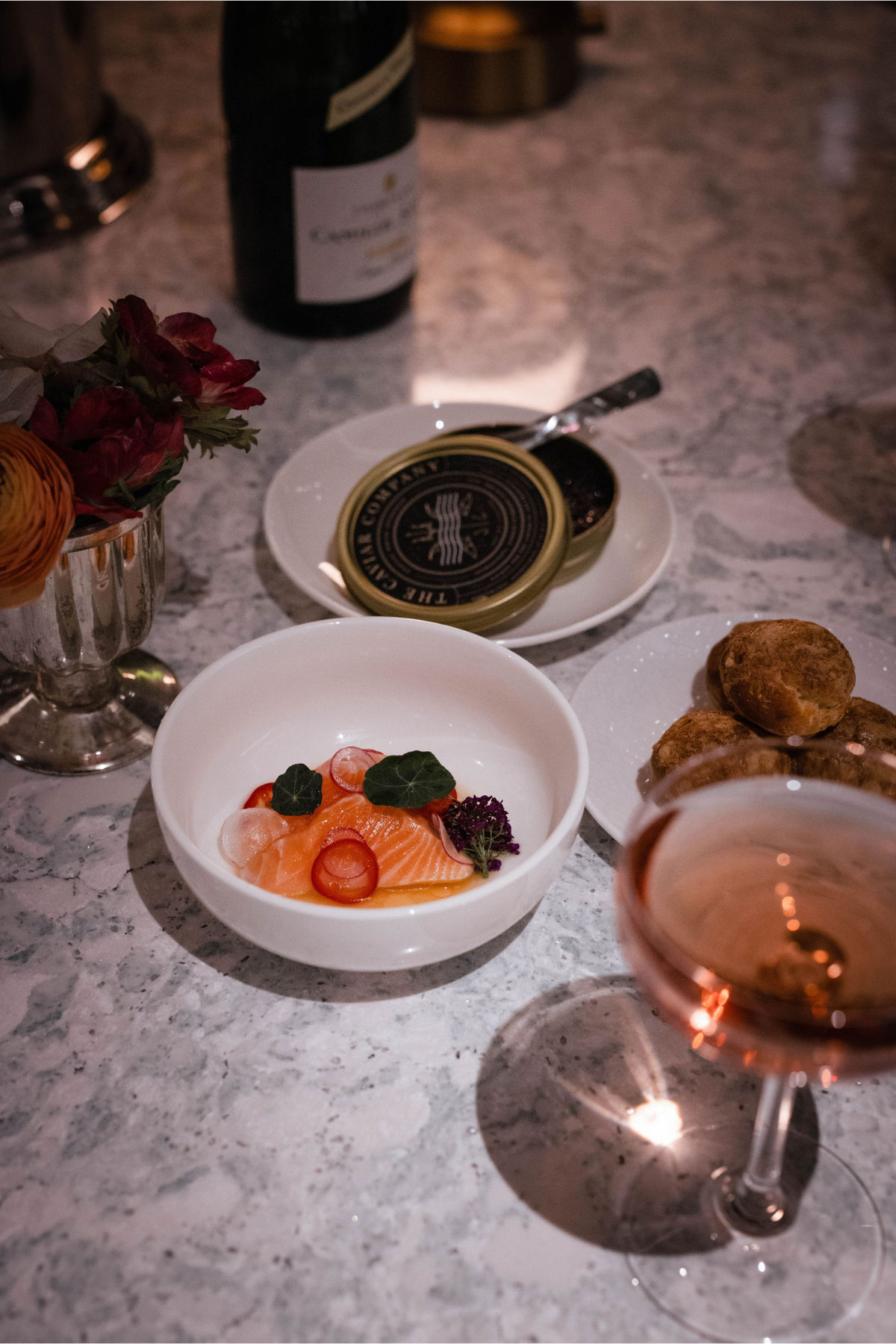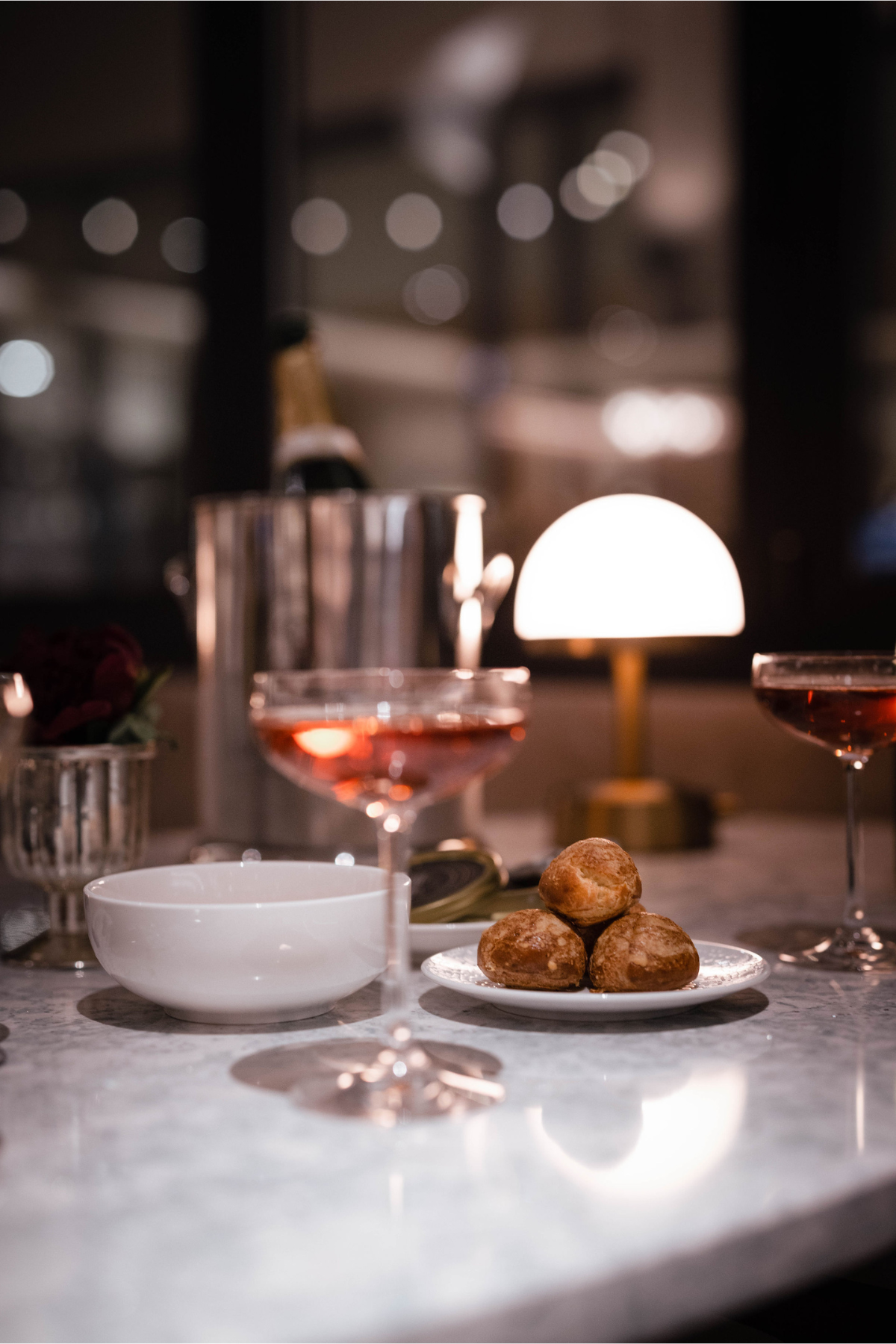 Coupes' pairing menu highlights include gougéres (right) and Smoked Salmon Croque Monsieur (left).
The pairing menu is curated with the help of Bruno Davaillon, the chef behind The Mansion and Bullion, and a partner with Stephan Courseau of Travis Street Hospitality. "Bruno turned out to be a friend of a friend," Chiappinelli says.
When Davaillon heard what Chiappinelli had planned for Coupes, he was excited, agreed to consult on the opening menu, and connected Chiappinelli and Hale with their full-time chef, Daniel Griffeth. "He used to work with Wolfgang Puck at the revolving restaurant," Chiappinelli says.
Menu highlights include cheeses and charcuterie, as well as Gruyere Gougéres, a French pastry made with cream puff dough and stuffed with cheese. Other dishes include a Foie Gras (Foie gras ganache, pear nasturtium geleé, pear compote, pickled mustard seed, and sourdough), boneless fried chicken seasoned with herbs de Provence, and Mushroom Chaudree (King Oyster mushroom chowder with truffle cream and torn croutons).
"We want to keep the menu approachable," Chiappinelli says.
Get the D CEO Newsletter
Stay up to speed on DFW's fast-moving business community with weekly news reports, interviews, and insights.
Author
Kelsey J. Vanderschoot came to Dallas by way of Napa, Los Angeles, and Madrid, Spain. A former teacher, she joined…