There's no question that golf has boomed over the last two-and-a-half years. The pandemic shuttered businesses across the globe—but golf was one of the rare exceptions. The total number of rounds played in 2020 surged 13.9 percent compared to the prior year. The National Golf Foundation reports that total number of golfers worldwide has reached 66.6 million, up from 61 million five years ago.
At the forefront of that boom is the PGA of America. The association's senior director of PGA member education and talent development, Dawes Marlatt, steers the education of the PGA's nearly 28,000 golf professionals across the United States.
"The business of golf and the game of golf absolutely work together," Marlatt said. "And during the peak of our world's most intense moment—the COVID-19 pandemic—where did so many people turn? The golf course."
Recently, Marlatt and I scheduled 18 holes on one of PGA Frisco's championship courses. But with winter on the horizon and the property's first professional championship less than a half-year away, both the East and West courses are closed until the pros touch the grass in 2023 at the KitchenAid Senior PGA Championship. So, our golf day turned into an unorthodox "On the Links With" outing that leveraged the advancement of technology.
Marlatt and I hit the links virtually—and I received a private golf lesson from him at the PGA of America's headquarters, which boasts aboutGOLF Simulators. They're equipped with a balance and weight measurement system and integrated video recording systems. The system has two cameras—positioned behind and beside—and uses 3D location tech to track the ball's flight. In addition, the system measures the exact rotation of the ball's surface, which portrays an authentic golfing experience, and senses how much ground force a golfer uses to create power. You can get an inside look at the new headquarters here.
Marlatt has been around the game his entire life. As the senior director of member education and talent development, he is the teacher for teachers. "We train the coaches to better coach their students—because if the students play better, they have more fun. And if the students play more often, they spend more money. It's pretty simple," he said.
Throughout his tenure as a golfer and golf teacher, Marlatt has seen technology drastically change—specifically in how club fitters utilize simulators to get golfers into the perfect set of clubs.
"The old school way of club fitting was that professionals back in the day—be it Arnold Palmer, Ben Hogan, Jack Nicklaus, Sam Snead, all of them—would hit their golf clubs on concrete because the forged metal was very soft," Marlatt said. "So they hit shots off the concrete until their balls flew at the right trajectory the way they wanted. They'd hit it until the club bent the way they needed it to perform. Now, all we need are a few digital sensors and a little video to show us what clubs will best fit various golfers.
"We used to only be able to reach and teach people at our club or in our community, and now we can reach everybody around the world," Marlatt continued. "Now, we can provide TikTok lessons and so our ability to scale a message becomes much easier. But with all the new technology comes a big responsibility. We have to make certain that we're being succinct and the message we share always asks for feedback. That's how everybody gets better. Technology has changed everything we do."
In 2008, Marlatt was a principal for the PGA World Alliance—comprised of the Professional Golfers' Associations of America, Australia, Canada, Europe, Germany, Great Britain and Ireland, Japan, South Africa, and Sweden. In his role, he helped build the Olympic golf training center for the 2008 Beijing Olympics. In 2009 and 2010, Marlatt taught golf summits in China. "They just went bananas for golf over there, and that was a real treat," he said.
"At one of the summits, there were probably 200 chairs in the room, and 10 minutes before the presentation started, nobody was there. I'm thinking, 'Well, I guess it will be a pretty easy presentation.' Then they made an announcement, saying, 'The PGA of America is going to be giving a presentation.' And within those 10 minutes, not only was every chair full, but there must have been 500 people. So I asked them all a question, 'How many of you have played the game of golf?' No hands went up. 'How many want to play golf?' They all went up.
"I asked, 'How many of you know Jack Nicklaus?' One or two hands rose. 'How many know Tiger Woods?' Everybody's hands went up. And so we gave them golf lessons by showing them how to grip a club and activate their hands. We had 500 people doing air swings inside this conference room. It was just sensational, bringing golf to that many people who have never played before, but all wanted to learn."
In leading the education of nearly 28,000 PGA professionals across the country, Marlatt, a PGA Master Professional, knows the importance of tailoring messaging to various audiences. "What makes our life a little tricky is that we have four generations in our workforce," he said. "And they all need something just a little bit different. If you're really young, you're used to the world moving so fast and saying, 'Hey, Siri, what do I need to do?' If you're a little older, it's different. The mechanics of life are different, and the pace of life is different. We have to figure out how to be respectful and mindful of all those different audiences as we try to help them all do the same thing, which is improve their job impact and their overall personal and professional performance.
"My quest is to solve problems. And as humans, we have a lot of them. But at the end of the day, we want to get as many people to play golf as possible. We want the game of golf to look more and feel more like the world. And if we can do that, maybe the world would behave just a little bit more like the game of golf: High integrity, sportsmanship, and camaraderie."
We want the game of golf to look more and feel more like the world. And if we can do that, maybe the world would behave just a little bit more like the game of golf: High integrity, sportsmanship, and camaraderie.

Dawes Marlatt
One tool Marlatt set out to equip my golf game with during our time together was a fairway finder off the tee box. The truth is, I sometimes scatter my tee shots at 100 percent power—so Marlatt scaled back my swing to 70 percent to add some consistency. We also worked on holding my finish. "If you can hold your finish, more times than not, your ball flight will begin to develop a more consistent pattern that you can rely on."
It's just a glimpse into the world that Marlatt lives in. "I never thought I'd become a teacher," he laughed.
He said the goal is to provide our professionals with tools and resources so they can get better. "And the better we can train them, the better they can behave with their consumers and golfers," Marlatt said. "So, whether it's utilizing putting analytics on our putting green—which measures everything like the pace and roll of a golf ball—or working in our short game and bunker area, we have the ability to take those analytics, the analysis of the collision point between the club and the ball, to help them understand what those numbers mean, and how to get better.
"Ultimately, all the technology exists to help isolate the different variables. The technology was all intentionally chosen to support the way we train this generation of professionals. And, the difference today versus whatever yesterday brought us, is the consumers is really smart now. So we have to be as smart, as aware, and as informed as the consumer.
"My No. 1 rule for technology, if we put it in is: It has to be easy to use. Otherwise, it's not going to get used. And it has to be designed in a way that allows us to always be ready for the next thing. We didn't want to build this building in such a unique way where we couldn't adjust or adapt to the next evolution, the next iteration, of what technology would offer."
When golf isn't consuming Marlatt, he is either training for or participating in a triathlon. To date, the executive has finished 70 triathlons and 18 Ironman competitions. Not because he loves swimming, biking, or running, necessarily, but because he loves pursuing excellence.
"I have a growth-type mindset, where I compare myself to my last performance," Marlatt said. "I just want to get as good as I can, be the best version of myself, and that's what it's all about—in golf, relationships, Ironmans, and business. We might not be as good as we used to be, but we can certainly be better than yesterday at any age. And that's the way I live my life."
Get the D CEO Newsletter
Stay up to speed on DFW's fast-moving business community with weekly news reports, interviews, and insights.
Author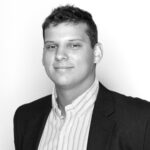 Ben Swanger is the managing editor for D CEO, the business title for D Magazine. Ben manages the Dallas 500, monthly…