The John Goff and Jerry Jones-backed esports company GameSquare Esports has entered into a merger agreement with Engine Gaming & Media, a data analytics, influencer marketing, and programmatic advertising company. Through the merger, which is expected to close in the first quarter of 2023, GameSquare will own 60 percent and Engine will own 40 percent of the newly combined company—which will operate under the name GameSquare.
The combined entity will be traded on the Nasdaq under the stock ticker GAME. Through the merger, GameSquare expects to reach $100 million in revenue with profitability in 2023—a goal GameSquare CEO Justin Kenna voiced to D CEO earlier in 2022. Additionally, GameSquare's audience is expected to grow from 220 million to approximately 350 million.
Kenna will continue to head up GameSquare as CEO following the merger. Current Engine Gaming CEO Lou Schwartz is expected to oversee the new company's technology platforms as president of GameSquare. Goff and Jones will continue to be the largest capital investors in GameSquare.
"This merger transforms the gaming and esports industry, as we build what we believe will be one of the world's largest and most influential gaming, esports, and media companies focused on youth culture," Kenna said.
The deal contributes to greater scale with pro forma consolidated trailing twelve months revenue of approximately $70 million. The merger will be executed through an all-stock agreement, with each share of GameSquare to be exchanged for 0.08262 shares of Engine, equating to approximately 25.4 million shares issued by Engine to GameSquare shareholders.
"I think a $1 billion valuation is in our near future—in my mind its three years away," Kenna told D CEO.
Justin Kenna, Dallas Cowboys CFO Tom Walker, Goff Capital President Travis Goff, and President of Worldwide Advertising for Netflix Jeremi Gorman will be a part of GameSquare's board. Engine chair Tom Rogers will be executive chair of the board.
Comerica Bank Launches Coworking Space
Comerica Bank is transforming idle real estate on the first floor of its R.L. Thornton location into an 8,000-square-foot coworking space for DFW small businesses. Dubbed Comerica BusinessHQ, the company says the space will address the three essential needs of aspiring small businesses reporting less than $1 million in revenue in South Dallas: capital, cultivation and connectivity.
"Comerica has long been invested in the South Dallas community, and we are taking our commitment a step further with the creation of Comerica BusinessHQ," Irvin Ashford, Jr., Comerica Bank's chief community officer, said. "It is imperative that we help provide solutions to the challenges facing entrepreneurs in this footprint."
The project, led by Comerica's regional external affairs manager Brandon Q. Jones, has procured partners which include Community Incubation Partner the Veteran Women's Enterprise Center, as well as BCL of Texas, the City of Dallas, Dallas Black Chamber of Commerce, DreamSpring, Impact Ventures, National Youth Chamber of Commerce powered by Project Still I Rise, Philippine-American Chamber of Commerce of Texas DFW, State Fair of Texas, and the United Way of Metropolitan Dallas.
The new space will open in March 2023 after renovations are complete.
Zimperium and the City of Dallas launch cybersecurity app for mobile phones
Dallas-based cybersecurity company Zimperium has partnered with the City of Dallas to launch a new consumer-centric cybersecurity app Dallas residents. Called "Dallas Secure," the app is designed to protect Dallas County residents and visitors from cybersecurity threats targeting financial, health, business, shopping, and messaging data.
The app's development was fueled by growing cyber threats across the globe. Shoppers in the U.S. spent more than $359 billion through retail mobile-commerce purchases in 2021, up more than 15 precent year over year. By 2025, retail m-commerce sales could more than double to $728 billion, accounting for 44.2 percent of retail sales, making the amount of consumer financial and identifying information more and more available to hackers.
"Digital safety is now a public safety issue," said Shridhar Mittal, CEO of Zimperium. "We all have so much personal and business-related information on our mobile devices, making them rich targets for hackers. And many people can't, or don't, update their operating systems to keep up with the evolving threats, making them inherently insecure. Being able to keep the residents of our hometown safe from mobile threats makes this a special project for Zimperium, and we're extremely proud to be part of such a forward-looking city that clearly understands and cares about the wellbeing of its citizens—both online and off." 
Dillas Quesadillas Launches Franchise Program
After ten years in business and erecting seven locations, North Texas-based Dallas Quesadillas is going national by launching the company's first franchising program. Dillas currently has three new company units expected to open in the new year, with five additional units under lease slated for 2024.
"Since 2013 we have been committed to powering our purpose of building community through Primo Quesadilla Meals," said Kyle Gordon, owner and co-founder. "Our franchising program will propel us forward in our mission to take Dillas to the next level. I'm confident that through identifying partners who reflect our core values and fit the brand culture, we will continue to be successful in bringing our Primo Quesadilla Meals to communities across the country."
With a presence in Texas and Louisiana, the brand is prioritizing expansion in Texas and into neighboring states. But, the franchising program is open across the United States. To go along with the new program Dillas has onboarded a vice president of marketing, Adam Reed, who helped oversee the expansion of Raising Canes.
Get the D CEO Newsletter
Stay up to speed on DFW's fast-moving business community with weekly news reports, interviews, and insights.
Author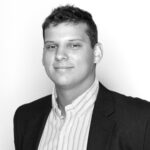 Ben Swanger is the managing editor for D CEO, the business title for D Magazine. Ben manages the Dallas 500, monthly…