There is something wonderful about small-town Texas charm. As I splashed my truck through a deep puddle and climbed a large hill surrounded by farmhouses on my way to go glamping at Collective Hill Country, I realized how much of a secluded and picturesque respite the trip would provide. Located in the hills around Wimberley, less than an hour drive from Austin, Collective Hill Country is made up of a dozen canvas tents perched on a ridge inside Montesino Ranch, a 225-acre working ranch overlooking the Blanco River.
Arriving in the dead of winter, I was nervous that the jackets and warm pajamas I had brought wouldn't be enough for the cold nights ahead, but a Jeep ride down to my tent revealed a heated king mattress, ample Aztec-print blankets, a heater, and a wood-burning fireplace—the perfect ambiance for a cozy and comfortable weekend away. The full en-suite bathroom made the experience feel as though a luxury hotel room had been dropped in the woods and calmed any fears I had about outdoor plumbing.
I was hungry after the four-hour drive from Dallas, so I headed to the outdoor dining area and sat down next to one of several grills to enjoy the BBQ Experience. Chef Ezra Lewis arrived and showed me how to smoke a Cornish hen, pulled pork, venison sausage, and shrimp; he also shared stories of his upbringing in Trinidad & Tobago. When I wanted to man the grill, he showed me how, and as much as I wanted to sit down and relax, he took the helm and allowed me to enjoy the scenery. We paired the meats with a pasta salad, sweet corn, and baked beans, and I headed to bed well-fed and warm.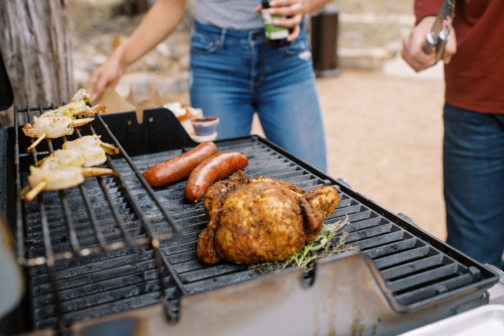 The next day started with a cup of coffee from my in-room French press and a sampling of pastries, which staff deliver to each guest's front porch early in the morning. The strawberry croissant proved to be my favorite. I walked to the dining tent to enjoy some granola before heading into Wimberley to explore the town.
On the 10-minute drive to town, I realized that what I had thought was a deep puddle on my drive through the late-night darkness when I arrived was actually a stretch of road that ran right through the Blanco River. Speaking with locals later, I learned the river often grows too high for drivers to cross over to reach the ranch, making a call to Collective Hill Country imperative before winter and spring arrivals. Fortunately, the weekend I was there was dry and I felt even more adventurous fording the river each time I drove in and out of my accommodations.
In Wimberley, I recommend a walk around the main town square. A coffee at Sip! On the Square is a great place to start. I went with a simple cappuccino, taking it to go as I perused the many shops outlining the area. Standouts include Kiss the Cook, which features quirky and unique kitchen items, and Ceremonial Botanical Studio, a plant store that feels more like an enchanted jungle than a shop. A bit further up the road, a stop at the Tree House Gift Shop is a must with its eclectic and unique mix of humorous and quirky offerings—everything from a necklace with the Virgin Mary engraved on its pendant to cutesy baby toys and large, studded, decorative cattle skulls.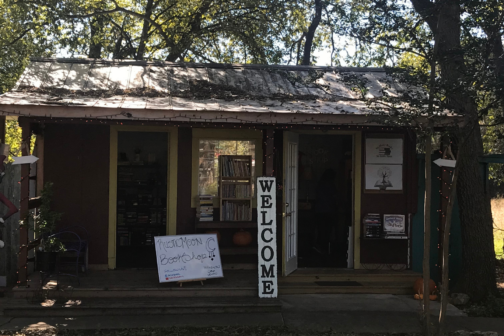 I happened upon my favorite, Rustic Moon Bookshop, by sheer happenstance. While searching for parking, I pulled in front of a sign that read "Bookshop," a call I couldn't say no to. I looked around and saw nothing resembling a bookstore in the immediate area. I followed a partially concealed sign with an arrow on it to what looked like a shed from the outside. Inside however, it was lined with walls of books on travel, gardening, writing, mystery, and more. There were some well-known classics but mostly titles I had never seen before at prices lower than I had ever seen before. It was kept up by a friendly older woman who chatted with me for quite awhile about books and writing. I left with Bill Bryson's humor book The Lost Continent: Travels in Small-Town America—an appropriate souvenir.
I returned to the ranch for a picnic lunch experience. A basket was delivered to my tent filled with a Turkey Club Sandwich, side salad, boxed water, and chips. I enjoyed the meal before a masseuse arrived at my door for a 60-minute massage on my balcony overlooking the amazing chasm and river below. That night, I enjoyed the Chef's Tasting Menu dinner in the dining tent, working through five courses of locally sourced dishes. My favorite was the sweet course, a fruit popsicle with chili and basil. I then went to try something new for me, a 60-minute sound meditation. Cozying up with blankets on a yoga mat to enjoy the vibrations was a great way to end the night.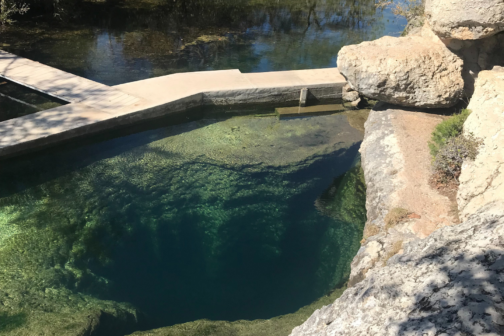 Sunday morning, I snuck out of my tent early for a hike around the ranch. The scenery was breathtaking, and I followed closely behind a group of deer for most of the hike. On the way back to Dallas, I stopped at Jacob's Well just outside Wimberley, the second-largest, fully submerged cave in Texas. I learned the deepest part of the well is 140 feet deep and the main cavern is more than 4,000 feet long. A look at this unique water feature is a must, and a great final note to an adventure through small-town Texas.
Get the D CEO Newsletter
Stay up to speed on DFW's fast-moving business community with weekly news reports, interviews, and insights.
Author
Kelsey J. Vanderschoot came to Dallas by way of Napa, Los Angeles, and Madrid, Spain. A former teacher, she joined…