British luxury automotive manufacturer McLaren has officially opened its new North American headquarters in Coppell. The company moved from a 3,500-square foot space in Manhattan to a building nearly ten times that footprint on Belt Line Road. "The key focus for me is going to be just bringing this office to life," says Nicolas Brown, president of McLaren's American operations.
The new headquarters location will house 40 employees, and include the brand's showroom, work room, corporate offices, and technical training area. "The Americas is a significant market for McLaren, representing over 40 percent of global sales," Brown says. The company has 31 dealerships across the U.S.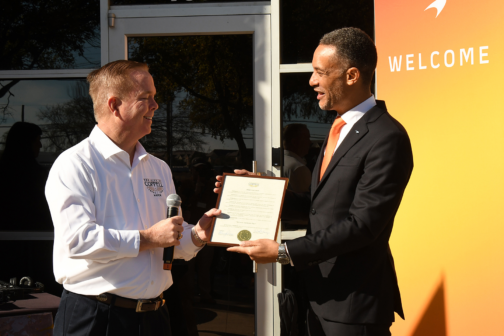 "What we found was that the city of Coppell was incredibly welcoming and very much focused on, not only the business aspect, but bringing us into the community." McLaren has formed an internship program with high schools in Coppell and has already had four or five interns, Brown adds. "We have hired three of those interns full time now."
McLaren also recently launched the Artura, its first hybrid sports car. "In all of our future derivatives, you will see the hybrid technology, and the hybrid technology is great, because not only are you saving fuel consumption to be more efficient, but at the same time, that E battery gives you immediate torque," Brown says. "Every next derivative needs to set the benchmark in terms of innovation, and that's where hybrid technology comes in. For us, it's never about simply having a hybrid: It's how can a hybrid improve the vehicle—not only from an emissions standpoint, but from a performance perspective."
Iron Horse Midstream Increases Natural Gas Footprint
Dallas-based natural gas and crude oil midstream company Iron Horse Midstream plans to construct a new, 200-million cubic feet-per day natural gas cryogenic processing plant in Oklahoma on its 120-acre complex. Iron Horse expects the new plant to open in late 2023 and increase the company's total natural gas processing capacity in the region to 425 MMcf/d.
"As production activity in this highly prolific area continues to increase, installing our second train is a natural and necessary growth opportunity," Tim Roberts, Iron Horse CEO, said. "Expanding our Iron Horse processing complex provides capacity exactly where it is needed—in the core of the basin, where we have access to numerous high-quality, residue gas markets. We understand that our success is driven by the success of the companies we serve; this expansion is a testament to our continued focus on providing reliable, customized, and flexible midstream solutions to our producer customers."
Iron Horse's system includes approximately 300 miles of high- and low-pressure natural gas gathering pipelines, multiple compressor stations, and the 225 MMcf/d Iron Horse cryogenic gas processing plant.
Two Bit Circus Officially Opens its Dallas Location
The micro-amusement park concept Two Bit Circus has opened its second location in the United States at the Shops at Park Lane. The 35,000-square-foot Two Bit Circus features immersive entertainment, multiplayer VR experiences, fast-casual dining, and a full bar. The venue's food offerings include circus-inspired dishes and alcoholic beverages mixed by a robot bartender. Two Bit Circus' first location is in Los Angeles.
"We've always known that the Dallas community is the perfect audience for our next location," Brent Bushnell, chairman of Two Bit Circus, said. "We couldn't pass up the opportunity to partner with Northwood Retail and The Shops at Park Lane in such a central part of the city. It was the perfect match."
Get the D CEO Newsletter
Stay up to speed on DFW's fast-moving business community with weekly news reports, interviews, and insights.
Authors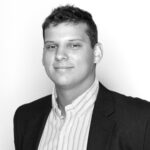 Ben Swanger is the managing editor for D CEO, the business title for D Magazine. Ben manages the Dallas 500, monthly…
Kelsey J. Vanderschoot came to Dallas by way of Napa, Los Angeles, and Madrid, Spain. A former teacher, she joined…