The leader of Revolving Kitchen, a roughly 35,000 square-foot space in Garland where restaurant owners, chefs, and caterers can rent a small commercial kitchen space for anywhere from a few hours to a year, Tyler Shin, plans to double down on his success in 2023, opening a second location in Fairview.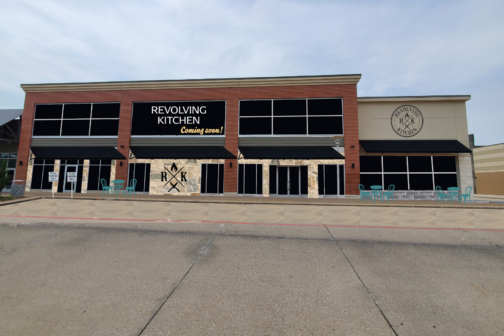 "It's actually going to get bigger," Shin says of the new space located in Fairview Town Center. "It'll be 37,000 square feet and, compared to 25 kitchens we have in Garland, we will have 34 kitchens."
Shin debuted Revolving Kitchen in 2019, catering to small food businesses and caterers in need of commercial kitchen space. Then, COVID hit. "The pandemic wiped us out in the beginning early on, but a lot of these businesses started pivoting or started catering to more offsite and/or takeout and delivery models," Shin says.
He began expanding his services to target ghost kitchens—restaurants that do delivery and pickup only. Wingstop was among the first to sign on for space, and continues to be a tenant. Five Guys and Dallas-based chain Cotton Patch Café have also signed leases.
"Since then, we've gotten a lot of inquiries and a lot of feedback from ghost kitchen concept or virtual brands," Shin says. "We've changed our business model, and it's not so much what Revolving Kitchen wants to do. It is listening to and understanding what our operators and our tenants need."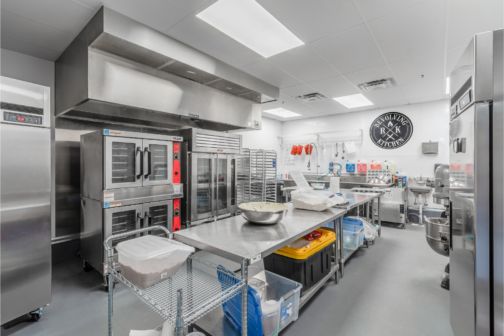 Now, the entrepreneur hopes to meet a rising demand for locations in Dallas' northern suburbs and the re-emergence of dine-in. Although leases have yet to be finalized, seven of the operators in Shin's first location have plans to open a second in the new Fairview locale, he says. "Restaurateurs want to go on to the Frisco, McKinney, Allen, and Fairview markets, because the demographics are there for their products, but also they want to have some dine-in capacity for their guests and consumers," Shin says.
Different than its predecessor, the new Revolving Kitchen is not housed in an industrial space, and therefore, can offer dine-in and other services to tenants. "We will have alcoholic beverages, and then we'll also have a grab-and-go store, so operators who want to make products to sell at farmer's markets or grocery stores can put their products on our shelves," Shin says. "We are trying to be a one-stop shop."
The new Fairview venue will feature kitchens of five different sizes, ranging from 260 to 1,100 square feet, and will also integrate into Revolving Kitchen's Virtual Food Hall app, which allows patrons to bundle orders from several of the venue's restaurants into one transaction.
Shin says he plans to continue raising capital for additional expansion via Republic, a platform that allows retail and accredited investors to put funds toward startups, crypto, real estate, and more. He hopes to open several more retail locations by the end of the year and is already eyeing a few potential sites across the region.
"There's enough data to point to going into retail in addition to doing our ghost kitchen model," Shin says. "My goal is to have four or five locations either up and running or underway by the end of 2023."
Get the D CEO Newsletter
Stay up to speed on DFW's fast-moving business community with weekly news reports, interviews, and insights.
Author
Kelsey J. Vanderschoot came to Dallas by way of Napa, Los Angeles, and Madrid, Spain. A former teacher, she joined…