The buttery fairways and rolling greens at Dallas' Bent Tree Country Club bore witness to some average—and at times considerably below average—golf shots as GameSquare Esports CEO Justin Kenna and I played on a sunny afternoon. Throughout the match, we discussed his upbringing, his experience working with gaming giant FaZe Clan, and what the future holds for his Frisco-based GameSquare Esports.
Kenna, who is still relatively new to golf, has teed it up with amateurs ranging from Tampa Bay Buccaneers starting running back Leonard Fournette to fellow GameSquare executives. He rolled up to the driving range decked out in Dallas Cowboys gear—despite still owning Los Angeles Rams season tickets. After all, Jerry Jones, along with John Goff, have both invested about $40 million—in cash, stock, equity, and a line of credit—into GameSquare Esports, which is listed on the Canadian Securities Exchange, and its subsidiary, Complexity Gaming.
"John has taught me to stay true to the vision I have set for the company," Kenna says. "We can get impatient in this business, and we've seen some shitty markets, so it can be easy to just sell things to gain revenue. But both Jerry and John have been incredibly supportive and taught me to put my head down, not to worry about the share price too much, and just focus on growing the company."
Dallas Cowboys CFO Tom Walker and Travis Goff, who's president of Goff Capital, are also directly involved with Kenna's companies.
The fairway on the first hole was tight. Nonetheless, Kenna's drawing drive found it, and I pulled it left of the cart path, nestling it into the thick stuff. Our approach shots landed us short of the green, and an up-and-down was necessary to get out of the gates unscathed. While deliberating the Australian native's chip, we talked about his entrance into the corporate world.
"I went to university at the same time I was working as an accountant at EY, so by the time I was 21, I had an accounting degree and four years of experience," Kenna said. "I then moved over to Deloitte and worked in consulting, M&A, and corporate finance, but I quickly learned that working within the Big Four just wasn't for me. What I really wanted to do was work on the operation strategy side of a business. I interviewed at Nike, Google, and Coca-Cola, but none of them wanted to give me a strategy role—they wanted to hire me as an accountant."
We both failed to get up and down. "First hole is always shit," Kenna joked. We moved on to hole two—a 435-yard par 4 with a couple of fairway bunkers staring us down about 255 yards out. I roped my drive along the right side of the fairway, just over a row of trees. Kenna found himself a little short of my drive within the tree line.
To get some strategy consulting under his belt, Kenna moved from Melbourne, Australia, to Sydney and took a job with Third Horizon Consulting. During his time there, he was recruited by a client, RAMS—one of the big four banks in Australia—to help build an overarching strategy for the bank while also traveling around helping small businesses build operational efficiency. "But by the age of 30, I got pretty bored and decided I wanted to move to the states," Kenna said before punching out into the fairway.
He moved to Los Angeles in 2015 to work as a corporate finance manager for Optimist, a creative experience agency. After roughly a year-and-a-half, he left to work with Madison + Vine, an LA-based advertising and entertainment company, and stayed there for about a year, guiding its strategy and finance. Then, at the start of 2018, he jumped to esports.
As he stared over a monster putt on the second hole, Kenna explained: "A friend of mine from Europe came to LA and told me about this group of kids: FaZe Clan. 'They have a huge following and these guys are making great content,' he told me. And so, I interviewed with them—which was quite interesting. I went over to where they made their gaming content, which was essentially a party house, not a place of business. I had no idea what I was walking into because I wasn't a gamer. But their price was right, they gave me equity, and I made the move into esports in 2018.
"When I started, it was eight kids working out of a house and doing a couple million bucks in revenue—but losing a lot of money," Kenna said as we walked off yet another green after so-so putts. "We built out additional revenue streams by crossing over with brand partnerships with traditional sports and entertainment. And I ended up raising $60 million in debt and equity for FaZe."
Kenna joined GameSquare in 2021. That same year, the company acquired Complexity Gaming for $27 million. As he and I deliberated our approach on a 185-yard par 3 with bunkers flanking the green, Kenna opened up on why GameSquare decided to make the acquisition. "We wanted to expand Complexity into a content creation company to leverage platforms like Twitch and YouTube," he said. "We have this funnel to actually monetize the eyeballs, and we launched a division of the company called Complexity Stars, which is fully dedicated to our professional athletes."
And for Complexity Stars, Kenna has helped procure a roster of household names ranging from former NBA star JR Smith and UFC Featherweight champion Max Holloway to Dallas Cowboys cornerback Trevon Diggs and soccer star Javier Hernández Balcázar, also known as Chicharito, who all stream their personal video gaming content to viewers across the globe.
"The cool thing about these guys, is that they genuinely love gaming and Complexity Stars gives them credibility in the gaming space and grows our audience significantly," Kenna said. The involvement doesn't stop at producing gaming content for these athletes, either. "Leonard Fournette has come and spoke with me at tech conferences, Max Holloway came with me to a leaders conference at Wembley. It's cool because brands are starting to understand the power of the gaming space. But for the brands that are not familiar with it, they can dip their toe in with our traditional athletes who also use their gaming platform for audience growth."
AT&T recently sponsored an ad campaign that featured Ezekiel Elliott and TimTheTatman—one of the world's most popular esports athletes who boasts more than 4.5 million followers on YouTube. Together, Elliott and TimTheTatman played Call of Duty: Warzone on the jumbotron at AT&T Stadium in Arlington.
And starting Oct. 25, Dairy MAX, one of the leading regional dairy councils in America, and GameSquare will partner to deliver a free-to-play Madden NFL tournament for middle and high school-aged kids as part of the NFL's staple Play 60 campaign. The winner will experience a day in the life of a Dallas Cowboy.
GameSquare's three main revenue streams are:
Ten traditional esports teams within the Complexity Gaming brand
Its media, marketing, and creative agency arm, which are in its subsidiaries Cut + Sew, Code Red Esports, Gaming Community Network, and Zoned Gaming
Its merchandise and consumer product business is just getting off the ground after Kenna recruited a former FaZe Clan executive that led content and merchandise for the gaming giant to come over in the same capacity with GameSquare.
Kenna admitted he wasn't keeping score for the day. After all, this was just the seventh time the Australian had picked up a set of clubs. Between running GameSquare and family life, things are busy for the executive. But the busyness will all be worth it, he says, when GameSquare posts a $1 billion valuation through a forecasted IPO.
Organically, I think a $1 billion valuation is in our near future—in my mind, its three years away."

Justin Kenna, CEO of GameSquare Esports
Last year, GameSquare Esports posted more than $9 million in revenue. In 2022, it is tracking for $30 million, according to Kenna, who has raised guidance twice this year. "There's no reason why we can't keep tracking on that line," Kenna says as we make the turn toward the wide-open fairway on the tenth hole.
"In this business, most companies have huge revenue but low margins. A lot of companies have failed to unlock a sustainable business model, but that is where we come in. I think we're right on the doorstep of profitability and once we reach the NASDAQ, the market will react. Organically, I think a $1 billion valuation is in our near future—in my mind its three years away. And with the pedal to the metal, we can be the first esports company to reach $100 million in revenue with profitability."
Kenna plays the game of golf loosely. As a beginner, he knows to cut himself some slack; nonetheless, his competitiveness still surfaces throughout the day. The same applies to his leadership style. "I feed off the constant pressure to ensure that I am taking care of the company," Kenna says. "Delivering to shareholders, taking care of the fundamentals, ensuring we're doing enough marketing work, and making sure our messaging is buttoned up, is an unmatched experience for me."
Kenna and I fought to save bogeys on the back half, but the one shot that will bring the beginner back to the course was a 30-foot sliding birdie putt on the 15th hole.
Looking ahead for Kenna, corporate partnerships are at the forefront of his strategy. GameSquare has already locked in formal deals with 220 brands, including Lenovo, Kraft Heinz, beverage mix brand MiO, Amazon, Best Buy, Denny's, Chipotle, and more. In addition, he is working with the UFC to build out its esports and gaming enterprise. GameSquare is also launching a Web3 agency. And he doesn't care if he's perceived as crazy for his forecasts.
"If you're looking at the share price and market cap today, you will probably think I'm crazy—hell, people call me crazy in general," he says. "But, two years ago, if you looked at our numbers you probably never would've thought we'd be where we are today. Our businesses is scalable in different markets, we've had exponential growth in a short period of time, and people are starting to realize it—the market will follow."
Get the D CEO Newsletter
Stay up to speed on DFW's fast-moving business community with weekly news reports, interviews, and insights.
Author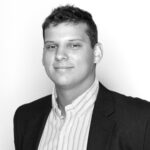 Ben Swanger is the managing editor for D CEO, the business title for D Magazine. Ben manages the Dallas 500, monthly…