The Star in Frisco will soon be home to Comerica Bank's new Class A+ Business and Innovation Hub tower, which will house approximately 300 Comerica employees. Construction on the project has begun, and Comerica—which reported $86.9 billion in assets this June—plans to open the hub in Q4 of 2023 or Q1 of 2024.
Comerica's technology, product management, and front-line business units will relocate to the new headquarters. The company's human resources department will also set up a new Learning and Interview Center at the hub. Executive offices, Commercial Bank, Wealth Management, Credit, and several other business units will continue to operate from the Comerica Bank Tower in Downtown Dallas.
"Frisco is known for cultivating an exceptional environment for businesses to thrive," Brian Foley, Comerica's Texas Market president, said. "The hub's onsite amenities and prominent location will help support our company's vision for future growth, including our ability to attract and retain top talent."
The company also plans to invest in diversity. Last week, Comerica Bank started The Dallas Small Business Diversity Fund, a $1 million investment from Comerica Bank, which will target Dallas County women and minority-owned businesses with two or more years in operation.
The World's Largest Hot-Rod Association Relocates HQ to Texas Motor Speedway
Goodguys Rod & Custom Association, which produces some of America's most heavily-attended car shows, has moved its corporate headquarters from Pleasanton, California to Fort Worth's ten-story Lone Star Tower, overlooking Texas Motor Speedway.
Goodguys hosts 15–22 multi-day events nationwide, attracting approximately 50,000 show cars and 500,000 spectators annually. The 25th event the group has hosted at Texas Motor Speedway will take place this year. The association left its 20-year home on the West Coast to be more centrally located, as it continues to grow its reach in the U.S.
"It's bittersweet," Goodguys COO Andrew Ebel said. "Our time in Pleasanton signified the growth of a dream that grew out of the Meadors' family living room back in the 1980s, and that period will always be part of the Goodguys heritage. This move enables us to operate in a more central position in the middle of the United States, which is in line with our national member base and event series, along with our growth into more motorsport-related features at our shows. We love our Texas friends and are proud to now call the Lone Star State our home."
The association's first event as TMS tenets is the Summit Racing Lone Star Nationals happening September 16-18 at Texas Motor Speedway.
La La Land Kind Opens its Fifth DFW Coffee Spot, Its First Drive-through Venue
Dallas-based Coffee shop chain La La Land Kind will open its fifth DFW location in Richardson tomorrow, September 17. This will be the brand's seventh location in Texas.
The spot on Campbell Road near University of Dallas is La La Land Kind's first drive-through and walk-up only location and will be the launching point for its Drive By Kindness initiative. The plan aims to spread and normalize kindness by tapping into the idea that a to-go coffee order may be a person's only daily interaction with strangers.
Led by young CEO Francois Reihani, La La Land Kind is known for its eight-week internships, which provide professional and life skills and training to foster youth about to age out of the system. Since the founding of its flagship location on Lower Greenville, the brand has expanded into markets in Los Angeles and Houston, in addition to its five DFW locales.
The Cotton Bowl Foundation and College Football Playoff Foundation Announce New Grants
In honor of Extra Yard for Teachers Week, which runs from Friday, September 16 through Saturday, September 24, the Cotton Bowl Foundation and the College Football Playoff Foundation—both headquartered in Dallas—will present $200,000 in grants to education-focused organizations. These include: $50,000 grant to The University of North Texas at Dallas Call Me Mister program, a $50,000 grant to Urban Teachers, and a $100,000 grant to Educate Texas.
The grants aim to help these organizations combat the nationwide teacher shortage. In Texas alone, 43,000 teachers left the profession during the 2021–2022 school year, according to the Texas Education Agency.
The College Football Playoff's Extra Yard for Teachers platform has invested more than $57 million to to date in order to support educators. In all, the organization has supported more than 450,000 teachers and 9.2 million student nationwide.
East Dallas will Welcome Two New Mexican Concepts, including Omar Flores' Muchacho.
Todd Interests' East Quarter development will add Dallas-based Tex-Mex restaurant Muchacho to its roster of tenants. The restaurant, which will be located at the corner of Cesar Chavez Boulevard and Jackson Street, will open in the third quarter of 2023.
Created by James Beard-nominated chef Omar Flores, Muchacho in East Quarter will be the Tex-Mex brand's third location in DFW.
The area will also soon welcome La Neta Cocina Y Lounge at The Epic, the first of the brand's locations outside Las Vegas. The concept by hospitality company 81/82 Group will open its doors in early 2023.
Get the D CEO Newsletter
Stay up to speed on DFW's fast-moving business community with weekly news reports, interviews, and insights.
Authors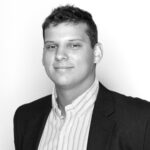 Ben Swanger is the managing editor for D CEO, the business title for D Magazine. Ben manages the Dallas 500, monthly…
Kelsey J. Vanderschoot came to Dallas by way of Napa, Los Angeles, and Madrid, Spain. A former teacher, she joined…