When it comes to wine, there is a rivalry between Napa Valley and Santa Barbara, whose wine region is larger than Napa and the Sonoma Valley combined.
Because of Santa Barbara's placement between the Santa Ynez Mountains and the Pacific Ocean, the quaint region—which is home to the likes of Meghan Markle and Prince Harry, Brad Pitt, Oprah Winfrey, Kevin Costner, Rob Lowe, and more—boasts what is called a micro-climate. The weather merges Pacific breezes, mountain elevations, canyon wind tunnels, and more to create an average yearly temperature high of 69.3 degrees and low of 49 degrees.
Those temperatures create a ripe opportunity for Santa Barbara vineyards to grow more than 60 different types of wine grapes year round. Napa Valley can only grow around half that number.
So, when I recently traversed to Santa Barbara on a three-hour direct flight from DFW, I knew I was in for a visit that would feature more than a fair share of decadent wines. From the city's small airport, I took a 15-minute car ride to the beautiful hillside resort overlooking the Pacific Ocean that is El Encanto, A Belmond Hotel, Santa Barbara.
Taking after the Spanish-themed architecture that can be found throughout the city, El Encanto's atmosphere feels like an oasis beyond the bounds of America; in fact, it is Belmond's only operating hotel in the United States. In the early days of The University of California-Santa Barbara, the now 90-room boutique hotel served as housing for the school's faculty and staff. My wife and I had the privilege of staying in room 1601, the former dwelling place of the university's first president—which just so happens to be right across the way from room 1701, Julia Child's longtime getaway.
First up on the itinerary was lunch at the property's restaurant: The Dining Room. We opted for Fiesta Tacos, featuring perfectly cooked skirt steak, onion sprouts, Fresno chilies, Cojita cheese, and topped with a kicking roasted tomatillo salsa. We also added an order of Laura Chenal Goat Cheese Pizza, an explosion of dates, figs, roasted garlic, and wild arugula atop a thick crust.
My wife and I then headed to the property's courtyard—which is just big enough to host small weddings—for a sound bath meditation.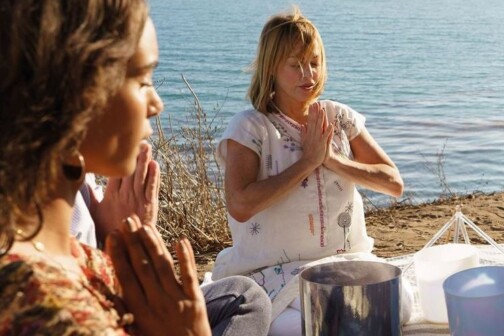 Led by sound practitioner and meditation guru Cristy Candler, my wife and I sunk into a state of deep relaxation—I might have fallen asleep for a brief period—as the sound of singing bowls resonated. Candle made her way around the group to share healing lotions and extended the chance for her to ring a singing bowl inches above your belly—which feels like a rippling wave coursing through your body.
My wife and I then readied ourselves for a night of dining at Bouchon Santa Barbara. If the weather cooperates, which for the most part should do, request patio seating. I started off with the Tomato Bisque paired with 2021 Margerum Sybarite Sauvignon Blanc made in the canyons of Santa Barbara. My wife opted for the French 'Four Onion' soup paired with Timbre Winery's 2017 Stereophonic Riesling.
Should you choose to dine at Bouchon, make sure to speak with the restaurant's wine director Eric Hanson, who helped pair every course of our meal with the perfect wines.
I then moved onto the restaurant's signature entree of the Maple-Glazed Duck Breast & Confit, paired with Chanin Wine Co.'s 2020 Pinot Noir originating from the St. Rita Hills. My wife choose Pan-Seared Pepper-Crusted Venison Loin (I admit to stealing several bites), paired with a smooth house-made Bouchon Cuvée red wine featuring 67 percent petite sirah and 33 percent syrah.
We finished off our evening with some Warm Lemon-Berry cake and Warm Santa Barbara Chocolate 'Molten Lava' Cake, served with 2011 Chateau Coutet, Sauternes-Barsac and W&J Graham's 20-year Tawny Porto—both incredible dessert wines. We then made our way back to El Encanto and enjoyed a fireside view of the city before turning in for the evening.
Our second day began with breakfast at The Dining Room. I recommend the Cambridge House Smoked Salmon Plate and some fresh squeezed juice; the Sunrise (orange, carrot, lemon, ginger, turmeric, and coconut water) and the Quench (watermelon, jicama, strawberry, mint, and lime) were my favorites.
We then made our way to the coast—about a 10 minute drive away from El Encanto—for a leisurely shoreline bike ride on the Cabrillo Bike Path. Along the way we passed sand volleyball tournaments, yacht row, the Santa Barbara Zoo (you can see the giraffes from the path), and a bird sanctuary.
My wife and I asked a few locals for tips on waterside lunch spots; we were pointed toward Jeannine's Bakery, a quaint bistro that boasts a patio with flamingo-pink umbrellas and a top-notch chicken pesto sandwich. I also recommend trying one of their giant, house-made cookies.
The afternoon was spent tasting some of Santa Barbara's finest local wines at Santa Barbara Wine Collective and Barbieri & Kempe Wines—which is eyeing an expansion to Fort Worth with a wine tasting room.
At SBWC, we opted for the Chariot Flight consisting of:
2020 Tercero "Outlier"
2018 Tatomer "Vandenberg" Riesling
2019 Babcock Picpoul
2019 Stolpman Roussane
And the Empress Flight, which tried:
2020 Stolpman Come Trousseau
2020 Field Recordings Nebbiolo "Wonderwall"
2019 Stolpman "La Caudrilla"
2018 Babcock "Fathom" Petit Verdot
From the selection of white wines, I enjoyed Tatomer's "Vandenberg" Riesling—a rich, fruit-driven wine that features some slight botrytis notes expressed with honey hints. From the selection of reds, my wife raved about Babcock's "Fathom" Petit Verdot, which winemaker Bryan Babcock calls "the kind of wine you can lay down for more than 10 years if you like the bottle bouquet and majesty that this kind of age can bring. If you can give it at least three or four years in your cellar, I think the velvety thing on the palate should start to sneak in."
Barbieri & Kempe, a winery run by the husband-and-wife team of Paolo Barbieri and Erin Kempe, is fashioned within a nook off State Street, one of the main strips in the town. "We make wines that are approachable now, but can also age. You can drink our wines by itself or you can have a meal with it," Kempe said. My personal favorite from the tasting was Rodney's Vineyard, which comes from vines planted in the 1990s. "And it tastes like Texas," Kempe says. As soon as it hit my lips, I tasted Texas smoked meats—brisket to be exact.
Our day was capped with a sunset dinner on the patio at La Paloma Cafe, a laid back ranchero-style restaurant, where my wife and I started with Smoked Bigeye Tuna Tostada, the Summer Watermelon Salad, and a bowl of tender beef tips, which are made by request only.
For the mains, I went with the Santa Maria Style Snake River Farm Wagu Tri Tip served on a bed of black beans, which did not disappoint, and my wife ordered the Santa Barbara Mission Chicken, which came with pink peppercorn applesauce and roasted potatoes. Following dinner, we walked State Street, another main strip in town. For a nightcap, I recommend Finney's Craft House in the Funk Zone near the beach; if you're more of a pre-dinner drink person, Pearl Social is the place to be.
Our next day kicked off with breakfast at Chad's, an old-fashioned beach-side diner. We then buckled up life jackets for a guided kayak tour of the Santa Barbara harbor. Alongside Max from the Paddle Sports Center, (requesting Max for the tour is a must—trust me) my wife and I paddled beneath the largest yacht on the West Coast, the Chanel Cat—built by Warren Buffet's right hand man, Charlie Munger—and swam near sun-bathing sea lions.
Following our water voyage, we made our way back down State Street for an afternoon consisting of lunch at Joe's Cafe, a therapeutic nap within the salt caves at Salt, art touring through the Santa Barbara Museum of Art, and shopping at Blue Door Vintage.
Dinner that evening at Loquita Santa Barbara was outstanding. We began with an order of Dátil, a plate of goldenberries, jamón serrano, manchego, and membrillo, with bread for dipping. For the main dish, my wife and I split the Chorizo y Pollo Paella, which can easily feed four. On the side we opted for the Patatas bravas—Yukon golden potatoes seasoned with hot pimentón emulsion—and Repollitos (crispy Brussels sprouts).
On our final morning before heading back to Dallas, we took a trip to Old Mission Santa Barbara—the 10th of 21 Spanish missions across California. Founded in 1786, it has endured two earthquakes and is the only mission that has been under the continuous guidance of the Franciscan Friars. I recommend walking through the beautiful garden, which exhibits an art display that chronicles the death of Jesus Christ in 10 steps.
If you have more time, I recommend staying a night or two down by the beach at the Harborview Inn. The views are incredible. I also recommend taking a walk down Stearns Wharf, the oldest operating wharf in California. A round of golf at the beautiful Sandpiper Golf Club or Glen Annie Golf Club won't disappoint. Finally, the Santa Barbara County Courthouse is one of the region's top landmarks. Its castle-like presence and elegant architecture make it a popular site for photoshoots, weddings, and more.
Get the D CEO Newsletter
Stay up to speed on DFW's fast-moving business community with weekly news reports, interviews, and insights.
Author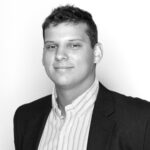 Ben Swanger is the managing editor for D CEO, the business title for D Magazine. Ben manages the Dallas 500, monthly…