Over the past year, Texas Capital Bank's president and CEO Rob Holmes has introduced a new enterprise-wide strategy, recapitalized and restructured the firm, upped employee count in the lead departments and lines of businesses, more than doubled the bank's frontline team, and obtained FINRA approval for its investment banking division and affiliated broker dealer.
Most recently, Texas Capital Bank provided $5 million in funding for Lendistry—a minority-owned, tech-enabled lender that aims to lift underserved communities—in order to expand to Texas with a Dallas office.
In Holmes' extended 2022 Dallas 500 Q&A, he shares about how many times it took for him to score a second date with his now wife, the future of fintech in the banking industry, and much more.
Education: Southern Methodist University (MBA), The University of Texas at Austin (BA-Economics)
Birthplace: Dallas, Texas
First Job: "My first job was bagging groceries at a grocery store. This experience taught me very early the importance of customer service and satisfaction. I learned that I really enjoy client facing roles and I've been in the client service business my entire career."
Best Advice: "A mentor and boss of mine, very early in my career, who remains a mentor today, was discussing a promotion with me and he noted that for me to advance I did not need his vote, but that of all my peers—which I try to earn every day."
Dinner Party: "I'd have dinner with Robert B. Cullum who founded Tom Thumb and Page Drug, among other banners, years ago as he was very successful but also very civically inclined with an exceptional focus on the community. And happens to be my grandfather. I'd also invite Dan D. Rogers who's the Vice President of Mercantile National Bank who happens to be my great grandfather who could provide me with great counsel and guidance."
Destination of Choice: "When I'm lucky enough to travel, I love to spend time with my family and friends in Big Sky, Montana. The beauty of the Pacific Northwest and the different fly-fishing rivers are always a welcomed retreat. That said, I'm a Texan and I truly love the rich history and diverse culture of South Texas."
Nonprofit Cause: "I find myself usually involved with organizations and passionate about causes that either support underprivileged children or the great veterans of our country and first responders of our community."
Hobbies/Passions: "My passion is my family. We are very close and spend as much time together as possible. I also enjoy fly fishing and quail hunting when I get the chance."
Fun Fact: "I had to ask my wife, Charlyn, 7 times to go on a second date with me. She finally said yes."
Dream Car: "I've always wanted an old model Defender, but could never justify the price."
Toughest Challenge: "Two days in particular stand out for me as the most challenging in my career: 9/11 and the bankruptcy of Lehman Brothers on September 15, 2008. I was in New York working on both of those days. I vividly remember watching the second plane fly into the building and then watching both buildings fall on 9/11. That night I had to stay at my boss's apartment, because I could not get back to my hotel. I took a bus to work the next morning at 5:30 a.m. in Midtown. And I remember being only one of a few out and about that morning. I went to work because other colleagues simply couldn't get in. And, then I recall being at the bank on Sunday night, September 14, 2008, when scenarios were discussed regarding the consequence of Lehman or other banks failing. The following day, Lehman filed the largest bankruptcy petition in U.S. history involving more than US$600 billion in assets."
Proud Moment: "There's no one single action I would point to, but rather a series of steady and thoughtful actions each of which are building team, culture, and balance sheet that give us the confidence to firmly say we can deliver something distinct for our clients and shareholders. We know what this bank can be, and the significant actions of the last seven months were all critical to setting up this next stage."
A Better DFW: "The social, economic, and business transformation that Dallas has undergone in the last decade has already made it one of the most exciting, vibrant, and desirable cities in the world to work, live or raise a family."
Must-Read: "When I got to the bank I had everyone read The Culture Code by Daniel Coyle. It's a transformative book about the power of highly successful groups."
Bucket List: "The only thing on my bucket list currently would be to lead Texas Capital in a way that has a profound effect on the development and growth on the next generation of employees and their future success. In 2021, we launched the bank's first ever junior program, and we are already seeing the impacts of this innovative and exciting group among our ranks."
Future Forecast: "We are distinctly situated in one of the best markets in the country to deliver client solutions that will rival any competitor. We are more well-capitalized than ever before. And, we have the leadership, talent, and commitment to tackle the challenges ahead and achieve our vision. We are building the flagship financial services firm in Texas serving the best clients in our markets."
Fintech Innovation: "Our approach to responding to fintech innovation is less about adaptation and more about keeping pace with digital change so that we are responsive to our client's needs. Our coverage model that was outlined in our strategy is supported by several digital modernization initiatives that are centered on earning the right to do business with our clients. This means having APIs across key products that are integrated into our clients' platform of choice, providing advanced analytics and data products that work seamlessly through our clients' financial lifecycle and optimizing for high touch and self-service.
"The broader fintech ecosystem is as accessible to us as it is to others. Our strategy to keep pace is to continuously scan, innovate and/or acquire. We periodically scan the market for new technologies and have a deep view of the fintech market through our Technology banking vertical. We are increasingly active in fintech and the overall tech community, actively partnering and acquiring key technologies that we think will help deliver value to our clients."
Get the D CEO Newsletter
Stay up to speed on DFW's fast-moving business community with weekly news reports, interviews, and insights.
Author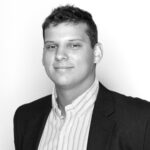 Ben Swanger is the managing editor for D CEO, the business title for D Magazine. Ben manages the Dallas 500, monthly…