The revamped XFL, the spring professional football league with a February 2023 kickoff, has struck a partnership with Dallas-based Connect Partnership Group to broker and negotiate its corporate partnership packages.
Connect—which has offices in New York, Chicago, Austin, Dallas, and soon, Los Angeles—began working with the XFL in 2019, before the league went bankrupt in 2020. Now, under new ownership led by RedBird Capital Group, Dany Garcia, and Dwayne "The Rock" Johnson, Connect co-founder Ben Cahalane has rekindled the partnership. He believes the league finally has found the stability it needs to create long-term viability.
"I feel good about the league's vision and purpose," Cahalane told D CEO. "The commercial business opportunities for brands that we are presenting the XFL is incredibly unique and powerful and, frankly, has never been architected in this way. Brands have the opportunity to align with a league in the XFL—all the teams, the players, the coaches, and their media partner, the Walt Disney Company. We have it all together in one commercial value proposition that we are engineering and presenting to the marketplace."
The XFL is unique from other major leagues in North America in that every member within a specific team is actually an employee of the league, not the team. This presents brands with the opportunity to strike partnerships, not just with a single team, but with every team.
"This partnership builds upon the momentum of the XFL's refreshed brand vision under new ownership and opens the door for attractive new opportunities to co-create with partners and brands that share our passion for innovation and excellence," Russ Brandon, president of the XFL, said.
Cahalane says the roster of sponsors, which will be announced closer to the league's February 2023 kickoff, will include major companies in the financial services, telecommunications, technology, insurance, auto, and beverage industries.
Connect—which has doubled its headcount over the past year—will also help curate a roster of jersey sponsors. Its roster of past and present clients include the Texas Rangers, Dallas Stars, Dallas Fuel, Chicago Cubs, Ironman, and Topgolf. Cahalane expects 2022 year-over-year revenue to double.
"What gives us confidence that we will be able to help the XFL be profitable?" Cahalane asked. "My teammates create wins."
Fort Worth Heritage Development Co. Acquires Stockyards Hotel, H3 Ranch, and Booger Red's Saloon
Fort Worth Heritage Development Co., a joint venture between Majestic Realty Co. and the Hickman Companies, has purchased Stockyards Hotel, H3 Ranch, and Booger Red's Saloon—all are located in the Fort Worth Stockyards National Historic District.
Fort Worth Heritage Development Co. has invested more than $200 million into the revitalization of the historic district over the past three years and is expected to invest an additional $500 million into its 70-acre zone through 2027.
"We are proud to take on this legacy property, a cornerstone of the District with its very prominent Main and Exchange location. The hotel and restaurant are now a part of our Stockyards holdings, which includes the Hyatt Place Hotel and award-winning Mule Alley and Hotel Drover, an Autograph Collection resort," Craig Cavileer, managing Partner for Fort Worth Heritage Development Co.
Over the past year, complemented by its new Mule Alley project, the group says it has hosted more than six-million Stockyard visitors over the past year. The H3 Ranch restaurant will close for refurbishment and improvements and will reopen this July.
Another Round Expands Space with Duffleboard and Reimagined Mini Golf Course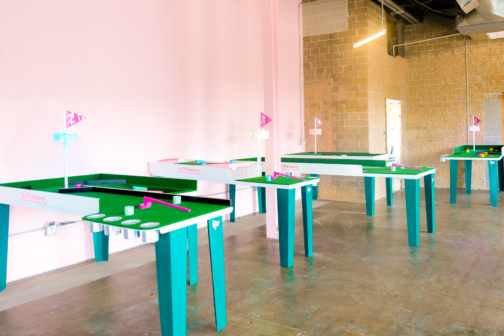 Dallas' competitive entertainment space is growing. Fittingly named Another Round, an indoor mini golf and bar venue in West Dallas, is expanding its space from 5,000 square feet to 8,800 square feet with the addition of Duffleboard—a tabletop mini golf game that uses a tabletop putter and real golf balls and features 9 different boards for a 9-hole game.
Another Round now has the first Duffleboard venue, invented by FlatStick Pub in Washington, east of the Rockies.
"We've loved seeing how FlatStick pub has made innovative, interactive, fun a hallmark which is what we are striving for as well," said Another Round owner Kendall Spence. "When we decided to expand, we thought it would be the perfect opportunity to add another group activity in the area."
The venue also revamped its 12-hole mini golf course into two 9-hole courses which feature a "night" and "daze" course—the night course has five new holes with rolling rubber hills, and the daze course has a new hole with four renovated holes. The mini golf course will also now feature a pro shop.
Get the D CEO Newsletter
Stay up to speed on DFW's fast-moving business community with weekly news reports, interviews, and insights.
Authors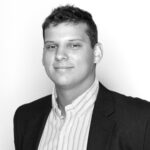 Ben Swanger is the managing editor for D CEO, the business title for D Magazine. Ben manages the Dallas 500, monthly…