Dallas restaurateur Stephan Courseau, the mind behind three French eateries in the Knox neighborhood, recently announced a name change for his second concept, Up on Knox, which opened in 2017. Now operating as Knox Bistro, the restaurant has also undergone a menu makeover, led by Michelin-starred chef Bruno Davaillon (of Bullion and Rosewood Mansion on Turtle Creek fame)—Courseau's new partner in Knox Bistro. Courseau says both shifts are meant to further lean into the French roots of the restaurant.
D CEO recently spoke with Courseau to talk about Knox Bistro's revamped fare, partnership with Davaillon, name change, and the future of the restaurant.
D CEO: How did this partnership with Chef Davaillon come about?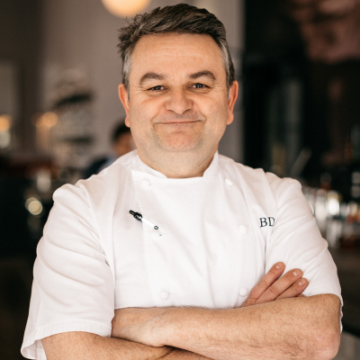 Courseau: "Chef Bruno Davaillon and I have known each other for a long time—being both French and moving to Dallas about the same time. Both of us were too busy in the past to really talk business.
"Right around the pandemic time, Bruno stopped his collaboration at Bullion, where he was a chef partner, and I called him and said, 'What are you up to? Are you staying here in Dallas? Or going back to France?' He said, 'No, I'm staying here,' and I said, 'Well, let's have coffee and talk.' We did that for about six months because at the time no one really knew what was going to happen. We started to discuss what would come after the pandemic. From that, we started a friendship. At some point, toward the end of 2020, I said to Bruno, 'Hey, why don't you come to Up on Knox and bring your talent there, and while you do that, we can talk about other things.' From there, we started to talk about different projects and opportunities."
D CEO: Why was now the right time to shift Up on Knox's menu and branding?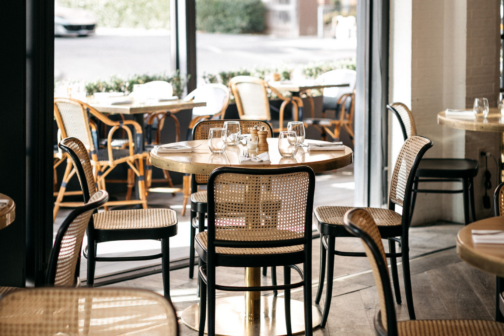 Courseau: "The demographics have evolved in such a way that the diversity that we were hoping to encourage has really blossomed in the area from all the new residential where we have people who move here—the young professionals, those with disposable income, and so forth. It has created a very vibrant area, and all the announcements that have come since then—The Weir's Plaza building and the Restoration Hardware that are going to take place across the street—have all contributed to changing the neighborhoods for the better. Now, it has become, in our opinion, a really great hub and we wanted to have that at Up on Knox.
"The way we look at restaurants in the United States has become very, very, well-regarded, in the sense that these are places of life. That's the French culture, and that is also the way it is in Italy and Spain. That's the European way of life, and it has become the American way of life. I think that the pandemic, if anything, has really brought that back to people's minds in this country…. The other thing is that the French technique is something that can apply in almost any cuisine, and it's a way of really respecting the ingredients and produce that you have, and that applies to any good restaurant. So, you have the older crowd, who has traveled to France and knows it very well, and then you have the younger crowd, who have discovered that [cuisine] and embraced it. So, for us, it was kind of a no-brainer: We realized people were really responding to it."
D CEO: Why was Chef Davaillon interested in Up on Knox in particular?
Courseau: "Knox Bistro, Up on Knox before, had everything that Bruno wanted inside. At the very beginning, we had a talk, and we spoke about his career at The Mansion and Bullion, and he told me something that I didn't know, and that I think very few people know.
"He said when he went to Bullion, of course he loved the restaurant. But at the same time, it wasn't what he had in mind—meaning that he went there thinking he was going to do a French Brasserie, because that's what he wanted to cook. You have to realize, a chef like Bruno, he has almost forty years behind him, and he has always cooked high-end, elaborate French Food, and he was like 'There's so much more.' French food is very democratic. It's not just for the happy few.
"Bruno was like, 'I was at a point in my life when I wanted to cook that food—the food for the people, the food that I grew up with, the food that my mom and my grandmother were cooking for me, and that the good restaurants in France, the good bistros, cook as well.' And I said, 'What happened?' And he said, 'Well, the owners came up with a beautiful restaurant, and when I saw the décor, I knew I could not cook simple food there. I can cook good food, which is what I did, but it had to be a little bit more upscale.' That was an epiphany for me, and I said, 'Let's do it here. Let's do [what you had wanted] at Up on Knox!'
"Meanwhile at Up on Knox, I was always proud of what we're serving, but we had a hard time finding a chef who would stay there and make it his own. We had some talented people who came with great ideas, but no one stayed for a long time for different reasons. When Bruno came, he was very humble, very grounded. He said, 'You know what? Yes, we will do more things together, and I'm happy here.' When you have someone like that, it's a blessing, and I'm so fortunate to have met him. We became great friends, and he's someone who brought something to the plate—literally and figuratively—that I was always hoping for."
D CEO: What are some of your favorites from the new menu?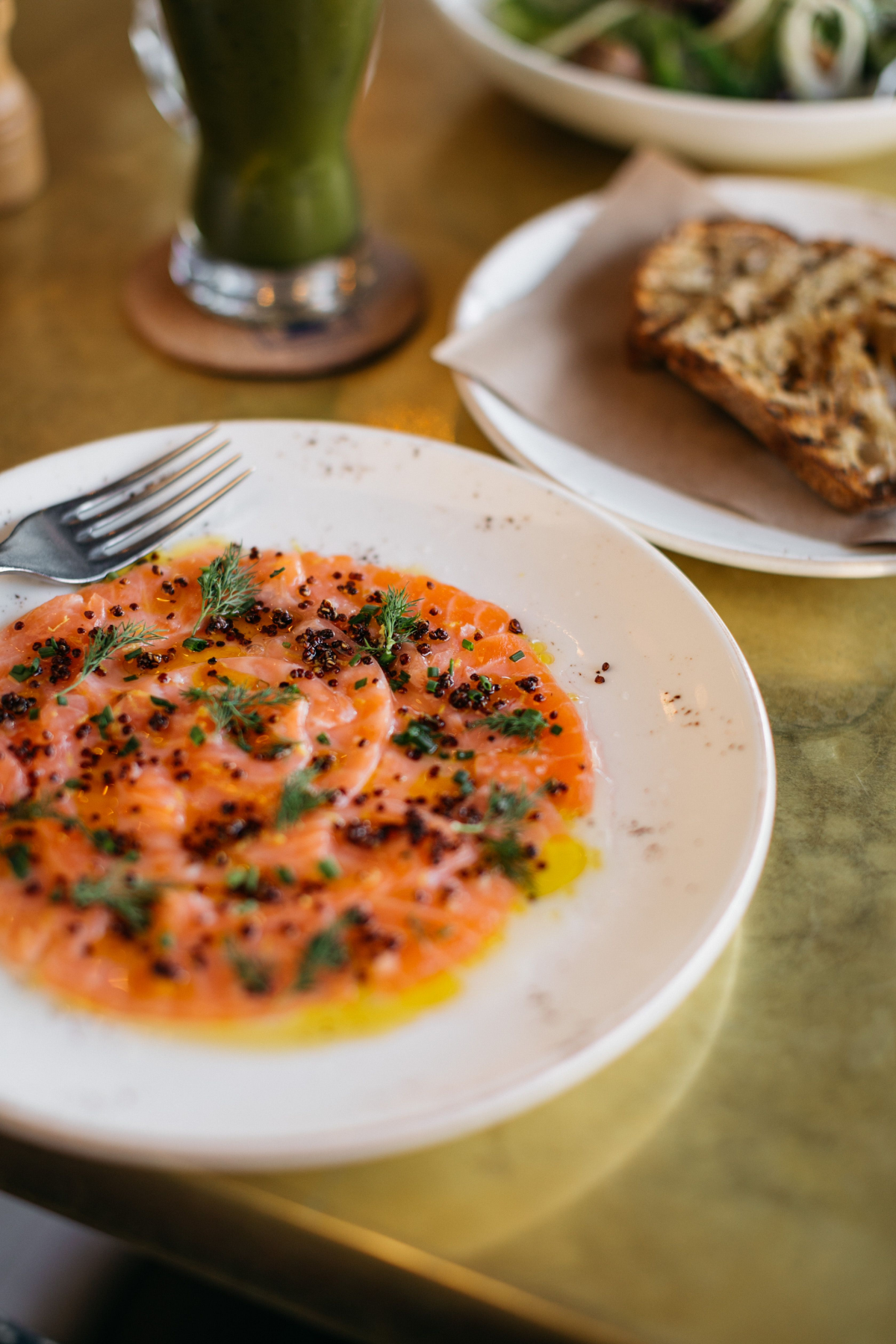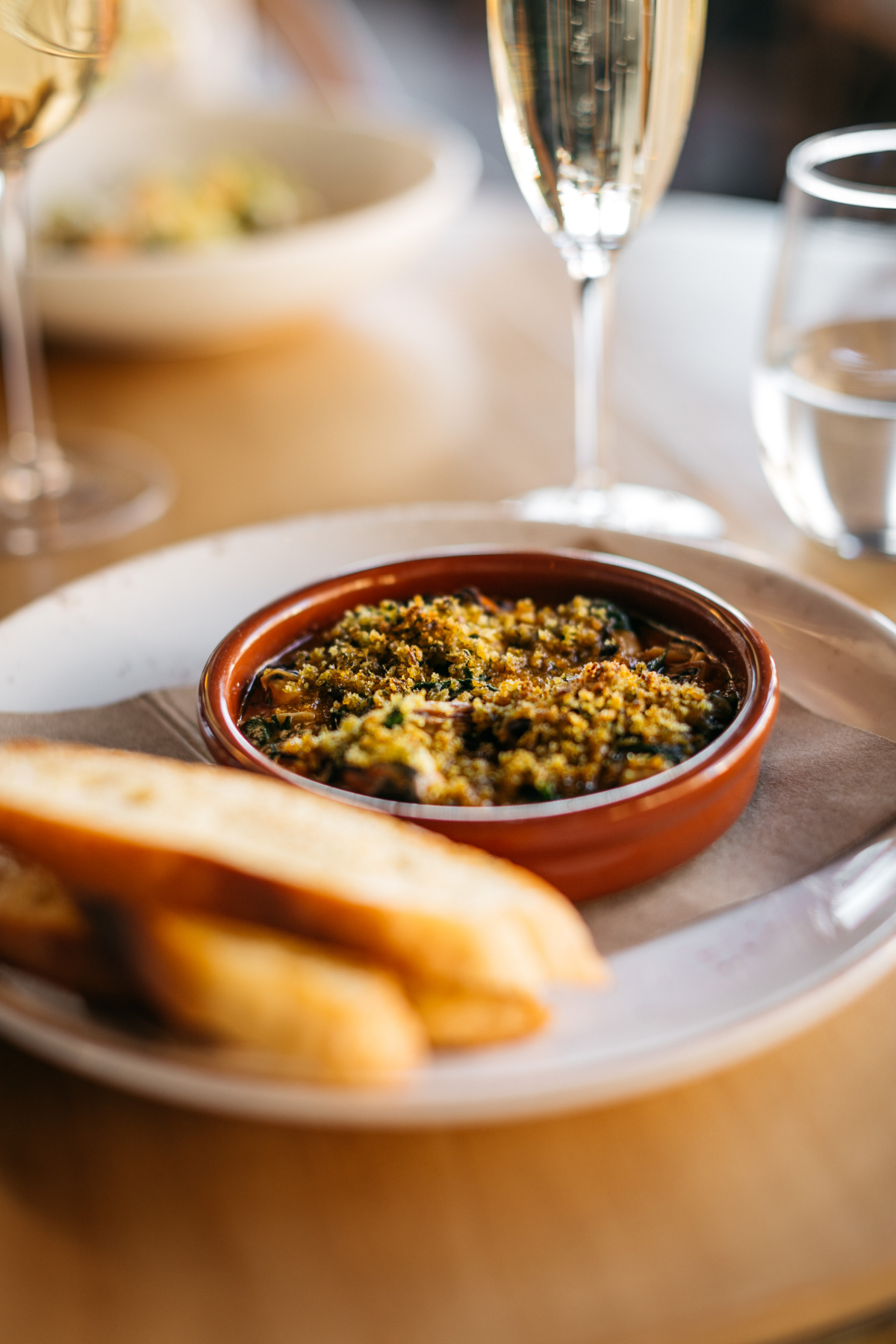 Courseau: "When we started to switch from Up on Knox to Knox Bistro, one very, very important aspect of what we decided to do was not to duplicate or create different takes on, anything we were doing at Le Bilboquet. Our decision was very, very strong from the beginning to say, 'Hey, we're not going to do the same thing. We don't have to have a steak tartare just because everyone has one.' For that matter, almost every French restaurant or French bistro I've seen have always had tuna tartare or salmon tartare. I told Bruno, 'Why don't we do something else?' We came up with the idea of doing what is basically a salmon crudo, but it's French. It's really a classic of French bistro food. The idea is really to bring a new take on French food—not something that hasn't been done before, but something that hasn't been seen here.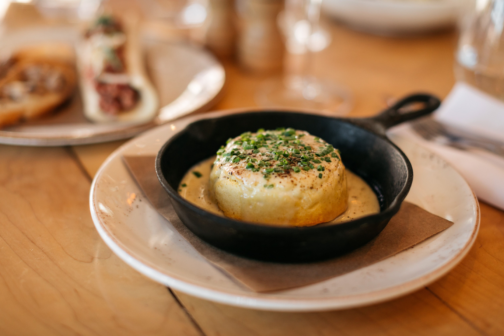 "We have a double-baked cheese souffle. I love it. It's not your typical cheese souffle. It's smaller. What I like about it is that the richness of the souffle is balanced by a little green salad, very simple, that is brought next to it, but it has the acidity. So, once you have a couple of bites of the cheese souffle, then you go to the salad, and you suddenly have the perfect combination.
"We're going to have one thing starting probably next week that I'm very excited about. It's a couscous. Obviously, France has been a colonial country, as everyone knows, for a long time. It was occupying the protectorate in Morocco, Algeria, and Tunisia, which all have a traditional dish called couscous. It is a semolina that they serve with tons of vegetables and fantastic broth. Usually, it's lamb or chicken—some kind of meat. You could also have it vegetarian. It's a beautiful dish. What is very funny is that over the years, it has become a favorite dish in France. You have a big migrant community in France, but it's a dish that has become so popular all around that every year, it is voted the favorite dish for the French people, and it is part of our culture today.
"Also, Monday through Friday, you will be able to have very special specials, meaning there is one special every Monday, there's one Tuesday, etc. All these are extremely classic dishes from France, and we're going to see what works. We know that not everyone is going to go for [these types of dishes], that's why they are only weekly specials, but we hope to capture people who have discovered that type of food in France or are curious enough to try it here, so they can become regulars on that night because of a particular dish. We have a few of these that have made the menu, and we'll see how it goes."
D CEO: What can you share about your and Bruno's future projects?
Courseau: "We are working on two or three projects. We want to stay very, very central within Dallas, because we like the neighborhood we are in. It's booming. That's why it's not always easy to find a location. We have turned down opportunities over the years to go into other parts of Texas, because I live within walking distance from our restaurants. I go every day to each one of them, and that's what I like.
"Bruno is going to evolve into the culinary director of this group that we have. I want him to be involved with Le Bilboquet, once we redo the kitchen [next year].
"We've been talking about a couple of projects. One that is in the works will be a French-Asian restaurant. The reason is a lot of people are aware of the connection with French Vietnamese food, and so you have a lot of these over the years that have now come to life, whether in France or here in the U.S.— things like Indochine in New York, which has been a classic for 35 years. We won't compete with that because we want to create something that is unique and new.
"Bruno will always stay the culinary director, but we will bring someone on as an executive chef that is [open] to Asian cuisine. That's the next project—something that should happen within the next 12 to 16 months.
"We also have a concept that will be more casual. For lack of a better description, it will be a French Californian restaurant. Within France each region is so different. The climate is so different; the terroir, as we call it, is so different that they don't have a lot of limitations. Somehow, it's very similar to the approach that California has, because California has all those orchards and the sea that is right there, and they treat the ingredients living the same way that we do in the South of France. Last but not least, we want to do a bakery. So, we're looking at a lot of things. "
This conversation has been edited for clarity and brevity.
Get the D CEO Newsletter
Stay up to speed on DFW's fast-moving business community with weekly news reports, interviews, and insights.
Author
Kelsey J. Vanderschoot came to Dallas by way of Napa, Los Angeles, and Madrid, Spain. A former teacher, she joined…