Dallas-based tech startup Island launched in February with nearly $100 million in funding. Now, the company, which provides a browser plug-in that protects company data, has garnered an additional capital infusion of more than $200 million and reached a $1.3 billion valuation.
"Our technology is something investors always wonder why it took so long for someone to do," CEO and co-founder Mike Fey told D CEO. "We created an opportunity where it was obvious that if we were successful, the company we were going to build would be very large."
The Series B funding round was led by the same company that led Island's Series A round, New York-based Insight Partners. The Dallas-based venture, which also houses operations in Tel Aviv, Israel, operates on a subscription model. With its new monetary boost, it hopes to double its headcount in Israel and Dallas, reaching more than 200 employees by year's end.
"Dallas has had an amazing convergence of cybersecurity talent," Fey said. "So, our ability to grow [in Dallas] and get access to some of the best talent in the U.S. was was incredibly high—actually way better than it would have been in the Bay Area."
BioLabs Coworking Facility Opens at Pegasus Park
Boston-based BioLabs opened its coworking unit at the 23-acre, mixed-use office campus of Pegasus Park, providing space specifically for life science startups. The space, located between the Dallas Design District and the Southwestern Medical District, is 37,000 square feet made up of lab and office areas. It houses:
Six private labs and 90 open benches
Four tissue culture suites with biosafety cabinets and CO2 incubators
A microbiology suite with biosafety cabinets and shakers
A microscopy room
A bioengineering suite with a 3D printer
BioLabs can house up to 35 companies, and Colossal Biosciences, the company aiming to bring back the woolly mammoth, and ReCode Therapeutics will be among its tenants. Gabby Everett, formerly the lead scientist of NCH Corporation, has been appointed site director.
Rushmore Loan Management Services to Open New Dallas HQ
Residential mortgage servicer Rushmore Loan Management Services, which manages more than 385,000 home loans nationwide, will open a new 78,000 square-foot headquarters in Irving on April 11.
Nearly 500 employees will populate the new HQ—more than double what the previous location housed. Cushman & Wakefield leased the property that was designed by Dallas architect HKS. The new space is owned by UBS Realty.
The Shops at Park Lane Welcome Two Bit Circus Entertainment Experience
New entertainment concept Two Bit Circus, a micro-amusement park that blends interactive tech like virtual reality with the classic circus and carnival, is coming to The Shops at Park Lane. The 35,000-square-foot venue will be the first outside of California.
"We've always known that the Dallas community is the perfect audience for our next location," Brent Bushnell, chairman of Two Bit Circus, said in a release. "We couldn't pass up the opportunity to partner with Northwood Retail and The Shops at Park Lane in such a central part of the city. It was the perfect match."
Proceeds will benefit nonprofit Two Bit Circus Foundation, which works to support young inventors, advance environmental stewardship, and spur STEAM community engagement. The concept will feature:
Robot bartenders
Escape and story rooms
Designed arcade games
Private gaming lounges
Tech-enhanced carnival games
Virtual, augmented, and extended reality experiences
An interactive game show theater
Get the D CEO Newsletter
Stay up to speed on DFW's fast-moving business community with weekly news reports, interviews, and insights.
Author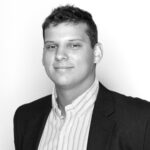 Ben Swanger is the managing editor for D CEO, the business title for D Magazine. Ben manages the Dallas 500, monthly…