This week, Colossal Biosciences, the company attempting to bring woolly mammoths out of extinction via genetic engineering, garnered $60 million in new funding to aid its journey.The financing was led by Thomas Tull and At One Ventures with participation from numerous other companies and investors including Paris Hilton. To date, Colossal has now raised $75 million.
"With this most recent financing, Colossal is positioned to realize long-researched breakthroughs that can support the restoration of healthy ecosystems. We will soon have the choice of moving from the role of blind destroyer of the world's species toward being the thoughtful kin of all the life around us," Tom Chi, Colossal investor and founding partner of At One Ventures, said.
In September 2021, North Texas-based tech entrepreneur Ben Lamm launched Colossal Bioscience alongside serial entrepreneur George Church. The biotech company focuses on restoring extinct species, protecting endangered species, and repopulating critical ecosystems.
In a conversation D CEO recently shared with Lamm, the entrepreneur said, "From a business perspective, we make the analogy to the Apollo program. Look at all the technology that came out of Apollo…
"George and his lab have developed technologies that can be helpful for not just extinction and species preservation. I think they can also be applicable to broader industries as well. If you look at artificial wombs or multiplex editing, those are massively disruptive tools that can be leveraged for animal lab work, species conservation, or human healthcare. There is a massive application in a range of these technologies that's available."
Tickets go on Sale for Upcoming ClubCorp Classic, David Pillsbury Shares Latest on ProAm
Tickets for the ClubCorp Classic presented by Choctaw Casinos and Resorts have officially gone on sale. The April 22–24 tournament at the Las Colinas Country Club will feature a 54-hole stroke play format and play host to a field of professional senior tour golfers, celebrities, and ClubCorp amateurs.
Tickets for the tournament, which benefits numerous North Texas nonprofits, will be limited to 10,000 per day. ClubCorp CEO David Pillsbury is forecasting an economic impact of $15 million, with charitable donations coming in somewhere between $25,000 and $50,000 in the inaugural year.
Tickets are priced at $70 for a three-day pass or $35 for a one-day pass.
D CEO recently sat down with Pillsbury to get the latest on the tournament. This conversation has been edited for clarity and brevity.
D CEO: Who are the big name celebrities who fans can expect to see at the ClubCorp Classic?
PILLSBURY: "It's going to be amazing. We have Tony Romo, Emmitt Smith, Demarcus Ware, Tim Brown, even Aaron Rodgers, Annika Sörenstam, Ray Allen, and Brian Urlacher. We've got entertainers: Larry the Cable Guy, Alfonso Ribeiro, Anthony Anderson, Brian Baumgartner. I mean, these are all faces when the fans see them they'll be like, 'Oh, I've seen that guy from TV!' So, Mike Flaskey [the tournament founder and executive director] has just done an amazing job curating our celebrities."
D CEO: What has been the most difficult aspect of piecing the tournament together?
PILLSBURY: "It's really been about selling the dream for year one. The first year of an event like this is always the hardest, because you're having to describe what the event will be, as opposed to showing someone, or listening to a testimonial from someone who actually went through the event. So, it'll be a lot easier next year, because everyone's going to want to be here. This year's fans who experience it will go to tell all their friends how amazing it was. So, the hardest part has been describing to people, and convincing people, this is what it will be. And once they experience it, then this thing is just going to take off."
D CEO: How is the tournament going to keep these celebrities, pros, and fans coming back in future years?
PILLSBURY: "I think after year one, they're all going to want to come back because we have a great golf course in the Las Colinas Country Club—one of the best in Dallas. And, I think, they're going to see what we're doing for First Tee [Greater Dallas] and what we're doing with the Momentous Institute. They're going to see the quality of our sponsors, and they're going to want to come back every year. So, we think this is just the beginning of an incredible run for what will become a marquee event in Dallas."
Al Coker and Associates Joins Douglas Elliman Realty
National residential real estate brokerage Douglas Elliman has been busy acquiring brokerages nationwide, and its latest is Dallas-based Al Coker and Associates. All nine employees of Al Coker and Associates—which specializes in luxury condominium and townhome developments—will work out of Douglas Elliman's Dallas office.
"Dallas is a key market for us and with Al and his team joining Elliman, we are setting the stage for tremendous success in Texas," Stephen Kotler, CEO of Douglas Elliman Realty's western region, said. "Al is highly-regarded for his innovative sales and marketing strategies, and he and his team will be an invaluable asset for strengthening our presence across the state."
Coker's team, which holds more than 40 years of industry experience, has worked with 51 developments nationwide and has orchestrated nearly $2 billion in mixed-use condominium developments throughout North America.
"I have admired Douglas Elliman Realty for many years, especially from my time on the East Coast, so I could not pass up the opportunity to join the brokerage. There is an undeniable synergy between the two brands, and I could not envision a better match. Their strength in both home sales and condominium development are second to none, and I am ecstatic to be joining the Elliman family," Coker said.
Envy Gaming Inks Another Sponsorship in Honor of Women's History Month
North Texas' Envy Gaming and the*gameHERs, an international coalition focused on building up women in gaming and gamers of marginalized genders, have partnered to create a content series alongside community building and collegiate initiatives. Co-branded live events are also being discussed.
The*gameHERs has more than 150,000 members and works to create sexist-free spaces throughout gaming culture.
"Gaming and esports have come a long way but still have so far to go in the fair and representative treatment of women," Erin Schendle, senior vice president of sales and partnerships at Envy, said. "We want to bring a megaphone to the positive things that organizations, brands, and individuals are doing to foster a community of equality and empowerment for all girls and women interested in gaming."
Santander Consumer USA Expands Partnership With AutoFi to Develop New Digital Car Buying Platform, with Mitsubishi Motors as Preferred Finance Partner
Santander Consumer USA, which has a managed asset portfolio of $64 billion, and AutoFi's 3-year long partnership has expanded to develop an end-to-end digital car buying experience. The mobile, desktop, and in-dealership offerings will allow car buyers to streamline everything from the purchasing process to financing specifications.
"Our new digital product suite will connect dealers, consumers, and vehicles more effectively than ever before," Santander Consumer USA President and CEO Mahesh Aditya said. "By personalizing and streamlining the car buying process, everyone wins. Shoppers see exactly what they can purchase, and dealers can self-service each deal to meet the needs of their customers."
Within the program, Mitsubishi Motors has partnered with Santander to be the preferred finance partner.
"Mitsubishi Motors is celebrating 40 years of doing business in the U.S. in 2022, and our future has never been brighter. We are turning heads with one of the freshest showrooms in the industry, we are shattering sales records, and our new partnership with Santander is going to play a key role in taking our success to the next level," said Mitsubishi Motors North America COO Mark Chaffin.
Get the D CEO Newsletter
Stay up to speed on DFW's fast-moving business community with weekly news reports, interviews, and insights.
Author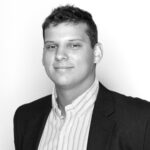 Ben Swanger is the managing editor for D CEO, the business title for D Magazine. Ben manages the Dallas 500, monthly…