As one of seven executives on the cover of the 2022 Dallas 500, Christa Brown Sanford—the Deputy Firmwide Chair of the Intellectual Property Department at Baker Botts—provides expert legal guidance to her clients. However, when she was at the onset of her career she was sometimes too timid to speak her mind. "Early on, my champion at Baker Botts told me I needed to speak up," she says. "Now, I use my voice within the firm, and outside the firm, to advocate for myself and others."
Sanford also serves as the president of the Junior League of Dallas. "We have begun changing the conversation regarding the impact that diverse donors can have on the Dallas community," she says.
Education: Southern Methodist University (JD), Rice University (BS-Electrical Engineering)
Birthplace: Dallas
First Job: "My first real job was as a cheerleading instructor for American Cheerleaders Association—now National Cheerleaders Association. Although, I started working at my dad's fire protection company at a very young age doing anything and everything."
Dinner Party: "I would love to have dinner with Ron Kirk because he has the best stories and would keep me laughing the entire time, and Cynt Marshall because I imagine she has an incredible perspective on traversing the corporate environment as a diverse woman."
Nonprofit Cause: "The Junior League of Dallas is particularly special to me because of the focus to develop the potential of women and improve our community through trained volunteers. The members of JLD have been instrumental in shaping Dallas and impacting so many organizations, both civic and business, in the community. JLD demonstrated to me how feasible the creation and maintenance of philanthropic efforts can be with a dedicated foundation. With this perspective, and through a relationship with a Sustaining Junior League member, I was introduced to other African American women focused on philanthropic efforts in Dallas and we established The Village Giving Circle in 2017."
Destinations of Choice: "I enjoy San Miguel de Allende, Mexico and Crested Butte, Colorado."
Hobby/Passion: "I love building and remodeling houses. It allows me to be creative and use a lot of the skills that I've been able to develop while practicing law (problem solving, time management, people management, etc.)."
Dream Car: "A 1999 Volvo C70—that was my college graduation present and it reminds me about all the hard work and sacrifice over the years."
Toughest Challenge: "As a young partner, I was able to land a multi-million dollar client for the firm, which was extremely exciting. Unfortunately, I had to give up the work due to an internal issue just a few months after beginning the work. I was devastated. But as I look back on that missed opportunity, I realize that the loss allowed me to cultivate even deeper relationships with existing clients and create relationships with new clients that have proven to be invaluable to my development and progression at the firm."
Second Home: "We have a country home in Malakoff, Texas. My husband's family is in Corsicana, Texas and my dad's family lived in Palestine, Texas so we bought a place in the middle. Also, I watched all of DALLAS during my third year of law school and wanted to recreate living on a ranch."
Proud Moment: "Like most companies, Baker Botts had to be decisive in the midst of the challenges of COVID and that allowed us to lean in to our strategic plan and see it in action. We have continued to evolve in how we discharge our services, and we have made sure we are delivering exceptional legal services even in a remote or hybrid environment."
A Better DFW: "Dallas is evolving in so many ways and we need to embrace change and be even bolder in what we do. We have talked about bridging the gap between the southern and northern sectors of the city and we need to intentionally and collectively work to make that a reality. Dallas will not reach its full potential with this gaping divide within our city."
Future Forecast: "I'm most excited for the next generation and seeing how my children develop and grow and how they will begin to make an impact on our community and the world."
Walk-up Song: "'Diva' by Beyonce because she redefines what a diva is."
Proud Moment: "Being presented with the Distinguished Alumni Award from SMU's Dedman School of Law was extremely memorable. As I gave my acceptance speech that night in front of my family and friends, it was a touching moment."
Local Fare: "I like Snuffer's. I order the Mushroom Swiss turkey burger and loaded cheese fries."
Clients' Needs: "Everything has gotten faster! With technology, remote working, virtual meetings, etc., everything is immediate. Given the pace of business, clients are worried about getting left behind."
Get the D CEO Newsletter
Stay up to speed on DFW's fast-moving business community with weekly news reports, interviews, and insights.
Author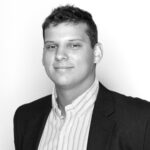 Ben Swanger is the managing editor for D CEO, the business title for D Magazine. Ben manages the Dallas 500, monthly…