In part two of our special Valentine's Day series, North Texas business and nonprofit leaders share their relationship advice and 'how we met' stories. In the spirit of Valentine's Day, D CEO editors checked in with area leaders to learn about their Valentine's traditions, favorite gifts, and proposal stories. Be sure to read the first post in our series, featuring Kit Sawers, Marty Turco, Jamie O'Banion, and more.
Happy Valentine's Day from the D CEO team!
Craig Hall, Chairman, HALL Group
His wife, Kathryn, is a former Ambassador to Austria and president of HALL Wines and WALT Wines.
HOW WE MET: "We were introduced by the late Governor Ann Richards, who knew we were both available at the time. We have now been together for 30 years."
OUR PROPOSAL STORY: "I proposed by putting a ring inside an ice cube in a glass of champagne while we were enjoying time in the hot tub at home."
VALENTINE'S DAY TRADITIONS: "Valentine's Day was our first serious date, when we decided we would spend the rest of our lives together. It is an important holiday for us, and we try to do something special together each year. That said, this year we are moving Valentine's Day due to scheduling conflicts!"
FAVORITE VALENTINE'S GIFT OR MEMORY: "One year, as a combined Valentine's Day/anniversary present, we gifted each other a 16-foot in diameter art piece by Nick Cave called 'Garden Plot.' It now hangs in the entryway of our HALL Wines St. Helena Winery in Napa."
RELATIONSHIP ADVICE: "Don't sweat the small stuff—and at the end of the day, everything is small stuff. For the guys, even if you don't believe it, learn to say, 'I'm sorry' and 'I was wrong!'"
Fritz Rahr, CEO, Rahr & Sons Brewing Co.
Fritz and his wife, Tara, had their wedding announcement published in the New York Times with the headline, 'She Fell in Love, and the Dog Approved.'
HOW WE MET: "We met at a dog rescue event, where I was making a donation to Tara's dog rescue charity. We have been together four-and-a-half years."
OUR PROPOSAL STORY: "I proposed to Tara on Sept 12, 2019, at Rockefeller Center. It's the spot I first told Tara I loved her."
VALENTINE'S DAY TRADITIONS: "Either the day before or after Valentine's, we like to go to an animal shelter and hand out dog treats to the pups. And then, every year I love to surprise Tara, not letting her know what we will be doing. Just like this year! That's why I can't tell you our plans."
FAVORITE VALENTINE'S GIFT OR MEMORY: "I surprised Tara with a trip to New York City to design her wedding band and have dinner at the MONKEY BAR on 54th."
RELATIONSHIP ADVICE: "Always hold hands and tell each other you love them at every opportunity."
Amy Stewart, Founding Partner, Stewart Law Group
Her husband, Ed, is the Big 12 Conference's executive associate commissioner of football.
HOW WE MET: "Ed and I have been together for 22 years and are excited to celebrate our 20th wedding anniversary in May. It all started at an NCAA conference long ago, where we met, and I wanted absolutely nothing to do with him and had no interest in a relationship at the time. Lo and behold, the next time we saw each other months later at another conference, we locked eyes and I declared to my friend at the time, "I am going to marry this man!"
OUR PROPOSAL STORY: "We were living in Columbia, Missouri, at the time. There was a winery just outside of town and we were going to dinner. Ed was as anxious as I had ever seen him. He got dressed up in his nice suit for dinner on a weeknight—not normal in Columbia—and was adamant we could not be late. Of course, I am thinking, 'What is this crazy man up to and why is he wearing his suit to dinner?' At dinner, Ed dropped to one knee in the middle of the restaurant to pop the question. … I said yes."
VALENTINE'S DAY TRADITIONS: "We are not big into Valentine's Day because he is my best friend, and we spend lots of time together. Since we moved to Dallas, Ed always gets our daughter, Ava, and me these fabulous, assorted chocolates from one of our favorite places, Chocolate Secrets. Throw in a good bottle of cab or pinot and it is a great day!"
FAVORITE VALENTINE'S GIFT OR MEMORY: "Watching Ava get excited year after year when Ed gives her the Chocolate Secrets box. He also selects a beautiful card with a special note for me every year."
RELATIONSHIP ADVICE: "You must communicate and run your own race that does not compete with the perception of other relationship statuses. … We always believed that we were best friends, and COVID-19 put that to the test. I had to transition the entire law firm to a virtual law firm while Ed was navigating how the Big 12 Conference would handle playing through COVID. We agreed to make the best of it, and we really enjoyed our time together. It reminded us how important it is for couples to be friends and genuinely enjoy spending time with one another. We are each other's biggest advocate, and when necessary, harshest critic—but it all comes from a place of love."
JD Trueblood, President and CEO, Turtle Creek Association
It took him three tries to get his husband, Franco, to accept his wedding proposal.
HOW WE MET: "We met at the gym. We just celebrated 20 years together."
OUR PROPOSAL STORY: "It took three attempts to convince Franco to be mine. The first attempt was in Venice on a bridge. I dropped to my knee and said, "Marry me." His response was, "Where's the ring?" So much for spontaneity! The second attempt was at Green Papaya, the location of our first date. Again, I go down on my knee, this time with a ring in my hand, when a neighbor stops at our table unaware and starts chatting away. Franco's response: "You'll need to try again." The third time's the charm, so they say. In front of family and friends, I drop to one knee again with the ring in my hand and start the proposal. At this very moment our 5-year daughter and her BFF start singing and dancing their lunchtime prayer from daycare. Through laughter and cheers, I heard "Yes, I'll marry you."
VALENTINE'S DAY TRADITIONS: "Franco is Italian and a very good cook, so it's his famous lasagna, a great salad, and a good bottle of wine."
FAVORITE VALENTINE'S GIFT OR MEMORY: "In our house, food is definitely an expression of love. In addition to the lasagna, Franco once made a very special chocolate lover's dream dessert. It was truly heaven."
Whitney Lewis, General Counsel, Tiedemann Advisors
Her husband, Chequan, is the chief operating officer of Pizza Hut.
HOW WE MET: "We met during our first year of law school and got to know each other when we were running against each other in an election held by the Black Law Students Association. We became close friends through our work in the organization and began dating during our third year of law school. That was in October 2011, and we've been married since August 2014."
OUR PROPOSAL STORY: "We were in a long-distance relationship and were making multiple trips a month between NYC and Dallas. It was a grueling schedule managing junior associate law firm life and constant travel. In May 2013, we had planned a vacation to California to celebrate a friend's birthday and recharge. While on the trip, Chequan proposed at the Huntington Botanical Gardens in San Marino. He coordinated a secret photographer and flew out my parents to surprise me post-engagement."
VALENTINE'S DAY TRADITIONS: "In recent years, in lieu of gifts, we've scheduled a couples massage followed by a great meal, making the day about both enjoying ourselves and each other's company."
FAVORITE VALENTINE'S GIFT OR MEMORY: "Valentine's Day is not a big deal for us, but it has been sweet to share the holiday with our 4-year-old son, who relishes picking out cards for his teachers and making creative valentines for his classmates."
RELATIONSHIP ADVICE: "Through the inevitable ups and downs, always remember that you and your partner are on the same team. Be intentional in your choice each day to show up for that team as best you can, and trust that they are doing the same."
Dr. Lyndsey Harper, President and CEO, Rosy Wellness
Her husband Scott is CEO of the tech research, design, and creation firm Dialexa.
HOW WE MET: "We were introduced 16 years ago by mutual friends when I was doing a medical school rotation in Scott's hometown of Fort Smith, Arkansas. We hit it off immediately and haven't spent much time apart since."
OUR PROPOSAL STORY: "Scott proposed after a beautiful dinner at the French Room at The Adolphus. The waiter brought dessert and removed the cloche to reveal a ring positioned perfectly on an orange lily, while Scott got down on one knee. It was straight out of a movie."
VALENTINE'S DAY TRADITIONS: "Many of our Valentine's Days have been spent at home, with extraordinary meals made by Scott (our personal gourmet chef). This year we are going to do an early causal dinner after work. We do a decent job of keeping date night on the calendar a couple of times per month, so there isn't anything super different about Valentine's Day, and we'd rather avoid the fixed menus and crowds. Can you tell we are old?"
FAVORITE VALENTINE'S GIFT OR MEMORY: "Our favorite Valentine's memory is bringing our middle daughter home from the hospital. She is an absolute ray of sunshine and a beautiful expression of our love and relationship."
RELATIONSHIP ADVICE: "Keep dating. Scott and I were attracted to each other for so many reasons, and it is important to keep that connection front and center. We maintain our own individual goals and lives, which gives us plenty to talk about while never losing sight that we want to be married to one another for life. This takes constant commitment and prioritization of high-quality time together, both with and without our three children."
Jill Louis, Partner, Perkins Coie
Her husband, Randy Bowman, is chairman and CEO of At Last!
HOW WE MET: "Randy and I met because my mother sent me an article about him from Parade magazine, detailing his successful entertainment law practice. Later, I came to Dallas for a visit to my parents and for a friend's wedding. I wrote to him to request a meeting while I was in town so that I could learn from him on how to enter the field. Total snail mail. He agreed to have lunch with me and talk shop. Five months after that September meeting, we were engaged. All this while being miles apart between Washington, D.C., where I was, and Dallas, where he was."
OUR PROPOSAL STORY: "After five months of long phone calls and cross-country visits, he proposed, on Valentine's Day 1992. He came to visit me after secretly asking my dad for his blessing and going ring shopping with my mom. After a carefully crafted dinner cooked by me, one of the few I had ever cooked in life to that point, he asked me to marry him. It was not the cooking, I'm pretty sure. I tease that it was the big long-distance bill, since this was before most people had cell phones."
VALENTINE'S DAY TRADITIONS: "Randy usually gets me a series of cute gifts like heart socks, conversation hearts, or a candy dish from the grocery store in the days leading up to Valentine's Day. On the actual day, we go out to a nice meal and reflect on the joy of finding one another in an unlikely way."
FAVORITE VALENTINE'S GIFT OR MEMORY: "We were expecting our first born, and he came up to my law office with a giant bouquet of roses. I still remember seeing that coy look on his face as he walked down the hall. I love flowers, but I love that he took the time to bring them to my office himself even more."
RELATIONSHIP ADVICE: "Marry a grown-up. Marry a friend. Always put 'the team' first. Keep it spicy, fun, and unpredictable."
Claire Haidar, Founder and CEO of WNDYR & Pattyrn
Her husband, Mark, is the CEO of Vinli.
HOW WE MET: "We were both invited to be speakers at a TEDx event in Athens, Greece in 2016. I was the speaker before Mark on stage and he was waiting backstage to go on next. We got engaged in January 2018 and married in June 2018."
OUR PROPOSAL STORY: "Mark flew to Cape Town without me knowing while I was visiting my mom. He asked one of my investors to have a pretend meeting with me. When I arrived at the restaurant, Mark was standing on the beach; I was so shocked to see him that my mouth fell open and I asked him what he was doing there because he didn't belong there!
OUR WEDDING: "I always wanted to get married under a big tree with only our very closest people there. Mark told me to leave it to him, and he would get that organized. He got a judge in Lebanon to grant permission for us to get married under one of the oldest cedar trees in the world. It dates back almost 4,000 years to the time of David and Solomon's temples. It stands in a forest that is protected by decree under Emperor Herodotus. We said our vows to one another there with our family and closest friends nestled into the giant roots at its base. As a wedding gift, Mark planted 1,000 cedar trees as a testament to our love."
VALENTINE'S DAY TRADITIONS: "We decided to not celebrate Valentine's Day. We wanted to raise our kids with a model of ongoing love and so instead we have a weekly date night which our kids know is sacred time."
FAVORITE VALENTINE'S GIFT OR MEMORY: "Mark's family never celebrated Valentine's, but my family did. My dad was a romantic at heart; he spoiled my mom every week with something, but he also made a huge fuss about Valentine's Day. One year, Mark and I had a huge fight the night before Valentine's Day, and he showed up at my school the next morning and came to my classroom and apologized to me in front of all my friends and told me that he loved me."
RELATIONSHIP ADVICE: "Don't ever share an office together. Mark and I learned this the hard way during COVID. I shooshed him one day while he was on a board call because I was recording a podcast. He stormed out of the house like a sulky teenager and bought a small commercial building down the road that exact same day. We are now happily officing in our own spaces again, and all is peaceful in Haidar Land!"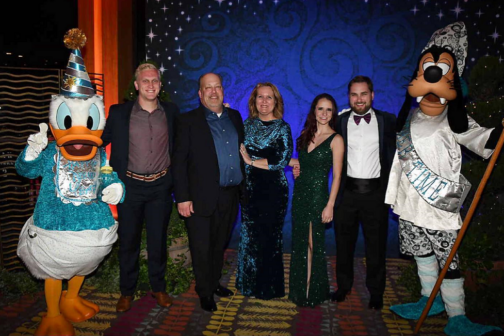 Bill Munck, Managing Partner, Munck Wilson Mandala 
Bill and his wife, Sue, go on an annual trip to Disney World to celebrate their love.
HOW WE MET: "Sue and I met when I worked as an engineer and project manager at a software company in New York. Sue also worked there. We soon learned that we had a great deal in common. Both of our fathers were cops, we grew up in similar regions on Long Island, and e both liked going to concerts, movies, and sporting events like Yankees' and Giants' games or seeing Springsteen or The Eagles."
OUR PROPOSAL STORY: "I told Sue that we were going on a short trip to Buffalo, New York. I had secretly asked her parents' permission first. When we landed, we rented a car, and I gave her a blindfold and told her where we were going was a surprise. Sue thought I was taking her to a dog breeder to pick out a puppy (I do not remember why she thought that), and she agreed. I drove us over the border to the Canadian side of Niagara Falls, where we got out and walked to an observation point. When Sue took off the blindfold, she was looking at the best view of the falls, and when she turned around, I was down on one knee and asked her to marry me. She said yes."
VALENTINE'S DAY TRADITIONS: "Sue and I do not have a favorite Valentine's tradition, but we do have an annual family trip to Disney World every January that has long been a Munck tradition. Last month, Sue and I celebrated our 30th wedding anniversary there."
RELATIONSHIP ADVICE: "Marry your best friend. Best friends stay with each other through thick and thin. They weather the turbulence that life can throw at them and they overcome adversity, no matter how hard it gets. Sue and I are family, but we also have a great friendship. When you have both, you have a shot at a great marriage."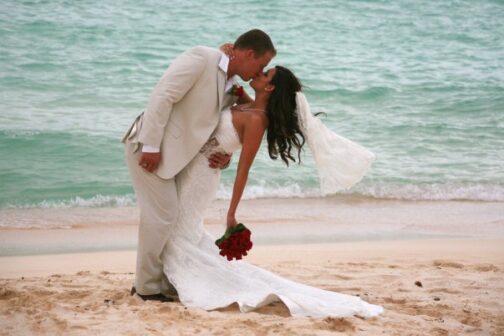 Aarica Mims, Senior VP and Director of Leasing, KDC
Her husband, Chris, is managing partner of Tenant Services Group.
HOW WE MET: "Chris and I met in middle school, and he even attended my seventh-grade birthday party. At the time, I was more interested in playing volleyball with his friends, but he seemed pretty cool for middle school. We officially started dating at the beginning of my sophomore year and his junior year of high school. Flash forward to more than 20 years together and two precious toddler boys, we are the quintessential story of high school sweethearts. After high school, we both went to East Central University where Chris played football, and I was a cheerleader. (You've probably seen this movie, right?) Go Tigers!"
OUR PROPOSAL STORY: "We had a bye week during football season that lined up with our six-year dating anniversary. We came to Dallas for the weekend, and Chris proposed at the top of Reunion Tower. At the time it was Antares Restaurant and quite fancy and pricey for two college kids."
VALENTINE'S DAY TRADITIONS: "We love to give each other sweet cards and go to a romantic dinner. But with two active little boys and a new puppy, we'll be having a fondue night at Casa Mims this year. You can't go wrong with cheese and chocolate."
FAVORITE VALENTINE'S GIFT OR MEMORY: "Chris and I love art. We don't do traditional Valentine's Day gifts but started a tradition of purchasing art that really speaks to both of us. This year, we bought a piece called 'Lots of Love' by Allison Castillo, a Fort Worth artist. The piece is so beautiful, and the name says it all."
RELATIONSHIP ADVICE: "Take time for yourself as a couple. The hustle and bustle of life makes it difficult to spend quality time together. We like quick weekend trips to recharge and spend time together and reconnect."
Marshall Mills, President and CEO, Weitzman
Mills proposed to his wife, Becky, with a ring submerged in frozen yogurt.
HOW WE MET: "We met on a double date—we were not each other's dates—for a friend's deb party. I started flirting with her and we started to date. After dating for three years and being engaged for one, we have now been married 30 years!"
OUR PROPOSAL STORY: "I surprised Becky while on a walk at Turtle Creek on Lakeside by putting a ring in frozen yogurt and proposing. We love frozen yogurt. It was July so the ring was submerged. I asked her to marry me in an extra special place, as a tree in remembrance of her dad was planted at Turtle Creek on Lakeside."
VALENTINE'S DAY TRADITIONS: "We have zero traditions for Valentine's Day. But we always make it special by celebrating our love and love for friends and family. This year we are playing in a mixed doubles tennis tournament and then hitting Mesero for Tex-Mex and margaritas."
FAVORITE VALENTINE'S GIFT OR MEMORY: "I gave Becky a beautiful pave diamond heart because she thought she lost the first one I gave her when our daughter Mason was born. Becky ended up finding the first heart and now she has two sweethearts from me. Most of all, we love the gift of time together."
RELATIONSHIP ADVICE: "Admit when you are wrong and always say, 'I'm sorry.'"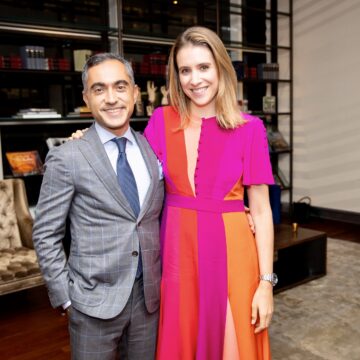 Eva Yazhari, General Partner, Beyond Capital Ventures
Yazhari and her husband, Hooman, are a blind date success story.
HOW WE MET: "Hooman and I met in 2008 on a blind date in New York City, where I was born, raised, and living at the time, working on Wall Street. Hooman was living in Zürich, Switzerland, where some of our friends who set us up were also based. Our first date was 7.5 hours long, and we both knew it was something special—most of all because we were aligned on our values and desire to contribute beyond ourselves. Since we got engaged in the middle of the financial crisis, we were able to make a long-distance relationship work with empty and inexpensive flights between JFK and Zurich. We have been married for 13 years this summer and continue to evolve the purpose in our marriage every day."
OUR PROPOSAL STORY: "Living in Zürich, Rome is an hour flight away— we got engaged on New Year's Eve 2008 in the Hotel de Russie in Rome. The weekend included a tour of the Vatican, many incredible meals, and time to connect deeply and authentically. For both of us, it was magical!"
VALENTINE'S DAY TRADITIONS: "If I am honest, we celebrate romance every day! With two engaging children, travel, and full working lives, we tend to spend time doing something casual on Valentine's Day. For us, that means cooking dinner together at home and including our children in this celebration. We love to make spaghetti vongole or tuna tartar in the style of some of our favorite Italian restaurants to celebrate."
FAVORITE VALENTINE'S GIFT OR MEMORY: "I deeply appreciate when gifts are thoughtful and come from a place of acknowledgment of my tastes, or something I have said. Many years ago, I told Hooman I would like to start a vintage glass wear collection, and recently he has given me some lovely vases, bottles, and boxes to start building this dream collection."
RELATIONSHIP ADVICE: "Equality, in all types of relationships. I deeply believe gender stereotypes make modern marriages harder. Hooman has been my 50/50 partner since day one. While we have adjusted along the way as we have brought our children into the world, our acknowledgment of the teamwork required in our family is a foundation and baseline for our work and lives in and outside of our home."
Get the D CEO Newsletter
Stay up to speed on DFW's fast-moving business community with weekly news reports, interviews, and insights.