Celebrity chef Luke Rogers, who has appeared on Food Network, is working on a new venture—an Italian bistro in Plano called Cathedral Bistro. He aims to have it open by March.
Rogers previously was running Klyde Warren Park dining concept Savor, which closed in 2020 due to the pandemic. "We were a destination restaurant," he says, "and people didn't want to come out and eat at a destination restaurant when there's a lockdown and you have to wear masks and all that."
He was supposed to be a part of a James Beard Awards celebrity chef tour in 2020; that didn't pan out, though the group did ask invite him to cook at an event in Colorado's Steamboat Food and Wine Festival.
Heartbroken, Rogers began developing a concept for a new restaurant—an Italian eatery mixed with a steakhouse.
"I was going around talking to different investors, asking them for money to open a restaurant in the midst of COVID," Rogers says. The response was less than enthusiastic: No one was willing to risk opening a restaurant in a time of shutdowns and shifting regulations, and the chef began looking for work while continuing to pursue plans for his eatery.
Then, he got an interesting call. Cathedral Plumbing Co., one of Texas' largest plumbing enterprises reached out, wanting help opening a restaurant. "I was like 'Really? A plumbing company?'" Rogers says. But he took the meeting, bringing his previous pitch materials with him.
It turned out that Cathedral had begun working on a restaurant concept that would primarily feed its employees. When they saw Rogers' plans, they immediately wanted to partner up and let him convert their small start into his big idea, with the help of Andrea Oliver, the general manager they had already hired. "What this turned into is a restaurant that we are heading up, that we're putting our ideas and dreams into," Rogers says.
The team has purchased space in on Rasor Boulevard in Plano, where Cathedral's offices are located. Currently under renovation, it was previously home to a pizzeria. "Now, it's dark woods, black, copper, and deep blue, and we're going to have these amazing marble walls in the bathrooms, and this marble wine cellar," Rogers says.
The space seats roughly 70 and includes an outdoor patio to be redone in the spring. Dallas-based W+P Architecture is behind the design.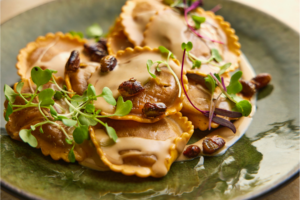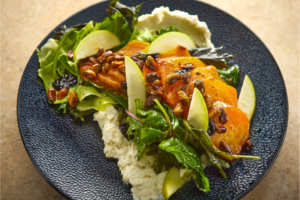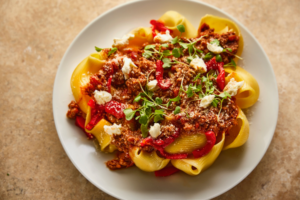 Cathedral Bistro's menu showcases Rogers' takes on Italian and steakhouse classics.
Rogers has 100 percent control of the menu, which showcases local vendors as much as possible in its Italian and steak dishes. His partners are foodies who are well-versed in cuisine and business, but they give complete creative liberty to Rogers.
"Instead of having my hand tied behind my back, where I have to put a couple dishes on a menu that I didn't really want to, instead, I have the freedom to say, 'This is the menu I'm going to put out,'" Rogers says, adding that he's rewritten his menu four times, trying to perfect it.
Pasta made in-house with heritage green flour—flour free from preservatives and bleaches—from Colorado on an authentic, Italian hand-crank pasta machine promises to star, as well as Wagyu steak from Dallas-based Rosewood Farms. "I'm trying to keep as much as I can local, just out of respect for our market and for these companies here," Rogers says.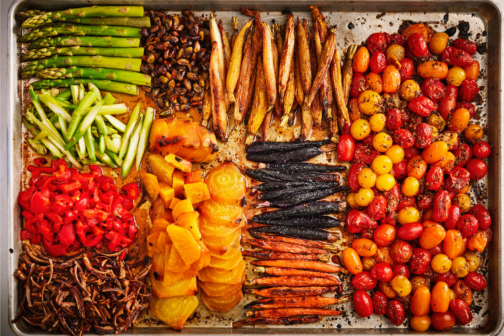 Plates will be more intricately composed than a traditional steakhouse style, presenting new takes on classics: Rogers mentions riffs on Bistecca Florentina and Swordfish Sama as examples. "My food is not this steakhouse-style where it's just, 'Here's your meat with a little bit of flavored butter and then a sauce," he says.
In a nod to the plumbing company's backing, Rogers says he wants the food to be accessible and affordable. "If you're coming in a suit or if you're coming in shorts, it'll be fine," he says.
He has brought many of his cooks, his sous chef, and his pastry chef from Savor with him to Cathedral Bistro.
Rogers says he is keeping close to his ties in the Dallas market throughout this move to Plano, and that if he does decide to launch another concept, he hopes the staff running that new concept will shine through more than anything.
"Let's get the bistro open, and then after this, we're going to see what's next," he says. "Maybe, that's catering. Maybe that's another restaurant. You never know."
Get the D CEO Newsletter
Stay up to speed on DFW's fast-moving business community with weekly news reports, interviews, and insights.
Author
Kelsey J. Vanderschoot came to Dallas by way of Napa, Los Angeles, and Madrid, Spain. A former teacher, she joined…