California-based Monster Beverage—producer of the Monster Energy drink—has entered the alcohol market with a $330-million acquisition of CANarchy Craft Brewery Collective, parent to Deep Ellum Brewing Co.
The deal for Monster, which is part-owned by Coca-Cola, is the largest in the company's history.
Other brews joining Monster as part of the deal include Cigar City, Oskar Blues, Perrin Brewing, Squatters, and Wasatch. Monster will not acquire CANarchy's stand-alone restaurants.
"The acquisition will provide us with a fully in-place infrastructure, including people, distribution and licenses, along with alcoholic beverage development expertise and manufacturing capabilities in this industry," Monster's vice chairman and co-CEO Hilton Schlosberg said.
Frito-Lay Kicks Off Marketing Campaign with Cowboys-Inspired Chips
Plano-based Frito-Lay has rolled out Lay's Golden Grounds—potato chips harvested using soil from NFL franchises' fields and stadiums, including AT&T Stadium. NFL legend Jerry Rice has been employed as the marketing face of the new promotion. The campaign kicks off a long-tail initiative, culminating in the brand's first Super Bowl commercial.
"We wanted to kick off our road to the Big Game in a big way," chief marketing officer Rachel Ferdinando told D CEO. "What better way than to bring the field to our fans through a first-of-its-kind lineup of NFL-inspired chips during the playoffs?"
In 2022, Ferdinando says Frito-Lay will be emphasizing products, programs, and purpose in its campaigns. "From innovative snacking formats, such as Lay's Layers that recently hit store shelves, to new flavors like Doritos Flamin' Hot Cool Ranch, which you will see featured in our Flamin' Hot Super Bowl commercial. We're just getting started."
The limited-edition chips can only be won via the Lay's Twitter account between January 11 and January 25.
Fort Worth's Jet Health Acquires Arlington's Blessings Hospice
Regional home health provider and hospice service Jet Health has acquired Blessings Hospice, a hospice care company that launched in Arlington in 2019.
The deal is Jet Health's fifth hospice-related acquisition since its founding in 2016. D CEO recently caught up with Stacie Bratcher, Jet Health's CEO, to discuss the move, Jet Health's growth, and what Jet is looking forward to in 2022. This conversation has been edited for brevity and clarity.
D CEO: Why did this acquisition make sense for Jet Health and how will Blessings Hospice be able to elevate Jet's brand?
BRATCHER: "It expands Jet Health's service capabilities in Texas for our hospice line and affords us the ability to provide the appropriate levels of care for patients, as they transition from skilled home health, to palliative, into hospice care. Jet has an established home health in Texas through its Klarus brand, and this acquisition will be folded into that to extend the continuum of care."
D CEO: How do you plan to make a difference in your patients' lives now that Blessings is on board? 
BRATCHER: "Ensuring patients receive the most appropriate services for their current health situation is paramount. The addition of this hospice organization will allow us to make a difference to the patients and their families by offering multiple services in the area, so a patient would not need to change agencies should their conditions change over time."
D CEO: Can you touch on how all five hospice-related acquisitions are elevating Jet Health?
BRATCHER: "The acquisitions allow Jet to provide multiple service levels to our patients and their families in the markets we serve. This allows our providers to refer their patients with confidence, knowing we can meet their needs over a long range."
D CEO: What are you most excited about heading into 2022?
BRATCHER: "We are most excited about the opportunities for remote monitoring and telehealth, enabling patients to have more access to data and care in their homes."
Texas Capital Bancshares Launches Broker Dealer Texas Capital Securities
Kicking off 2022, Texas Capital Bancshares will launch Texas Capital Securities, which will enable the bank to provide its clientele with M&A advisory, capital raising, securities underwriting, sales and trading, and hedging services.
D CEO spoke with Rob Holmes about the news. This conversation has been edited for brevity and clarity.
D CEO: Why did you feel Texas Capital Securities was a necessary move for Texas Capital Bank?
HOLMES: "One of the core tenets of our strategy for Texas Capital Bank is to be the first call for our clients. With our focus on businesses and business owners, we are well positioned to act as a trusted advisor, providing thoughtful insight informed by meaningful and relevant experience and real time market connectivity. The products and services we're now able to offer through Texas Capital Securities, namely capital raising, securities underwriting, mergers and acquisition advisory and others, are necessary additions that ensure our professionals can address any challenge our clients might face … We are excited about the opportunity to become more relevant to our clients by providing broad based solutions."
D CEO: What additional new offerings and what revenue numbers are you forecasting for the new brand's first full year?
HOLMES: "As we continue to build the platform this year, we expect to launch sales and trading from our Dallas headquarters, focused on both corporate and mortgage trading. As we identified in our September 1 strategy roll-out, we expect Investment Bank revenues to make up at least 10 percent of firm-wide revenue by 2025." 
D CEO: In 2022, what other steps are you planning on taking to establish Texas Capital Bank as the flagship financial services firm in Texas?
HOLMES: "We enter 2022 better positioned to deliver for our clients than at any point in the firm's history, with record capital and liquidity and an improved and expanded set of products and services. We also added more client-facing professionals and have meaningfully invested in our coverage of companies in the healthcare, financial institutions, technology, media and communications, real estate, consumer, industrial, and other industries. With our strategy well-defined and our foundational investments in progress, we expect to confirm our position as the flagship financial services firm in Texas every time we deliver an outcome that exceeds our client's expectations. We plan to take these steps as many times as possible in 2022."
Global Alternative Asset Management Firm TPG Launches IPO
Global firm TPG, who has headquarters in San Francisco and Fort Worth, recently launched its IPO with 33,900,000 shares priced at $29.50 per share. Below are the statistics the company has recently made available:
28,310,194 total shares were available at the IPO.
5,589,806 shares are being offered by an existing strategic investor.
3,390,000 additional shares of common stock are available to underwriters for purchase via a 30-day option with 1,775,410 shares from the company and 1,614,590 shares from the existing strategic investor.
The shares began trading on NASDAQ on January 13 as "TPG."
Dallas-based FB Flurry Purchased by Cart.com
Austin-based Cart.com, an e-commerce website competing with Amazon and Shopify, has acquired Dallas-based FB Flurry, a technology fulfillment operator for direct-to-consumer brands. The acquisition comes on the heels of Cart.com raising more than $140 million and reporting $3 billion in gross merchandise value in 2021.
FB Flurry—which distributes more than 35 million products each year—will help triple Cart.com's fulfillment footprint to more than 2 million square feet and will allow Cart.com to meet next-day delivery needs. FB Flurry's more than 400 employees will all join Cart.com.
"To support today's top e-commerce brands requires an end-to-end operational support system that encompasses the entire customer journey," Omair Tariq, CEO and co-founder of Cart.com, said. "FB Flurry understands that, and they've built an amazing, high-volume support network that spans fulfillment, customer support, strategic planning, and more. Their customer-focused, tech-forward approach to omnichannel support perfectly complements Cart.com's powerful suite of end-to-end ecommerce tools and services."
Los Angeles-based Michelman & Robinson Brings Law Office to Dallas
Michelman & Robinson is bringing its first Texas firm to Dallas, which will specialize in intellectual property, data privacy, and cybersecurity. The office will be managed by Partners Matthew Yarbrough, who helped establish the Texas AG's Internet Bureau and the North Texas Computer Forensics lab for the FBI, and Jason Blackstone, who counsels on technologies such as artificial intelligence and machine learning.
"Jason and I are confident that our IP, data privacy, and cybersecurity expertise—and this new office in Dallas—will be a value-laden complement to M&R's already stellar offerings," Yarbrough said.
Blackstone added, "Data breaches are on the rise, and threats will only grow more sophisticated as technology and AI advances sweep across every business sector and enterprise. An attack not only can impact a company's operations for weeks on end, but it causes collateral effects that can diminish customer and partner trust. With Dallas, specifically, and Texas overall, continuing to grow as an important region of business and innovation, the need for sound legal strategies related to data, privacy and cybersecurity regulation—those that Matthew and I provide—have become mission critical for companies."
Get the D CEO Newsletter
Stay up to speed on DFW's fast-moving business community with weekly news reports, interviews, and insights.
Author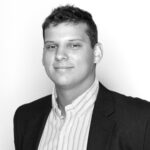 Ben Swanger is the managing editor for D CEO, the business title for D Magazine. Ben manages the Dallas 500, monthly…