From the day Klyde Warren Park opened in October 2012, Jody and Shelia Grant knew the children's area in the urban green space they championed was too small. Now, thanks to a $5 million donation from Margot Perot and her family, it's going to grow.
The couple began pushing for the park back in 2004. There were a lot of naysayers at first, but the Grants are persuasive, and they built a coalition to make the park a reality. They also are spearheading an expansion that's scheduled to wrap up in 2024.
Thanks to the Perot gift, the couple's legacy will be enshrined with the naming of the Sheila and Jody Grant Children's Park. Without them, "there would simply be no Klyde Warren Park," Perot said. "This gift honors their courage and commitment."
Along with taking the area from 12,000 to 18,000 square feet, the improvements include the addition of a climbing tower, climbing wall, balance and spinning elements, an additional water feature, and a shaded picnic area for birthday parties and other gatherings. A new play surface will be installed throughout, and restrooms and landscaping will be updated.
The improvements are designed to appeal to older children, said Sheila Grant. "Jody and I underestimated how important a children's park would be in downtown Dallas," she said. "But kids have come from every area of the region."
The Grants were stunned when they heard the news of the $5 million gift. "We were surprised, touched, grateful, and, I would say, choked up," Jody said. "I don't think we have ever received an honor like this. It is extraordinary, and we were overwhelmed by it."
"Margot Perot was a cheerleader for the park from the very beginning, when few believed in it and many people thought we were insane," Sheila added. "I will forever be grateful to her for her encouragement; that she would want to do something this magnanimous is beyond touching."
The expansion of the children's area is expected to take about five months, with construction starting in early 2022. While work is underway, Klyde Warren will feature other children's programming throughout other areas of the park. Other improvements underway include a new water feature, the Nancy Best Fountain, which will open in mid-2022 on the lawn closest to Pearl Street. The dog park has already been relocated to a larger and shadier spot.
Development will begin next year on a nearly 2-acre expansion to the west toward Field Street. Plans include a three-story pavilion building designed by Gensler and The Jacobs Lawn, which will provide space for events, festivals, markets, and a winter ice rink.
Operated by Woodall Rodgers Park Foundation, Klyde Warren Park is a nonprofit that's supported by corporate and private donations. Beyond connecting downtown and Uptown and adding a destination green space to the urban core, the park has had a profound economic impact, said Jody Grant. "In 2013, the value of real estate around the park was $2.5 billion; today, it's $6.2 billion," he said. "By virtue of the [Klyde Warren Park/Dallas Arts District Public Improvement District], millions are going to DISD, Dallas County, the City of Dallas, Parkland Hospital, and Dallas College.
The Grants visit the park nearly every day and have taken a hands-on role in its evolution. Sheila Grant even personally tested out the new climbing features for the children's area on equipment installed at Episcopal School of Dallas. "It was a ball," she said. "It looks like a mountain and will give children the feeling of being on a mountain—and kids like me will want to use the equipment, too."
Jonathan Adler, Dee Lincoln, Naeem Khan and More Honored by FGI Dallas
The Thompson Hotel was the site of Fashion Group International's recent Night of Stars black tie gala. The event, which raised about $30,000 for student scholarships, featured a stunning spring/summer fashion show by designer Naeem Khan, who was honored with a Lifetime Achievement Award in Fashion. Introduced by his sons, the India-born Khan is a former Halston apprentice whose work often features exquisite draping and hand-embroidery done by artisans in Mumbai. He has dressed celebrities and dignitaries, including Michelle Obama and Kate Middleton.
Also recognized at the event were Jonathan Adler (Career Achievement Award in Design), Gray Malin (Career Achievement Award in Photography), and restaurateur Dee Lincoln (Career Achievement Award in Business).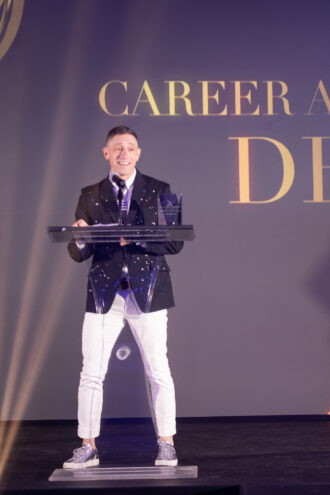 Adler opened a new store in West Village last month. At 6,600 square feet, it's his largest store yet. "After 25 years, I still feel like a total ingenue," he told the FGI Dallas crowd. "Every day, I charge into my studio with a burning desire to make new pots, to design new chairs, to imagine new interiors. When I'm designing things and creating things, the Mishigas of running a business disappears, time stands still, and I feel like my true authentic self."
FGI Dallas is part of Fashion Group International, a global nonprofit with more than 6,000 members representing all areas of the fashion industry, including art, beauty, and design. Past FGI Dallas honorees include Zac Posen, Monique Lhuillier, Angela Missoni, Billy Reid, Prabal Gurung, and Bob Mackie.
Paige Flink, Former CEO of The Family Place, Honored with Trailblazer Award
In recognition of her 30 years of devotion and service to victims of family violence, Paige Flink was named the 2021 recipient of the Texas Trailblazer Award. Since 1996, the honor has recognized individuals who spark positive change in the community.
Held at the Thompson Hotel and chaired by Carol Seay, Stephanie Seay, and Travis and Stephanie Hollman, the event featured entertainment by LeAnn Rimes and was emceed by former WFAA news anchor Gloria Campos.
Former Neiman Marcus executive Mimi Sterling, newly appointed CEO of The Family Place, paid a beautiful tribute to her predecessor, citing her lasting impact on the organization and the North Texas community—including Flink's work to improve the way the criminal justice system responds to family violence victims.
The guest of honor took to the stage to thank colleagues, mentors, donors, and volunteers and to share highlights from her three decades with the organization, including client success stories. The evening was capped with treats from Flink's home state of Tennessee—vanilla, banana, and chocolate Moon Pies.
Formed in 1978, The Family Place was one of the first family violence shelters in the state. Today's it has three emergency shelters providing nearly 180 beds, including the state's only shelter for men and children.
Lyda Hill Reveals $2 Million Gift at Perot Museum's Annual Night at the Museum
The Perot Museum of Nature and Science recently hosted its ninth annual Night at the Museum, with a theme of "Accelerate." The event showcased the museum's exhibits, where attendees could peruse and interact at leisure, and raised funds for museum programs.
The evening opened with a VIP reception, where Jessica and Dirk Nowitzki were announced as next year's chairs, for what will be the event's 10th anniversary. Philanthropist Lyda Hill revealed a $2 million donation, matching the event's initial fundraising efforts and bringing the total amount raised to more than $4 million.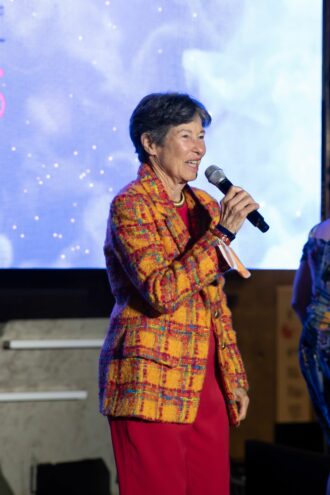 Fireworks lit up the museum pavilion as dancers took the stage, closing out the VIP Reception and igniting the event's start in a nearby tent, where The Walton Stout Band performed popular hits.
Wolfgang Puck Catering opened the night with hors d'oeuvres, and Southern Glazer's mixed a cocktail that featured butterfly pea flower, which changes from blue to purple when it interacts with lemon or lime juice. Dinner bites starred handmade pasta, and Winter Chicken Truffle Pot Pie, salad, and more. A s'mores bar, where guests could roast their own desserts over a small flame, featured giant marshmallows and every kind of chocolate imaginable.
Folds of Honor North Texas Raises Funds to Support Nearly 400 Scholarships
The Field at AT&T Stadium was the site of the 2021 Folds of Honor gala, an event honoring veterans and raising funds for them and their families. After a color guard presentation and recognition of service members in attendance, a veteran-owned parachute team propelled down from the top of the stadium.
The event was chaired by Cintia and Johnny Powers, who have been involved with the organization for more than 10 years.
Silent auction items, including an African safari, helicopter adventure, and a Cowboys helmet signed by Dak Prescott, helped raise nearly $2 million dollars—and fun close to 400 scholarships for spouses and children of fallen and disabled service members.
Folds of Honor was founded in 2007 by Lieutenant Colonel Dan Rooney, a PGA Professional and F-16 fighter pilot in the Air Force Reserves who served three tours of duty in Iraq. Since its start, it has awarded about 35,000 scholarships.
D CEO Newsletter
Stay up to speed on DFW's fast-moving business community with weekly news reports, interviews, and insights.